Las Vegas jury in Javier Righetti murder case hears about prior attacks
March 17, 2017 - 12:57 pm
Updated March 17, 2017 - 10:49 pm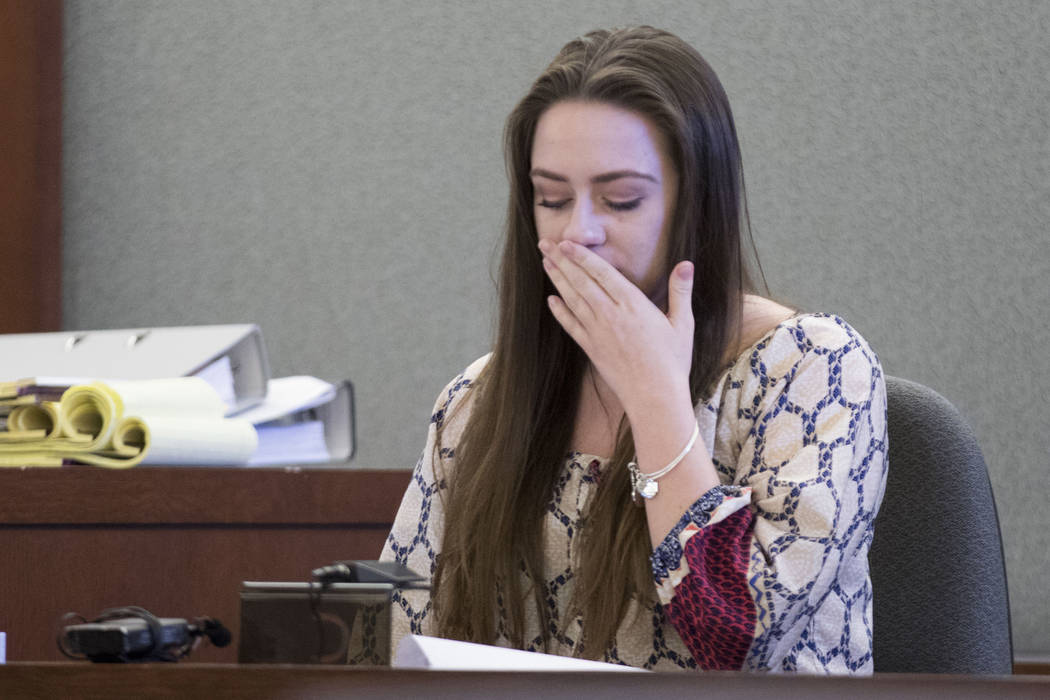 In the moments before he raped and killed 15-year-old Alyssa Otremba, Javier Righetti scoured the internet for pornography that depicted torture of young girls, a homicide detective testified on Friday.
While she lay dead and covered with stab wounds in a deserted area of the northwest valley, Righetti went back to his computer and searched again for "dead body disposal," the detective, Dan Long, told jurors tasked with deciding whether the defendant deserves the death penalty.
On that Friday night in early September 2011, the first week of class for Alyssa at Arbor View High School, Righetti used gasoline and matches to set her body on fire, authorities have said.
Meanwhile, the girl's mother, Jennifer Otremba, sat awake, "terrified and panicked," she said, not knowing at the time that she could have looked out at the gruesome scene from her bedroom window.
Alyssa was found the next day.
"My entire body went numb," Jennifer Otremba said, recalling a phone call she received. "I couldn't feel anything. I was just stuck."
Authorities had to identify the mutilated body through dental records.
Righetti had raped before.
After being arrested for murder, he confessed to raping another girl in the early part of 2011, which investigators confirmed.
Seven months before Alyssa's slaying, Righetti attacked another girl in the same northwest valley tunnel where Alyssa was raped, Chief Deputy District Attorney Giancarlo Pesci said.
Three months before he stabbed Alyssa 80 times, Righetti raped his cousin in Mexico, the prosecutor said.
Before any of those attacks, in 2009 he wrapped his hands around the throat of a 16-year-old girl inside a restroom stall at Centennial High School. Righetti, who was a juvenile at the time, let her go after another girl walked into the restroom.
"What he's done to so many people," Pesci said Friday, "it stops now."
On Thursday, the same panel expected to decide Righetti's sentence found him guilty of Alyssa's murder. If the jury decides he deserves capital punishment, Righetti, now 24, would be the youngest man on death row in Nevada.
Righetti told Las Vegas police that, after raping Alyssa in September 2011, he tortured her by using a knife to stab her more than 80 times in the face and other body parts, according to testimony. He carved the initials "LV" on the freshman's body because he felt it was "gangster," and he returned later to burn the body.
The slaying occurred on the Friday that ended Alyssa's first week at Arbor View High School. She had stayed home from school that day after not feeling well in the morning. But she wanted to pick up a textbook from a classmate so she could do her homework for the weekend.
Pesci called the area where Alyssa was attacked the "tunnel of horror" and "the defendant's stomping ground."
"She looked back," the prosecutor said. "She saw him coming. She did not make it home."
Righetti has admitted to the attacks and deserves to spend the rest of his life in prison, Deputy Public Defender Ryan Bashor told jurors. The attorney asked the jury to spare Righetti from the death penalty.
"Our system is a whole lot better than Javier," Bashor said. "Our system never requires you to impose the death penalty."
Righetti suffers from a brain disease that causes intellectual deficiencies, lack of impulse control and poor decision-making, Bashor said.
Bashor also said the defendant's father, whose family has a history of violence, was abusive, and attorneys have traced mental illness throughout the family of Righetti's mother.
That is not an excuse for his crimes, the defense attorney said, but "some semblance of an attempt to explain how and why."
Contact David Ferrara at dferrara@reviewjournal.com or 702-380-1039. Follow @randompoker on Twitter.
RELATED
Friend says Righetti asked for help after killing Las Vegas teen — VIDEO
Nevada Supreme Court ruling paves way for trial in murder of Arbor View freshman
Judge finds Javier Righetti mentally capable to face death penalty
Death penalty trial for a man accused in rape, murder of 15-year-old postponed
Judge tosses plea in slaying of Arbor View freshman
Student's slaying called crime of opportunity
Testimony reveals slain Arbor View student was near safety