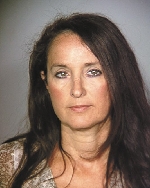 Las Vegas attorney Nancy Quon was booked and released Monday at the Clark County Detention Center on a felony drug charge in connection with allegations of a suicide scheme.
Her lawyer, Thomas Pitaro, said she spent less than two hours going through the booking process in a court-ordered "walk-through." Pitaro declined further comment.
Quon, 51, who is at the center of a separate federal investigation into corruption and fraud within homeowners associations, is to be arraigned today before District Judge Jackie Glass on a charge of conspiracy to violate the Uniform Controlled Substances Act.
Her live-in boyfriend, former Las Vegas police officer William Ronald Webb, also is to appear before Glass in what will be the first time the couple have been in public together since November, when Webb was arrested in the death scheme. Webb, 43, faces several other charges, including conspiracy to commit murder. He is being held at the detention center on $400,000 bail.
Glass has ordered Quon to post the standard $3,000 bail on her drug charge after today's arraignment.
A Clark County grand jury indictment returned last week alleged Quon provided the cash to Webb and his friend, two-time felon Robert Justice, to buy the club drug gamma-hydroxybutyric acid.
Police allege that Quon was trying to arrange her own death with the drug that she and Webb incorrectly thought would be undetectable.
Justice, 45, also was charged in the scheme, but he is cooperating with prosecutors and will enter a plea separately on May 3.
Justice, who is free on his own recognizance, has told police that Quon wanted Webb and her family to collect on her life insurance.
Quon, a wealthy construction defects lawyer, has denied trying to kill herself.
The grand jury also has investigated Quon and Webb on arson and insurance fraud charges stemming from an Oct. 28 fire at her house at 73 Dollar Pointe Ave. The fire, which police think was part of a botched suicide attempt by Quon, caused some $250,000 in damage.
Two days before the fire, Quon was described as "detached and despondent" in a meeting with local and federal investigators probing the homeowners associations.
Federal charges have yet to be filed in the HOA case. The Review-Journal has reported that Justice Department prosecutors from Washington, D.C., have taken over the case and are working out plea deals with as many as 30 targets to obtain indictments against Quon and other possible high-level players.