Las Vegas police officer tearfully testifies in mother's attempted murder trial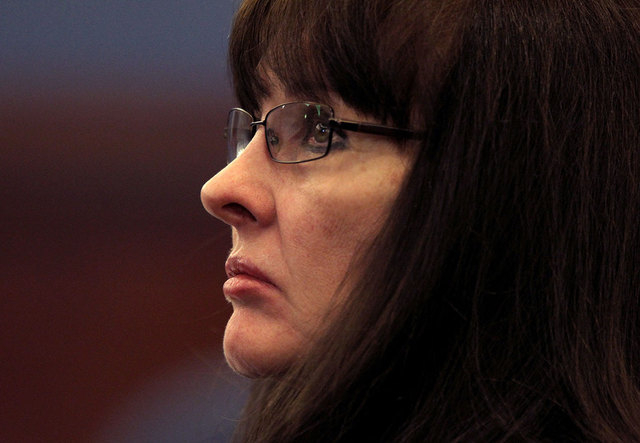 Christopher Cooney tearfully told a jury Wednesday he regretted not doing more to stop the escalating feud between his mother and brother.
Cooney testified during the second day of the trial of his mother, Linda Cooney, who is charged with shooting and paralyzing her son, Kevin Cooney, after a June 2011 fight over his then-girlfriend.
Christopher Cooney, a Las Vegas police officer, received a phone call from his mother about 1 a.m. June 28. She told him his brother was acting violently toward her, something the officer said was common.
But Christopher Cooney felt he had quelled his brother's anger with a text message urging him to "maintain peace."
About 8:20 a.m., just after finishing his work shift, he received a call from his mother, who was hysterical, saying his brother was shot, Christopher Cooney told the jury.
The officer wept as he recalled his agony in trying to find out what was going on as he raced to the Summerlin home he shared with his mother and brother, driving 90 mph on surface streets.
His mother wept during portions of Christopher Cooney's testimony.
During a nearly 16-minute call, Christopher Cooney said he spoke to his brother as he drove home.
"I came at mom. It's my fault," Christopher Cooney said his brother told him as he was on the ground, bleeding from his neck.
It was only after that call that both Christopher Cooney and his mother called 911. Christopher Cooney said in his frantic state he didn't realize paramedics hadn't been called.
Prosecutors say Kevin Cooney was shot by Linda Cooney with a .357 caliber handgun, the same gun she used to shoot and kill her ex-husband and his father, James Cooney, more than two decades ago in Florida. A jury there acquitted Linda Cooney of murder charges after they found she had shot her husband in self-defense in 1991.
Linda Cooney, 66, faces four counts, including attempted murder, battery with use of a deadly weapon and intimidating a witness.
She also is charged with stalking Kevin Cooney's ex-girlfriend, Karina Taylor. If convicted of all counts she faces 3- to 65-years in prison.
Christopher Cooney's testimony was emotional at times but also contentious as prosecutor Michael Staudaher questioned whether the officer has been fully forthright and cooperative with authorities in their investigation.
At one point, Christopher Cooney called Staudaher's questions despicable, as the prosecutor suggested the officer couldn't have been too concerned about the situation at home because minutes before the shooting he was trying to find an overtime assignment at work.
Christopher Cooney said that while he loved his brother, Kevin Cooney was prone to fits of rage and violence.
Christopher Cooney's testimony will continue Thursday.
Kevin Cooney has not cooperated with authorities. He was supposed to testify Wednesday, but was taken to University Medical Center with an illness. It's unclear if he will testify later in the trial, which is expected to last two weeks.
After the shooting, Kevin Cooney was diagnosed as an incomplete quadriplegic, meaning he has some movement in his arms and legs.
Contact reporter Francis McCabe at fmccabe@reviewjournal.com or 702-380-1039. Find him on Twitter @fjmccabe.