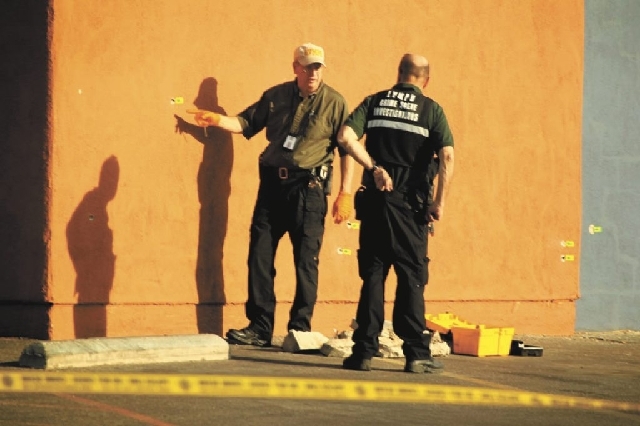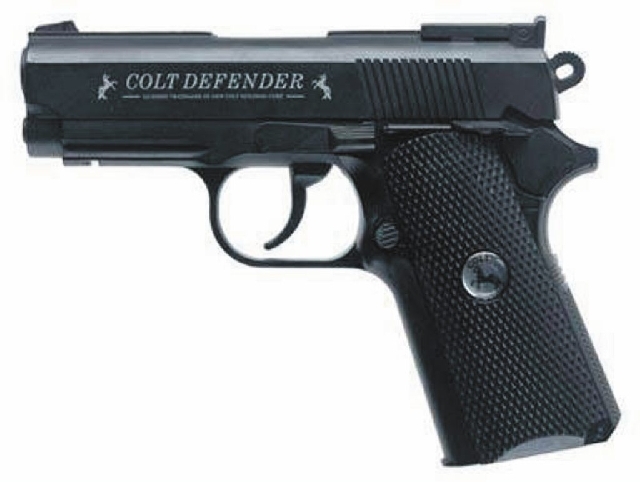 The roommate of a man shot by Las Vegas police Thursday never wanted his friend to get hurt.
But he doesn't blame the officer.
"If he was stupid enough to pull that little gun and point it at them, it was going to happen," said the roommate, who declined to give his name. "Police are only protecting themselves."
An officer shot the man multiple times about 1:30 a.m. near Charleston Boulevard and Bruce Street after the man brandished a pellet gun, police said. In a video statement posted on YouTube, Capt. Chris Jones said the gun was a replica of a Colt .45 semi-automatic pistol.
Four witnesses interviewed hours after the shooting described hearing between 10 and 20 shots. The evidence was cleaned by the time police left the scene, but there were about 10 impact marks in the stucco and parking lot of Macayo's Mexican Kitchen restaurant at 1741 E. Charleston Blvd. A large bloodstain outside the restaurant had been cleaned with bleach.
The man, identified by police as Miguel Alejandro Martinez, 29, was in critical condition Thursday. His roommate said Martinez also used the name Miguel Cruz and had the alias "Psycho."
The shooting stemmed from an incident about 6:15 p.m. Wednesday.
Police said they received a call from a man who claimed his roommate shot at him.
Martinez's roommate said he told police Martinez shot him five times with an air-powered pellet pistol. He later showed a reporter a welt on his stomach the size of a half-dollar.
"He's a (expletive) idiot," his roommate said.
The roommate said he caught Martinez snooping through his girlfriend's purse. When Martinez denied it, his roommate kicked him out. Martinez wasn't happy and shot him with the pellet gun.
"He knew he was beat. Basically, that was his only move," his roommate said.
Martinez was gone when police responded Wednesday evening, but returned about 1:30 a.m.
The unidentified officer encountered Martinez about a block from his apartment. Police said Martinez had the pellet gun in his hands, but did not say if he pointed it at the officer or fired at the officer.
A witness who heard the shooting said she thought there were several officers firing because of the "extensive" number of shots.
"That's a lot of shots for a guy with a pellet gun," said Michelle, who only gave her first name.
Martinez's roommate said he told police during the first call that he'd been shot with a pellet gun.
The officer, who was on routine administrative leave pending an internal review, was not hurt. The officer's name will be released after 48 hours, per department policy.
Martinez's criminal history includes arrests on narcotics and auto-theft charges.
His roommate said he warned his friend about using the pellet gun.
If the police hadn't found him first, his roommate was going to confront Martinez.
"Fools are looking for him already," his roommate said. "He's been green-lit."
He declined to elaborate.
Contact reporter Mike Blasky at mblasky@reviewjournal.com or 702-383-0283. Follow @blasky on Twitter.