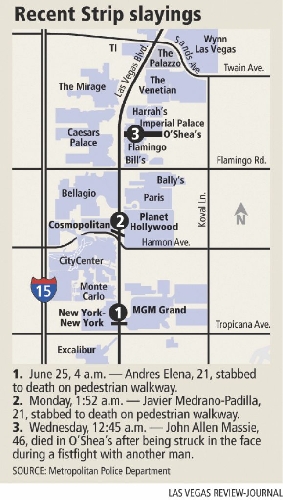 When Ruth Drinkard read an online article about a Utah tourist killed in a fight on the Strip early Wednesday, she brushed it off.
"I thought, 'Wow, just another dead one in Vegas,' " the Arizona woman recalled after the third slaying along the casino corridor in two weeks.
It wasn't until her mom later called from Utah that she made the connection.
Her older brother, John Allen Massie, 46, was the tourist killed at O'Shea's casino that morning.
"My brother was so laid back, so mellow. I was shocked to hear he was in a fight. It was just not in his nature," said Drinkard, 45. "I can only remember him fighting one time in his life. That was in high school, and that was over me."
The three slayings caught the attention of the Metropolitan Police Department's top brass, including Sheriff Doug Gillespie.
"I am keenly aware of the resort corridor," the sheriff said. "I realize that it is the lifeblood not only of the county but of the state."
At a news conference Wednesday afternoon, the captain overseeing operations on the Strip emphasized the safe environment along the resort corridor and outlined several strategies Las Vegas police are using to stem violence along one of the busiest boulevards in the world.
"This is somewhat of an anomaly," Capt. Todd Fasulo said, adding that his agency has seen double-digit drops in violent crime the past three years. "We have a safe environment on the Strip."
The three deaths in 11 days were unrelated to each other and appeared to be random confrontations, he said.
"It's about close proximity. It's about alcohol," Fasulo said. "When you get that many people in a small square footage, there's bound to be some confrontations. And when that happens, you're going to have some fights."
However, some of the Strip violence spread to another part of the city Wednesday night. That's when a gunman shot and wounded seven people attending the funeral for a man stabbed to death in the first of the three Strip incidents. None of the injuries suffered at Palm Mortuary on Main Street was life-threatening, police said.
That first slaying happened June 25 when two groups scuffled over a comment made about a woman.
Andres Elena, 21, died after being stabbed in the chest during the fight on the pedestrian walkway between MGM Grand and New York-New York. Another man was stabbed but survived.
Victor Quijano, 25, was charged with murder with a deadly weapon, attempted murder with a deadly weapon and possession of a dangerous weapon.
On Monday, a fight between two groups of men on the walkway between The Cosmopolitan and Planet Hollywood ended with a fatal stabbing.
Javier Medrano-Padilla, 21, died from multiple stab wounds, and Pedro Carlos Robledo, 28, was arrested on murder charges.
Robledo told detectives he acted in self-defense but didn't remember anything because he blacked out from alcohol, his arrest report said.
The third death came after a confrontation in a restroom at O'Shea's.
Benjamin Gerard Hawkins, who is black, told police that Massie made a comment about "a black man in a yellow shirt," according to Hawkins' arrest report.
Hawkins told him to shut up, and the men exited the restroom. Hawkins told police Massie asked him what he was going to do about it, which Hawkins interpreted as "aggressive," the report said.
Hawkins turned as if to walk away, then spun and landed a right punch to Massie's jaw, which was captured on surveillance video, the report said. Massie fell to his back and did not move.
He died at Desert Springs Hospital.
Drinkard said her brother was a former airman who served in the Gulf War and now worked as a civilian at Hill Air Force Base in northern Utah.
He visited Las Vegas at least a couple times a year, she said.
"He would go relax, play some cards, have a few drinks," she said.
He had three children, ages 15 to 25, and shared a home with his mother in Roy, a town near the base.
Fasulo, the police captain, said the Police Department already had begun extensive discussions about the recent slayings before Massie was killed. Many of those discussions came during the weekly crime meeting the agency's commanders have each Tuesday.
The discussions centered on whether officers were being deployed in the right way and in the right places, said Fasulo, who added there were some changes in the planning stages that he wasn't ready to reveal.
However, he outlined several strategies the Police Department uses along the Strip.
Those include Operation Safe Strip, which boosts the number of officers on Las Vegas Boulevard in high-traffic areas during the summer, and "surges" that temporarily draw extra officers to the Strip to handle situations. Both use a combination of uniformed officers and undercover officers.
Teams of specially trained homeland security officers also patrol the Strip, and police work with hotel security forces to help monitor the 36 million tourists who visit each year.
"They're a force multiplier for us, extra eyes and ears, because we can't be everywhere," Fasulo said.
A spokesman for the Las Vegas Convention and Visitors Authority declined to comment.
For Drinkard, even her brother's death will not keep her from visiting Las Vegas, she said.
She and Massie both loved the city, with the Rio being his preferred hotel.
"If anything, this will pull me to Vegas more," she said. "I can go to the Rio and look around and say, 'Hey, my brother was here, and he loved this place.' "
Contact reporter Brian Haynes at bhaynes@review journal.com or 702-383-0281.