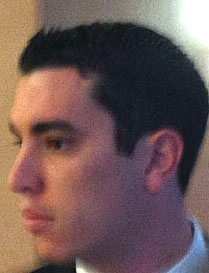 Two more University of California, Berkeley law students could face charges in the October beheading of an exotic bird named Turk on the Strip, Clark County's top prosecutor said Thursday.
District Attorney Steve Wolfson confirmed that there is evidence that four students from the prestigious law school participated in the decapitation of the 14-year-old helmeted guineafowl at the Flamingo's Wildlife Habitat on Oct. 12.
"There could be more charges coming against others," said Wolfson, who added the investigation is ongoing and declined to name the two students. "This was a brutal, senseless act. … This kind of behavior is not acceptable and won't be tolerated."
Meanwhile, one of the students first arrested in the case, Eric Cuellar, pleaded guilty early Thursday of instigating an act of cruelty to an animal, a misdemeanor.
Cuellar declined to comment after the brief hearing.
Cuellar's defense lawyer, Richard Schonfeld, said his client was pleased to put the case behind him. Schonfeld stressed that Cuellar was never charged with harming the 14-year-old bird.
Justice of the Peace Bill Kephart ordered Cuellar to complete 48 hours of community service and an alcohol counseling class and pay a $200 fine and $150 in restitution to the Flamingo. Cuellar was given credit for having already served two days in jail.
Cuellar must complete the requirements of the sentence by April 4.
Fellow law student Justin Teixeira faces four counts, including felony killing another person's animal and other animal cruelty charges. If convicted Teixeira, who is in his final year of law school, could face a possible prison term if convicted.
Authorities have obtained video of the incident, but it has not been made public.
A witness told Las Vegas police that Teixeira tossed Turk with Cuellar after the bird's death.
"I (expletive) killed wildlife," Teixeira said, according a police report.
Several online media reports indicated that Teixeira had a minor in environmental studies at the University of California, Los Angeles and clerked for the U.S. Department of Justice, Environment and Natural Resources Division.
Christopher Edley Jr., dean of UC Berkeley's law school, released a statement in October saying he was "extremely troubled" by the arrests, but it was "premature to speculate about any possible consequences. The justice system must run its course."
Edley noted in a second statement to the law school community that if guilt were found, the student conduct code "severely limits our ability to discipline off-campus behavior. The logic, I assume, is that as a public (i.e., governmental) institution, we cannot punish someone because of behavior in Las Vegas or elsewhere that tarnished our image or offended widely shared values. Even if criminal."
The law school is required to alert the California state bar of relevant issues regarding a student's moral character, Edley said. "A conviction or even arrest will trigger heightened scrutiny and a substantial burden of persuasion for the (bar) applicant."
The state bar requires a background check to determine positive moral character, according to its website.
"It is the policy of The State Bar of California that persons who have been convicted of violent felonies, felonies involving moral turpitude and crimes involving a breach of fiduciary duty are presumed not to be of good moral character in the absence of a pardon or a showing of overwhelming reform and rehabilitation," the website said.
What remained unknown was whether the students involved in Turk's death had taken any ethics or moral classes while attending the law school.
Wolfson scoffed at the idea that such a class might be needed to prevent the behavior alleged in the case.
"General human decency would require behavior something other than what was engaged in here," Wolfson said. "I don't think you need an ethics class to know not to kill innocent and harmless wildlife."
Contact reporter Francis McCabe at fmccabe@reviewjournal.com or 702-380-1039.