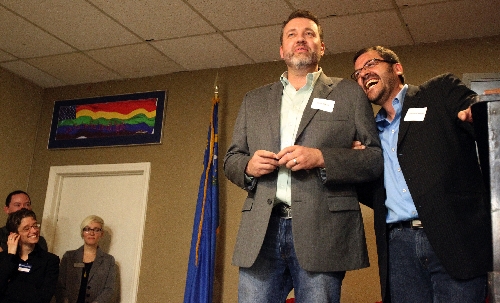 A national gay rights advocacy group took its state-by-state fight for same-sex marriage equality to a federal court for the first time Tuesday, filing a lawsuit to force Nevada to allow gay and lesbian couples to marry.
The Lambda Legal Defense and Education Fund lawsuit focused on the differences between rights granted by a domestic partnership law passed by the state Legislature in 2009 and a gay marriage ban made part of the state constitution by voters in 2002.
It seeks to void the constitutional ban "and any other sources of state law that exclude same-sex couples from marriage" and to recover unspecified legal costs and fees. It alleges eight same-sex couples are being discriminated against because they aren't allowed to marry.
"Nevada already gives same-sex couples the rights and responsibilities of family, parenting and relationships," said Tara Borelli, a Los Angeles-based Lambda Legal attorney. "What is the reason for not giving them the one word that says it all?"
The civil lawsuit filed in U.S. District Court in Las Vegas names Republican Gov. Brian Sandoval as a defendant.
It alleges state lawmakers established a "selective bar to access to marriage" with the 2009 domestic partnership law that was passed over a veto by then-Gov. Jim Gibbons, a Republican.
Jennifer Lopez, a spokeswoman for Nevada Attorney General Catherine Cortez Masto, a Democrat, said the state will review the filings and decide how to proceed.
Lambda Legal, founded in 1973, calls itself the oldest and largest national legal advocate for civil rights for gay, lesbian, bisexual, transgender and HIV-positive people.
Borelli said the organization has been fighting other gay marriage issues in other states, including an Arizona challenge by state employees of a cut to domestic partner health benefits and a California fight against the federal Defense of Marriage Act.
Borelli said the Nevada lawsuit is the first by the group to make a direct state marriage equality claim in federal court. The lawsuit alleges the 2002 constitutional amendment prohibiting same-sex marriage violates the Equal Protection Clause of the U.S. Constitution.
"Every day that same-sex couples in Nevada are denied marriage equality, the government sends a message that their families are not worthy of equal dignity and respect," Borelli said.
The lead plaintiffs in the case are Beverly Sevcik, 73, and Mary Baranovich, 76, of Carson City, who have been together for nearly 41 years and have raised three children, Lambda said. They have four grandchildren.
Baranovich said in the lawsuit that she can't understand how her lifelong commitment to Sevcik hurts others.
"After four decades of sharing a life together, all we want is to commemorate our love for each other in the same way as other couples, through marriage," Sevcik said in the lawsuit.
Other plaintiffs named in the case include four couples in Las Vegas, two couples in Reno and Caren Cafferata-Jenkins, 53, and Farrell Cafferata-Jenkins, 48, a Carson City couple who have been together for 15 years and are raising two sons. Caren Cafferata-Jenkins is executive director of the Nevada state Commission on Ethics.
Half the couples, including Sevcik and Baranovich, recently tried to obtain marriage licenses in Nevada and were refused because of their same-gender relationship, the lawsuit said. The other plaintiffs obtained marriage licenses in other states where same-sex marriage is allowed and want to have their marriage recognized by their home state.