Man pleads guilty to assaulting, killing daughter to avoid death penalty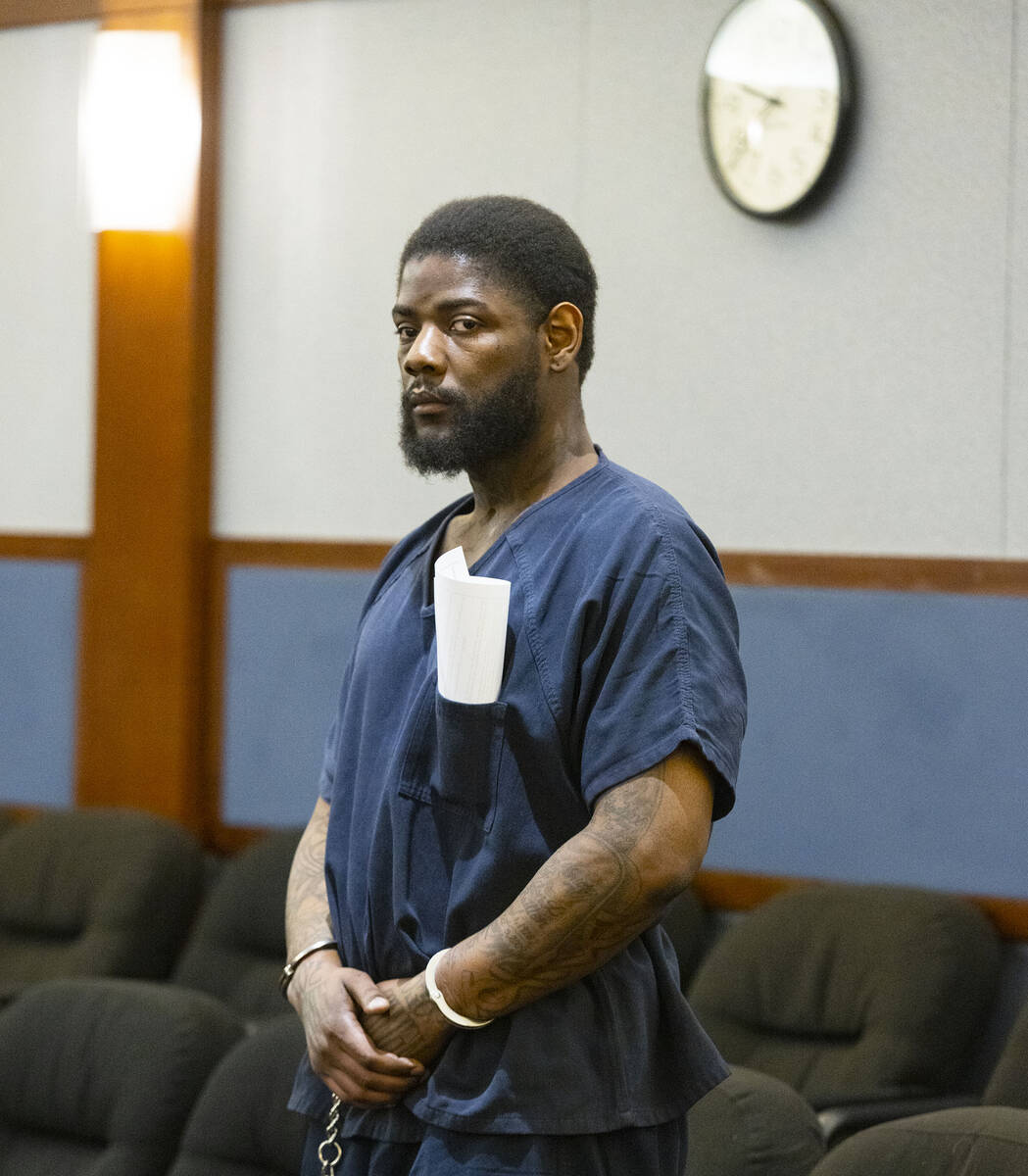 A man pleaded guilty Thursday to sexually assaulting and stabbing his 12-year-old daughter to death and attempting to murder his teen son after prosecutors agreed not to seek the death penalty.
Marcus Maddox, 34, admitted in Clark County District Court to committing first degree murder, sexual assault of a minor under 16 years old and attempted murder with a deadly weapon in the death of Navaeh Maddox and serious injuring of Maddox's then-15-year-old son, Marcus Maddox Jr. in 2017.
From a settlement conference with prosecutors and his lawyers, Maddox decided to offer what is known as an Alfred plea to the three criminal counts, in which he did not admit to committing the crimes but accepts that the prosecution had evidence that could convince a judge or jury that he is guilty.
The defendant was accused in the vicious knife attack of his daughter and son on Nov. 20, 2017 at an extended-stay motel at 8400 Las Vegas Boulevard South, after which he drove across town to the 5200 block of Craig Road where he nearly beat his wife to death while on the phone with police dispatchers, the Metropolitan Department Police said.
Maddox then shot himself in the head, but survived. About 17 hours later, authorities from Child Protective Services, who were unaware of the children's injuries, arrived at the motel for a status check, had management open the locked door and found Navaeh lying dead on the floor next to her brother, who was critically injured with stab wounds and a fractured skull.
Later, prosecutors, based on DNA and other evidence, alleged that Maddox had non consensual vaginal, anal and oral sex with the girl before she died.
Based on what allegedly happened to her, and that Marcus Maddox had been convicted in 2006 for assault with a deadly weapon on a victim he shot four times, District Attorney Steve Wolfson filed a motion to seek the death penalty in 2018.
During Thursday's brief hearing before Judge Carli Kierny, Chief Deputy District Attorney Giancarlo Pesci said that following the settlement meeting, prosecutors opted to modify the punishment Maddox should receive to a possible sentence of life in prison.
"It's not death," Kierny said.
"We're dropping death," Pesci said.
The prosecution also agreed not to pursue the domestic violence case, filed in 2018, alleging that Maddox beat his then girlfriend, identified in court documents as Tishia Charles, who is the biological mother of Navaeh and Marcus Maddox, Jr.
They also combined three sexual assault counts into one and vacated battery and firearms counts against Maddox.
Maddox, in jail clothing, appeared in court and answered "yes ma'am" when the judge asked him a series of questions about his willingness to accept the plea agreement.
Kienry said that Maddox faces life in prison, plus an enhancement of one to 20 years for using a deadly weapon, on the first-degree murder charge, 25 years to life on the sexual assault count and another two to 20 years for attempted murder using a deadly weapon.
Maddox would not be eligible for parole in the plea deal, and from the sexual assault conviction would have to register as a sex offender for the remainder of his life, the judge told the defendant.
Defense attorneys Thomas Ericsson and Jess Marchese requested the sentencing hearing be delayed for about 120 days for time to hire experts who will examine Maddox for the purpose of providing mitigating facts for the judge to weigh prior to imposing a prison term.
Kierny set the sentencing hearing for May 4.
Pesci said that Marcus Maddox Jr. suffered motor and speech difficulties from his father's attack that required rehabilitation, but the teen was well enough to testify during his father's preliminary hearing in 2018.
At the time of the knife attack, Marcus Maddox and Tishia Charles were apparently involved in a child custody dispute, he said.
Charles maintains contact with Maddox while he is incarcerated at the Clark County Detention Center, Pesci said.
The defendant's guilty plea "saves the victims from going over it again in a trial," Pesci said.
Contact Jeff Burbank at jburbank@reviewjournal.com and 702-383-0382. Follow him @JeffBurbank2 on Twitter.