Mourners honor four people killed in fatal bus stop crash
September 20, 2012 - 3:27 pm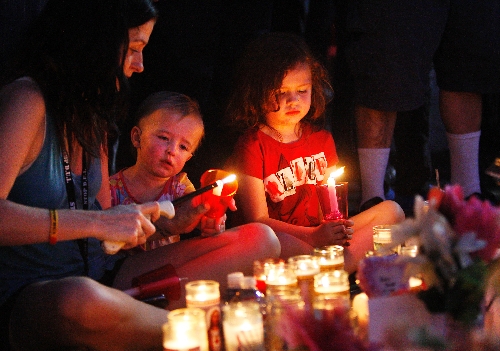 It doesn't matter whether the driver who killed her stepbrother and three others when he plowed into a southwest valley bus stop last week was under the influence, a grieving Jessica Amaya said Thursday night.
"It doesn't justify the fact that he killed four people on this street," a tearful Amaya said as her anger crescendoed in the wake of conflicting claims from attorneys in the case.
"It doesn't justify the fact that he was going over the speed limit. … It doesn't justify anything."
Amaya was one of about 250 people who attended a candlelight vigil on the corner of Spring Mountain Road and Decatur Boulevard where four died Sept. 13 after 23-year-old Gary Lee Hosey Jr. drove a Chevrolet Monte Carlo into a crowd.
Amaya's stepbrother, Gerber Hernan Ayala-Tomasino Jr., 24, was killed in the crash. She said she will never be able to forgive Hosey because, at minimum, he was driving recklessly.
Thursday night's vigil was put on by STOP DUI, a local nonprofit.
Group members lit a candle for each person who died.
People young and old attended. Some shared stories of loved ones who lost their lives to drunken drivers.
A Las Vegas police officer urged any witnesses to come forward because the investigation into the crash is ongoing.
Some cried. Others stood with blank faces.
Keith McCloud, a Clark County resident since 2000, said Thursday's outpouring shows that Las Vegans aren't apathetic.
"This is just a small percentage of the people in this community who care about what happened to others," said McCloud, who came because the crash moved him. "There are a lot of people sitting at home all choked up about this."
The three others who died in the crash were Johnni Lee Garner, 49, Margoth Gonzalez, 65, and Hyon Cooley, 47.
Eight other people were injured in the crash, including three who were in critical condition shortly after.
As of Thursday afternoon, however, only one patient remained at University Medical Center. He was listed in serious condition. Another patient, in good condition, remained at Sunrise Hospital and Medical Center.
Lawyers on opposing sides of Hosey's case clashed over whether he was under the influence of alcohol and drugs during the crash.
Defense attorney Kristina Wildeveld said Thursday that blood tests from Hosey showed he had a blood alcohol level of 0.06, under the legal limit of 0.08. She did not know how long after the crash Hosey was tested.
She also said her client did have marijuana in his system, higher than the 2.0 state level of impairment of nanograms per milliliter. She was not sure exactly what his level was but said it was consistent with someone who had smoked up to 12 hours before the crash.
Wildeveld said it was a shame that police tried to make a tragedy worse by turning it into a driving-under-the-influence case.
"It is tragic," Wildeveld said. "We will not minimize that in any shape or form. … We don't have to exacerbate the tragedy by making up facts that don't exist. Alcohol and marijuana were not a significant factor in the crash."
Chief Deputy District Attorney Brian Rutledge disputes that claim. He said evidence will show Hosey was over the 0.08 legal limit and had more marijuana in his system than what the state considers impairment level.
He said Hosey's blood draw was taken two hours after the crash.
"He was both drunk and high," Rutledge said. "The combination of the two is worse than either one individually."
According to Hosey's arrest report, he took a breath test at the scene and blew over a 0.08.
Rutledge said Hosey's marijuana level was 2.8., over the 2.0 impairment level.
Hosey was driving at least 60 mph when he hit the bus stop.
Witnesses estimated Hosey's speed at 100 mph, but he contended he was only doing 60 mph.
He also told police that before the crash, he drank only one beer with friends at an Ethiopian bar near the bus stop at Spring Mountain Road and Decatur Boulevard.
Police said the 2001 Monte Carlo went airborne at the intersection and slammed into the bus stop about 6:30 a.m. on Sept. 13.
Hosey, who doesn't have a driver's license, appeared in Las Vegas Justice Court Monday morning, where he faced four charges of felony DUI causing death.
Because county prosecutors had not filed formal charges, Justice of the Peace Conrad Hafen delayed Hosey's arraignment until this morning .
Prosecutors were awaiting blood test results and other medical reports before charging Hosey, who has been at the Clark County Detention Center since his release from the hospital last week.
In court earlier this week, a tearful Hosey wore a sling on his left arm and kept his head down.
Police originally said Hosey might have suffered a collapsed lung and broken back, but the injures did not appear as serious as reported.
Police said Hosey had a lengthy criminal history in Las Vegas, including arrests in the past two years for marijuana possession, obstructing a public officer, lewd conduct and larceny.
Amaya said she will never forget her stepbrother, who moved to Las Vegas from El Salvador two years ago. He worked at a recycling company and took the bus to work.
She said it was ironic that he moved to this country to get a better life, and then died in such a senseless way.
"It's unfair," Amaya said. "He was taken away in a brutal manner that didn't have to happen."
Contact reporter Antonio Planas at aplanas@review journal.com or 702-383-4638.