Navy SEAL convicted in federal arms trafficking case
October 7, 2011 - 10:38 am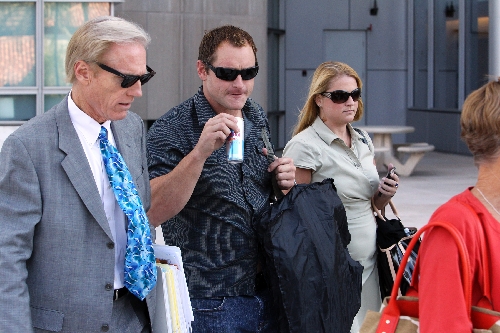 A Navy SEAL who survived two deployments to Iraq was taken down Friday by a jury of his peers in Las Vegas.
The federal jury deliberated a total of about 10 hours before finding Petty Officer 1st Class Nicholas Bickle guilty of 13 of the 15 counts he faced in the arms trafficking case.
"It was just obvious," juror Laurie Young said. "There was a lot of evidence."
The decorated SEAL, who wore his uniform throughout the three-week trial, declined to comment as he left the courtroom of Senior U.S. District Judge Roger Hunt with his parents and one of his sisters. Bickle, who lives in San Diego, recently turned 34.
During the trial, prosecutors identified Bickle as the ringleader of a conspiracy to deal unlawfully in firearms. They accused him of bringing machine guns and other weapons into the country from Iraq for his own profit.
"It's unthinkable that somebody who's faced these firearms in combat would knowingly sell them on the streets of the United States," said Thomas Chittum III, who testified during the trial.
Chittum is resident agent in charge of the Las Vegas office of the Bureau of Alcohol, Tobacco, Firearms and Explosives.
The investigation began in June 2010 when an informant told authorities that Las Vegas resident Omar Aguirre, a felon, was involved in arms trafficking. About two months later, after an undercover detective had bought machine guns from Aguirre, investigators confronted the suspect and persuaded him to cooperate in the investigation.
Aguirre and two other men later accepted plea bargains and admitted selling weapons for Bickle, the only military member charged in the case.
"I'm really happy that it was the ATF buying these firearms and not the criminals they thought they were dealing with," Chittum said.
The jury's eight women and four men deliberated a full day Thursday and part of Friday morning before reaching a decision. Hunt asked the defendant to stand for the reading of the verdicts about 11 a.m.
Bickle's parents, Cliff and Barbara, and older sister, Holly, sat behind him, in the front row of the gallery. They showed no emotion upon hearing the guilty verdicts.
The jury convicted Bickle of conspiracy, dealing in firearms without a license, four counts of unlawful possession and transfer of machine guns, five counts of unlawful possession and sale of stolen firearms, receiving and retaining property of the United States, and distributing explosives to a nonlicensee.
"We are chagrined that the jury decided to find guilt on the majority of the counts despite the fact that there was no fingerprint evidence, no DNA evidence and the bulk of the prosecution's case was based on testimony and statements of drug users, convicted felons, drug addicts and arms smugglers," defense attorney James Pokorny said outside the courtroom.
Aguirre, who was convicted in 1999 in New Mexico of possession with intent to distribute more than 100 pounds of marijuana, and Las Vegas resident Andrew Kaufman pleaded guilty in the firearms case in December.
Colorado resident Richard Paul, Bickle's longtime friend, pleaded guilty in January and testified against him during the trial.
Assistant U.S. Attorney Timothy Vasquez acknowledged during his closing argument that jurors heard evidence of drug use by all three of Bickle's co-defendants, but the prosecutor said Bickle chose to participate in the conspiracy with them.
Over the objection of prosecutors, Hunt allowed Bickle to remain free while he awaits his sentencing hearing on Jan. 20.
Assistant U.S. Attorney Phillip Smith Jr. argued that Bickle, who faces "a substantial period of time" in prison, has both the motive and training to flee before his sentencing hearing.
Hunt said the defendant complied with all of the conditions of his pretrial release and "has a very strong family support."
Pokorny said Bickle's parents traveled from Pennsylvania to support him during the trial. His two older sisters, who live in the Boston area, also attended portions of the trial. One of them, Heather Westerman, is a lawyer.
Prosecutors have said more than 70 firearms, including about 30 machine guns, were sold in the conspiracy. Prosecutors said evidence established that Bickle set the prices for those firearms and received most of the profits from the sales.
"As this conviction demonstrates, no one is above the law," according to a statement released Friday by Daniel Bogden, the U.S. attorney for Nevada.
Chittum said he expects Bickle to face punishment from the Navy.
"We don't think this is endemic to the Navy SEALs," the agent said. "It's unfortunate that anyone who would have to work as hard as he did to get into a unit that is as prestigious and well-respected as the Navy SEALs would do something to dishonor it."
Among the government witnesses who testified during Bickle's trial was filmmaker Peter Berg, who said Bickle gave him an AK-47 as a "trophy weapon" after the pair developed a friendship in Iraq, where Bickle worked as an ordnance representative.
Berg said he was embedded with SEAL Team Five for nearly a month in March 2009 while preparing to make his upcoming movie "Lone Survivor," based on the book by Marcus Luttrell. Embedded journalists typically live with military units while covering armed conflicts.
The Los Angeles filmmaker credited Bickle with saving his life and the lives of others in Iraq.
Berg said Bickle gave him the AK-47 at a San Diego hotel in June 2009.
The witness said he took the weapon to his house and kept it in a safe in his garage until December 2009, when prop master Doug Fox destroyed it for him.
Bickle, who had a role in the 2011 movie "Transformers: Dark of the Moon," was arrested in November in San Diego. He did not testify during his trial.
Authorities found two pistols when they searched Bickle's bedroom after his arrest. They also found a pistol in his storage unit.
Evidence indicated all three weapons had been given to Iraqi security forces by the United States.
Pokorny acknowledged that Bickle "faces a whole lot of time" in prison, but the San Diego attorney said he plans to argue for probation. Pokorny also said he plans to appeal his client's convictions.
Sentencing hearings for all three of Bickle's co-defendants are scheduled for later this month.
Contact reporter Carri Geer Thevenot at cgeer@reviewjournal.com or 702-384-8710.