Nevada high court reverses Citizen Outreach decision
February 11, 2015 - 5:51 pm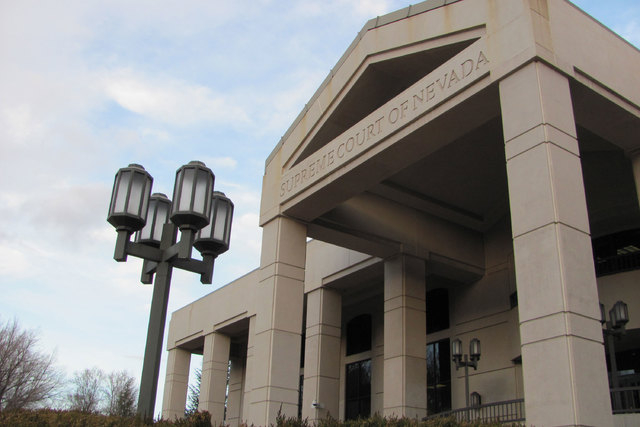 CARSON CITY — In a rare error, the Nevada Supreme Court issued a new 5-2 order Wednesday in favor of Citizen Outreach in a case involving election fliers and whether the conservative political group had to disclose who paid for them.
"Because it is undisputed that Citizen Outreach's fliers do not contain magic words of express advocacy, the fliers were not subject to regulation under Nevada's campaign practices statutes that were effective in 2010," the court majority said.
Because the fliers aimed at then-Assemblyman John Oceguera do not contain the "magic" words of "vote for" or "vote against," they did not qualify as express advocacy requiring the reporting of who paid for them, the court said in the new order.
The ruling is a complete reversal of a Monday order that came to the opposite conclusion. That order was withdrawn and the court said it was a clerical error that led to its posting.
In July 2013 Citizen Outreach was fined $10,000, plus attorneys fees by Carson City District Judge James Todd Russell for failing to report the source of the donors for the fliers.
But the new order reverses Russell's ruling.
Chuck Muth, president of Citizen Outreach, was in better spirits with Wednesday's order. Rather than looking at possible avenues of appeal, he said in a statement: "I feel like that zombie cat in Florida. Everyone thought we were dead. But to paraphrase Mark Twain, the rumors of our court loss turned out to be greatly exaggerated. We're obviously thrilled at this unexpected turn of events."
Dissenting were Justices Michael Douglas and Nancy Saitta, who said the "magic word" test should not be required to allow transparency in the disclosure of contributions and expenditures advocating for the election or defeat of a clearly identified candidate.
The mailers sent out criticizing Oceguera in October 2010 highlighted his record on tax hikes and accused him of being "a double-dipping government employee."
Oceguera won re-election in 2010 and was termed out of office in 2012.
Contact Sean Whaley at swhaley@reviewjournal.com or 775-687-3900. Find him on Twitter: @seanw801.