Nevada high court wants more information in school dispute case
September 7, 2017 - 1:39 pm
Updated September 7, 2017 - 7:09 pm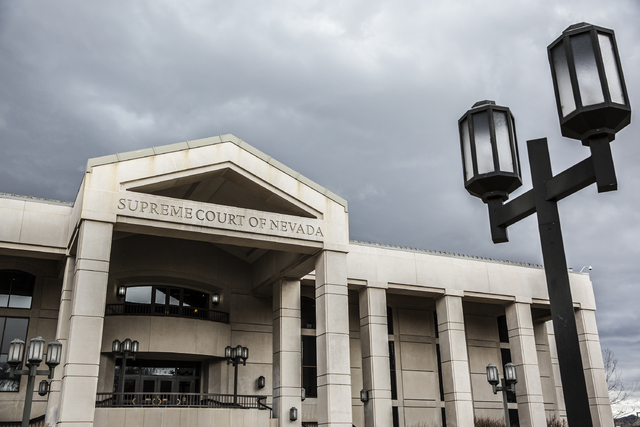 CARSON CITY — Several Nevada Supreme Court justices appeared inclined Thursday to send back to district court a thorny dispute over where a child of a divorced Las Vegas couple should attend school.
Members of the court expressed frustration over the lack of a record in the case in which the mother wants her 12-year-old daughter to attend public school, but the father wants her to attend a private religious school.
The court will rule later in the case after listening to 30 minutes of oral arguments.
Chief Justice Michael Cherry said an evidentiary hearing at the Family Court level would clear up the questions about what is in the best interests of the child of Melissa and Matthew Arcella.
Matthew Arcella, who appealed the lower court decision directing the daughter, identified as RA, to attend Bob Miller Middle School, attended the hearing and said the court seemed interested in the issues his attorney raised on appeal. The best interests of the child should take precedent, he said. Arcella wants his daughter to attend Faith Lutheran.
Melissa Arcella objected to the choice on religious grounds, and Clark County Family Court Judge Lisa Brown agreed based on that objection in her order.
Matthew Arcella's attorney, Bruce Shapiro, said the judge demonstrated "unconstitutional hostility to private religious education."
The Family Court decision came without an evidentiary hearing or any interview of the child to determine her wishes, he told the court.
Las Vegas attorney F. Peter James, representing Melissa Arcella, acknowledged that the lower court ruling could have been more complete in its findings. But Matthew Arcella did not make any substantive claim supporting Faith Lutheran other than to say it was the child's choice and that it was "Faith Lutheran," James said. Without making a proper claim, the court was not required to hold an evidentiary hearing, he said.
Contact Sean Whaley at swhaley@reviewjournal.com or 775-461-3820. Follow @seanw801 on Twitter.