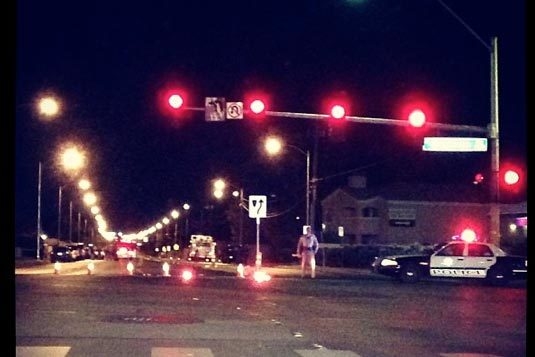 The woman who was involved in a 23-hour standoff with SWAT on Monday night faces additional charges.
Sara Jones, 29, now faces six counts of attempted murder on a police officer with a deadly weapon in the southeast valley incident that culminated in an exchange of gunfire.
According to police, Jones was hiding in the master bathroom when SWAT entered the home on Newton Drive, near Tropicana Avenue and Mountain Vista Street. She fired a shot through the door, striking an officer in the leg. The officer was wearing protective shin gear and only had "superficial" injuries, police said.
SWAT officers returned fire, striking Jones in the face. She was taken to University Medical Center and is expected to survive her injuries.
Social workers took the two children at the scene, who were not hurt.
She was originally booked in absentia on two charges of first-degree kidnapping, three counts of child endangerment with a deadly weapon, resisting an officer with a deadly weapon and assault with a deadly weapon.
Contact Steven Slivka at sslivka@reviewjournal.com or 702-383-0264. Follow him on Twitter @StevenSlivka.