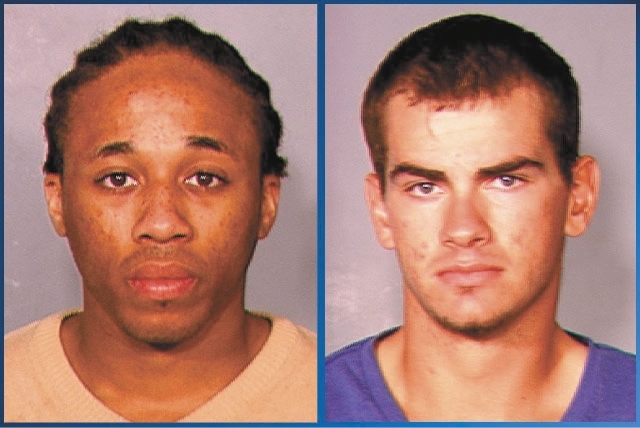 The iPad at the center of the murder of 15-year-old Marcos Arenas has been recovered by Las Vegas police, the Review-Journal has learned.
The Apple tablet computer may have been used as part of a drug deal following the May 16 robbery. The details of who had it and how police recovered it were not immediately known.
Finding the device could provide key evidence in the case against Jacob Dismont, 18, and Michael Solid, 21, who were arrested Saturday and face murder and robbery charges in connection with Arenas' death.
The iPad has been missing since the robbery. Both defendants initially denied involvement in the theft and killing.
Arenas was given the tablet for his birthday two months earlier. The Bonanza High School student refused to let go as Dismont grabbed it and jumped into a Ford Explorer driven by Solid on Charleston Boulevard near Torrey Pines Drive, police said. Arenas was dragged under the rear tires, and later died.
The boy's father was relieved when he heard the iPad was recovered.
"That's great news," Ivan Arenas said. "That was my baby's most prized possession. It meant a lot to him and it meant a lot to me."
The iPad will likely remain in an evidence vault as prosecutors move forward with their case against Dismont, a Sierra Vista High School baseball player, and Solid, a high school dropout with a history of theft arrests.
Las Vegas Justice of the Peace Diana Sullivan on Thursday ordered the two men held without bail and set a preliminary hearing for June 7. Dismont and Solid appeared in court with their arms and legs shackled, wearing navy blue jail scrubs.
Family and friends of Marcos Arenas also attended the hearing, some wearing T-shirts imprinted with his photo. Muffled sobbing could be heard as prosecutor Robert Daskas told Sullivan that Dismont and Solid stalked Arenas.
The two allegedly waited at a convenient store, where they were seen on video surveillance conspiring prior to the robbery, Daskas said.
The video shows the defendants, "like lions on the Serengeti, waiting to pounce, to ambush the smallest member of a pack," Daskas said. "They had a plan. They had an orchestrated, preconceived plan to rob this 15-year-old."
The veteran prosecutor called it a clear-cut case of "felony first-degree murder," which state law says is any murder committed during a felony. In this case, robbery. It's a significant legal theory as prosecutors do not have to prove the murder was deliberate.
"They agreed to commit a robbery. They committed the robbery. And during the course of the robbery somebody was killed," Daskas said.
The defendants' lawyers said they have recieved little evidence from authorities.
Solid's lawyer, special public defender David Schieck, said "this was an unintentional death that occurred." He said he plans to request bail at a later date as he reviews more evidence.
Dismont's defense lawyer deputy public defender Jeff Banks asked for $100,000 bail in the case.
Judge Sullivan noted that most of the evidence had yet to be revealed in the case and said she would consider future bail motions from the defendants.
The iPad murder case rings familiar to a 2010 mugging that resulted in the death of a 95-year-old woman.
In the 2010 case, two women driving a vehicle in a Smith's parking lot grabbed Bertha Meier's purse.
But Meier wouldn't let go, and she was dragged by the vehicle as Kierstie Manning and Teresa Meamber tried to flee.
Meier's hip was shattered in the attack. She died about three weeks later from her injuries.
Meamber and Manning were originally charged with murder, but each cut a deal with prosecutors and pleaded guilty to voluntary manslaughter and other charges. Both were sentenced to lengthy prison terms.
Contact reporter Francis McCabe at fmccabe@reviewjournal.com or 702-380-1039. Contact reporter Mike Blasky at mblasky@reviewjournal.com or 702-383-0283.