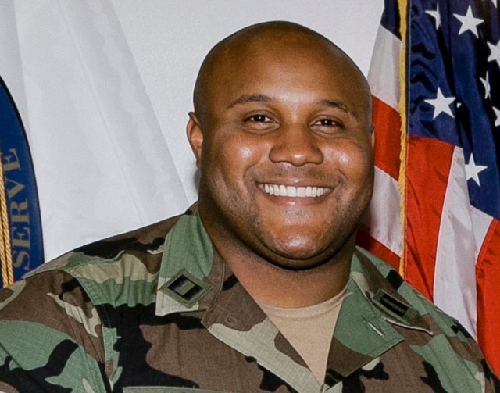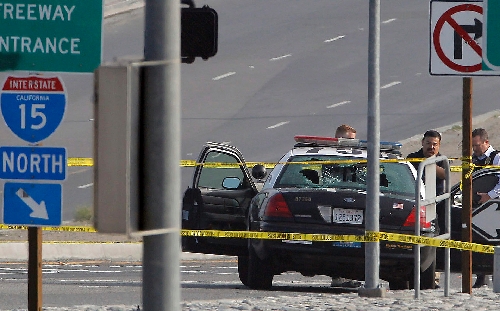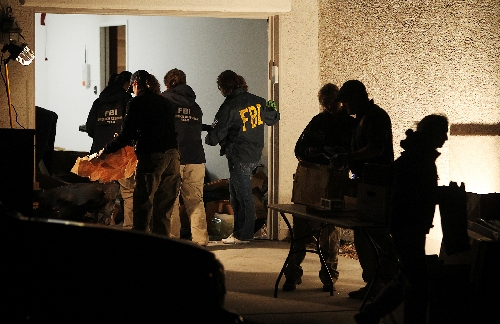 LOS ANGELES – A fired police officer who threatened to bring "warfare" to the Los Angeles Police Department went on a shooting rampage that left a policeman and two others dead and set off an extraordinary manhunt Thursday that put Southern California on edge, led hair-trigger officers to mistakenly shoot at innocent citizens and forced police to guard their own.
The search for Christopher Dorner, 33, had three states and Mexico on alert before shifting Thursday afternoon to the snowy mountains around Big Bear Lake, about 80 miles east of Los Angeles, where police found his burned-out pickup and tracks leading away from the vehicle.
San Bernardino County Sheriff John McMahon said that 125 officers were going door to door and attempting to track the suspect and that a SWAT team was providing added security to those in the community. Schools were put on lockdown while investigators examined the vehicle and spread out across the area.
"He could be anywhere at this point, and that's why we're searching door to door," McMahon said, adding that the manhunt would continue "as long as we can." A snowstorm was expected in the region with temperatures dipping into the teens overnight.
Said LAPD Assistant Chief Michel Moore: "This complex and violent investigation has led to this mountain."
The pickup was to be processed at a crime lab Thursday evening and examined by investigators from multiple agencies.
The investigation spilled over into Las Vegas, where federal and local law enforcement, including a Las Vegas Fire Department bomb squad and the FBI, converged Thursday afternoon around a southwest valley home owned by Dorner.
Clark County property records show Christopher Jordan Dorner bought a home in Las Vegas at 724 Loughton St., off Blue Diamond and Fort Apache roads, in 2007. He also has lived in Cedar City, Utah.
About two dozen residents convened at one end of Loughton as they watched FBI agents and Las Vegas police work near Dorner's home. Unmarked cars lined the street, keeping people from getting too close to the investigation.
Law enforcement officers carrying rifles and wearing bullet-proof vests and helmets walked up and down the street.
A bomb squad truck, equipped with a robot, was on scene. The Las Vegas FBI served a federal search warrant at Dorner's home.
A neighborhood resident of three years, who asked that his name not be used, said the scene was surreal.
"It's crazy because I was watching the news earlier today, and I saw they said he had Las Vegas ties," the man said. "But I never thought it would be this close."
Neighbors said federal officials arrived at the home about 3:30 p.m. Most stayed about an hour.
The FBI team gathered cardboard boxes from Dorner's garage, snapped pictures and placed the boxes in bags. The items were then placed in a white van parked across from Dorner's home.
One onlooker said she spoke briefly to Dorner last year.
She was washing her car, and Dorner drove by in his pickup, he told her he was an officer.
The woman, who asked not to be named, said Dorner was a "nice guy."
"It's really sad, whatever the problem is, that it had to resort to this," she said of the accusations that Dorner is a three-time killer.
Las Vegas police officer Laura Meltzer said patrol officers received information about Dorner on Thursday.
FBI Agent Patrick Turner said federal agents were watching for Dorner, but there was no immediate information that he was heading for Nevada.
Meanwhile, signs typically used for Amber Alerts along U.S. Highway 95 publicized "Grey Nissan P/U CA 8D83987 CALL 911"
Nevada Highway Patrol troopers also watched for Dorner and his vehicle on roads leading to the Las Vegas area from Southern California.
Police issued an "officer safety warning" in California, and officers were sent to protect people named in the posting that was thought to be written by Dorner, who has military training. Among those mentioned were members of the Los Angeles Police Department.
"I will bring unconventional and asymmetrical warfare to those in LAPD uniform whether on or off duty," the manifesto said. It also asserted: "Unfortunately, I will not be alive to see my name cleared. That's what this is about, my name. A man is nothing without his name."
Dorner has available multiple weapons including an assault rifle, said police Chief Charlie Beck, who urged Dorner to surrender. "Nobody else needs to die," he said.
Dorner was Naval Reserve unit commander for eight months in 2009 at a Northern Nevada air base.
Fallon Naval Air Station spokesman Zip Upham said Thursday that Dorner was a reserve lieutenant in a unit augmenting security on the base, about 70 miles east of Reno, and at a reserve center at Stead Airport north of Reno.
Upham said he doesn't recall ever meeting Dorner.
Upham said that after November 2009, Dorner was assigned to a volunteer training unit at a Naval Reserve center in Los Angeles.
More than 40 protection details were assigned to possible targets of Dorner. Los Angeles Police spokesman Cmdr. Andrew Smith said he couldn't remember a larger manhunt by the department.
The hunt spread from California and Nevada to Arizona and Mexico, said a U.S. Marshals Service official who spoke to The Associated Press on condition of anonymity because the official was not authorized to publicly comment.
Throughout the day, thousands of heavily armed officers patrolled highways throughout Southern California, while some stood guard outside the homes of people police say Dorner vowed to attack in a rant posted online.
"Of course he knows what he's doing; we trained him. He was also a member of the armed forces," Beck said. "It is extremely worrisome and scary."
The nearly 10,000-member LAPD dispatched officers to protect more than 40 potential targets, including police officers and their families. The department also pulled officers from motorcycle duty, fearing they would make for easy targets.
"I never had the opportunity to have a family of my own, I'm terminating yours," the manifesto said.
Officers guarding one location mistakenly opened fire on a pickup, believing it matched the description of Dorner's dark-colored 2005 Nissan Titan. Two occupants were injured.
The chief said that there had been a "night of extreme tragedy in the Los Angeles area" and that the department was taking measures to ensure the safety of officers.
The search for Dorner, who was fired from the LAPD in 2008 for making false statements, began after he was linked to a weekend killing in which one of the victims was the daughter of a former police captain who had represented him during his disciplinary hearing. Thursday was the anniversary of his first day on the job at the department eight years ago.
Monica Quan and her fiance, Keith Lawrence, were found shot in their car at a parking structure at their condominium on Sunday in Irvine. Quan, 28, was an assistant women's basketball coach at Cal State Fullerton. Lawrence, 27, was a public safety officer at the University of Southern California.
Police said Dorner implicated himself in the couple's killings in the manifesto posted on Facebook. They think he was the one who wrote it because there were details in it only he would know.
In the post, Dorner wrote that he knew he would be vilified by the LAPD and the news media, but that "unfortunately, this is a necessary evil that I do not enjoy but must partake and complete for substantial change to occur within the LAPD and reclaim my name."
Dorner was with the LAPD from 2005 until 2008.
According to documents from a court of appeals hearing, Dorner was fired from the LAPD after he made a complaint against his field training officer, Sgt. Teresa Evans.
Dorner said that in the course of an arrest, Evans kicked suspect Christopher Gettler, a schizophrenic with severe dementia.
Richard Gettler, the schizophrenic man's father, gave testimony that supported Dorner's claim. After his son was returned home on July 28, 2007, Richard Gettler asked "if he had been in a fight because his face was puffy," and his son responded that he was kicked twice in the chest by a police officer.
Quan's father, a former LAPD captain who became a lawyer in retirement, represented Dorner in front of the Board of Rights, a tribunal that ruled against Dorner, police said. Quan did not return a message seeking comment.
Dorner said in his online rant that after his dismissal that he lost everything, including his relationships with his mother, sister and friends.
"Self-preservation is no longer important to me. I do not fear death as I died long ago," the manifesto said. "I was told by my mother that sometimes bad things happen to good people. I refuse to accept that."
Dorner said he would use all of his training to avoid capture and track his targets.
While in the Naval Reserves, Dorner earned a rifle marksman ribbon and pistol expert medal. He was assigned to a naval undersea warfare unit and various aviation training units, according to military records, and took a leave from the LAPD and deployed to Bahrain in 2006 and 2007.
"I will utilize every bit of small arms training, demolition, ordinance and survival training I've been given," the manifesto read. "You have misjudged a sleeping giant."
Earlier Thursday, as officers searched for Dorner, there was a report of a shooting involving two LAPD officers working a security detail in Corona, police said.
A resident pointed out a man believed to Dorner to the officers, who followed until the pickup stopped. The driver then got out and fired a rifle. A bullet grazed an officer's head.
Later, two officers on routine patrol in neighboring Riverside were ambushed at a stoplight by a motorist who drove up next to them and opened fire with a rifle. One died, and the other was seriously wounded but was expected to survive, Riverside police Chief Sergio Diaz said.
Diaz said news organizations should withhold the officers' names because the suspect had made clear that he considers police and their families "fair game."
The Associated Press writers contributing to this report include Jeff Wilson, Bob Jablon, Greg Risling, Shaya Tayefe Mohajer, Linda Deutsch and John Antczak in Los Angeles and Ken Ritter in Las Vegas. Las Vegas Review-Journal writers Antonio Planas, Richard Lake and Henry Brean contributed to this report.