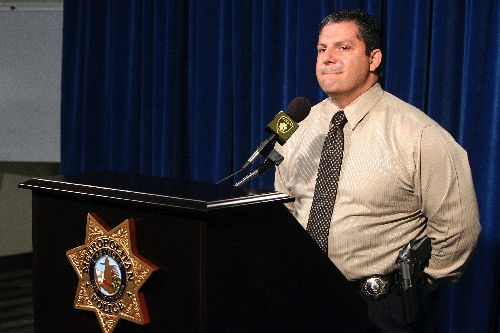 A 65-year-old man suspected in a series of strangulation killings was booked Tuesday into the Clark County Detention Center on two cold-case slayings, the first in 1978.
Metropolitan Police Department Homicide Lt. Ray Steiber announced during an afternoon news conference Tuesday that Nathan Burkett was extradited from Picayune, Miss., and faces two counts of murder and one count of sexual assault.
Steiber said Burkett is a "serial killer" who has been tied to the slayings of three women in the Las Vegas Valley over the course of more than two decades.
"He hasn't (just) committed one homicide in Las Vegas, not two, but we know he's at least committed three," Steiber said.
Burkett is also being looked at in connection with other cold-case slayings, but police wouldn't release details about those investigations.
Police recently recommended charging Burkett in the death of 22-year-old Barbara Ann Cox on April 22, 1978, and the slaying of 27-year-old Tina Gayle Mitchell on Feb. 20, 1994. Steiber said forensic evidence linked Burkett to the slayings.
Las Vegas police arrested Burkett in October 2003 for the slaying and kidnapping of Valetter Jean Bousley, 41. Bousley was found strangled on Sept. 4, 2002. Burkett was convicted of voluntary manslaughter in Bousley's death and served six years in prison.
Police also are investigating him in the death of a 32-year-old woman three months after Mitchell was found slain in 1994.
Tod Burke, associate dean of the College of Humanities and Behavioral Sciences at Radford University in Radford, Va., said if Burkett is guilty of the crimes he has been charged with, he qualifies as a serial killer.
Burke, who was formerly a criminal justice professor at Radford and a police officer in Maryland, said he has been studying the behavior of serial killers for more than a quarter century.
He said it is not atypical for serial killers to have long lapses between slayings.
"Sometimes serial killers may kill a matter of weeks apart, and sometimes it could be years apart," Burke said.
He added Burkett also fits the mode of a serial killer because he is accused in a series of strangulations where the victims' bodies were discovered in a specific area, West Las Vegas, generally bordered by Carey Avenue on the north, Bonanza Road on the south, Interstate 15 on the east and Rancho Drive on the west.
"Serial killers tend to pick out areas they will feel comfortable with," he said.
In at least four of the five cases, the victims were strangled.
1978 SLAYING
Police think the killing spree might have started in 1978, when Cox was found dead in a parking lot outside apartments at 211 W. Bonanza Road.
She was found nude, raped and with strangulation marks on her neck, according to Burkett's arrest report, which cites the notes from the original homicide investigators.
Police interviewed the woman who found Cox, who was in the area because she was driving Burkett home from the Aladdin hotel-casino, where he worked then.
She told detectives that she and Burkett discussed reporting the death. But Burkett got out of the car and walked into his upstairs apartment at 211 W. Bonanza. The woman chose to flag down an officer.
When detectives interviewed Burkett, he was staggering around nearby, "grossly intoxicated" and "belligerent," detectives said. He first told officers he wouldn't help them, then said that he once saw Cox go into an apartment across the street. He added that he was with his friend when Cox's body was found.
"This subject was in no condition to be interrogated, and he was escorted to his apartment by uniformed officers, where he promptly passed out," the report said.
There is no indication that detectives believed Burkett was a suspect, according to the reports. Investigators took vaginal samples of Cox, and the case was suspended when no new leads surfaced; DNA would not begin to be used in forensics until the late 1980s.
Five years after her death, however, Burkett was sentenced to 20 years in prison for manslaughter in Mississippi. Details of the case weren't available Tuesday, but records show he was scheduled to be released in 1992.
Police think his move back to Las Vegas is connected to the slaying of Mitchell in February 1994.
Mitchell's body was found behind a home on H Street near Washington Avenue, lying facedown and covered with towels. Medical examiners ruled she had been strangled.
Burkett's name didn't surface in the investigation into Mitchell's death, according to his arrest report. Detectives focused on another man, obtaining an arrest warrant for a Louis Donald Moore.
But prosecutors dismissed the case. Moore's connection to Mitchell is unclear, and the reports don't state why the case was dismissed. Detectives obtained samples from Mitchell that would eventually yield DNA, but the case went cold.
Two months after Mitchell was found, the body of Los Angeles woman Alethea Maria Williams was discovered in the same location. Williams, too, was strangled, authorities ruled.
Although Burkett has not been named as a suspect in her death, his arrest report reveals that detectives recently have questioned him about the case.
Burkett would serve time a decade later after pleading guilty to voluntary manslaughter in the death of local hotel maid Bousley. She was found strangled in September 2002, outside a church on F Street near Monroe Avenue.
The case was unsolved until March 2003, when a jail inmate said he saw Bousley go around the church with Burkett. Ten minutes later, the inmate saw Burkett walking away from the church, alone.
DNA SAMPLE
Police charged Burkett with murder, but he pleaded guilty to voluntary manslaughter. When he started his six-year prison stint, officials took a sample of DNA.
That sample would be registered with a national database and link him to the deaths of Cox and Mitchell when cold- case detectives submitted evidence from their deaths into the system in 2010.
When officers went to Mississippi to question him about the deaths on July 18, he denied knowing the victims or having sexual relations with them.
Police said Burkett was no stranger to local law enforcement. He has been arrested more than a dozen times in Southern Nevada since 1975 for charges including battery, kidnapping, rape, sexual assault, robbery and domestic violence.
Burke said now that Burkett is in custody, police have to take a deeper look at all of his moves in Southern Nevada. Burke said serial killers sometimes evade police.
"Even their first time doing something may not have been their first time," Burke said. "It might have been the first time they got caught."
Police said they will focus on Burkett's local history in Southern Nevada from 1978 to 2007.
FEDERAL GRANT
Burkett's arrest was aided by a federal grant Las Vegas police received in September 2009.
Steiber said his agency emphasized solving cold-case slayings after the department was awarded a nearly $500,000 grant from the Department of Justice.
Since then, cold-case detectives have investigated 275 unsolved slayings, and were able to solve 20 cases. Steiber said without the grant, and without flourishing forensic technology: "Those cases might have never been solved."
Steiber added his department still has 1,015 unsolved homicide cases.
"Every unsolved homicide deserves to be solved," Steiber said. "For the victim. For the family. For the community."
Contact reporter Antonio Planas at aplanas@reviewjournal.com or 702-383-4638. Contact reporter Lawrence Mower at lmower@reviewjournal.com or 702-383-0440.