Testimony reveals slain Arbor View student was near safety
October 29, 2011 - 1:00 am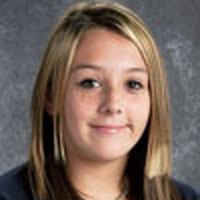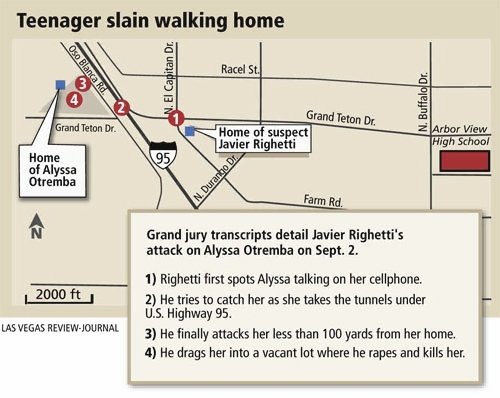 Alyssa Otremba was less than 100 yards from home.
The Arbor View freshman was 100 yards from marching with the school band at half time. One hundred yards from joining a dance class with her sister.
The 15-year-old was 100 yards from the safety of the walled-in development on Satin Carnation Lane where she lived with her parents and two younger sisters.
She was 100 yards from having her whole life ahead of her.
Javier Righetti didn't let her get there.
According to grand jury testimony obtained by the Review-Journal, Righetti stalked his prey for more than half a mile before attacking Alyssa and forcing her into a nearby wash where he raped and killed her.
The 19-year-old was indicted by a grand jury earlier this month on murder charges in connection with Alyssa's death and also charged with the March kidnapping and sexual assault of another 15-year-old girl, who survived being choked in the attack.
Righetti confessed to Las Vegas police that after raping Alyssa, he tortured her by stabbing her in the face and other parts of her body with a knife more than 80 times, according to authorities. He carved the initials "LV" on the freshman's body because he felt it was "gangster" and returned later to burn the body, authorities said.
Prosecutors are seeking the death penalty against Righetti, who has pleaded not guilty to the charges. His trial has been set for October 2012.
GOING TO GET A TEXTBOOK    
It was Sept. 2, the Friday ending Alyssa's first week at Arbor View High School. She performed with the school's marching band the night before at her first football game, albeit only from the stands. She was wearing a red shirt from a dance class she was set to take with her 14-year-old sister. She had on blue jeans and neon green sneakers her mother had bought for her. Her fingernails were painted blue.
She had stayed home from school that day after not feeling well in the morning. But she wanted to pick up a textbook from a classmate so she could do her homework for the weekend.
Her mother, Jennifer Otremba, had told Alyssa not to go by herself, that she would be home soon and would drive her to meet her friend. Besides, Otremba said, it was the three-day Labor Day weekend, and her homework could wait.
The teenager told her mother she wanted to get her homework done and enjoy the holiday. Alyssa added that she had gained a couple of pounds and needed the exercise.
She was adamant, and her mother relented, telling her to go meet her friend and come right back home.
It would be the last time they would speak.
'AN EASY TARGET'
According to testimony from homicide detective Dan Long, Righetti first spotted Alyssa as she was talking on her cellphone and walking west on Grand Teton Drive, near El Capitan Way, less than a mile from her home. Righetti started following Alyssa sometime after 6:30 that evening.
"She would be an easy target, an easy victim," Righetti told Long.
Righetti described to Long how he was psyching himself up for the attack. "Are you going to do this, or are you going to be a bitch," Righetti told himself.
Righetti was going to "get her" in the tunnel that runs underneath U.S. Highway 95 at Grand Teton Drive. He had attacked another girl months earlier in a similar tunnel, according to Long.
But Alyssa was walking too quickly, and he couldn't reach her in time.
It's unclear whether she saw Righetti following her and sped up or she simply was trying to hurry home to her family.
Alyssa turned north on Oso Blanca Road. Her home was a quarter of a mile away.
Righetti continued following her.
Alyssa made it to the edge of her community. A cinder block wall separated her from the Satin Carnation Lane, which runs along a large vacant lot at the edge of the development. She was right behind the corner house.
Righetti told Long he was thinking about raping her and attacked her as she reached the back of the house, just a few feet from a gate through the wall and onto her street.
Righetti knocked her down and then forced her away from the development, away from her home.
He had a blade, a serrated kitchen knife with a plastic handle. Righetti ordered her to take off her clothes. He raped her.
Righetti told Long that she submitted.
"She was just trying to stay alive," the detective testified.
During the rape, Alyssa grabbed the knife, but before she could defend herself, Righetti took the knife away and cut her hands.
Then, he told Long, to "feel that power" of killing someone, he began to stab the girl.
According to testimony by a Clark County pathologist, Alyssa suffered more than 80 stab wounds. One wound left a piece of the blade embedded deep within her brain.
Righetti described how, because she was still moving, he held the blade with one hand and balled his other hand into a fist and hammered the knife into her chest.
Alyssa stopped moving.
Righetti told detectives that after the slaying, he ran through a tunnel to the east side of U.S. 95. He jumped a wall into the back of a home and got into a pool to wipe all the blood off his clothes.
Righetti went to his home in the 7900 block of Willow Pines Place, close to where he first spotted Alyssa. He sneaked in, avoiding his family, took a shower and called a friend to help him get the gasoline he would later use to burn the body.
That friend, Daniel Ortiz, helped police track down Righetti .
After Righetti was taken into custody, Long drove him to the homicide unit's office on Oakey Boulevard, near Decatur Boulevard.
In the car, Righetti said, "I'm a piece of (expletive). I just want to tell you everything," Long recounted to the grand jury.
ANOTHER ATTACK
Righetti also is accused of sexually assaulting another 15-year-old high school student in March.
The girl, now 16, also testified before the grand jury and said she recognized Righetti as her attacker after seeing his mug shot on TV.
The girl told the grand jury that Righetti attacked her in a tunnel as she was walking under U.S. 95 on her way to meet friends.
At first he had asked her to borrow her cellphone, but she declined and kept walking.
But before she was clear of the tunnel's shadows, he attacked her from behind and choked her until blood vessels popped in her face. Once she had passed out, Righetti dragged her deep into the tunnel.
The victim described to the grand jury how the sexual assault was interrupted by her friends who were yelling her name.
The victim said Righetti was scared, and "I basically begged him to let me go."
Righetti did.
A MOTHER'S FEARS
The grand jury heard from four witnesses before indicting Righetti, including Alyssa's mother.
Otremba told the grand jury that her daughter was obedient, that when she told Alyssa to be somewhere at a certain time, her daughter obliged.
But Alyssa was late on that Friday night.
"I just started to kind of feel uneasy that she hadn't been home," Otremba said. "It was at least 30 minutes after she was supposed to have been home."
She told the grand jury about calling the police and local hospitals; driving around the neighborhood and asking youngsters at a nearby park whether they had seen her daughter; retracing her daughter's steps to try and find her.
She didn't fall asleep until about 4 a.m. She awoke a few hours later.
"I woke up in even more of a panic because she still wasn't there, and I ran downstairs and, you know, there was nothing," Otremba said.
On Saturday, fliers were distributed. Friends and neighbors helped look for the teenager.
Alyssa was found later that day. But she was gone.
Contact reporter Francis McCabe at fmccabe@reviewjournal.com or 702-380-1039.