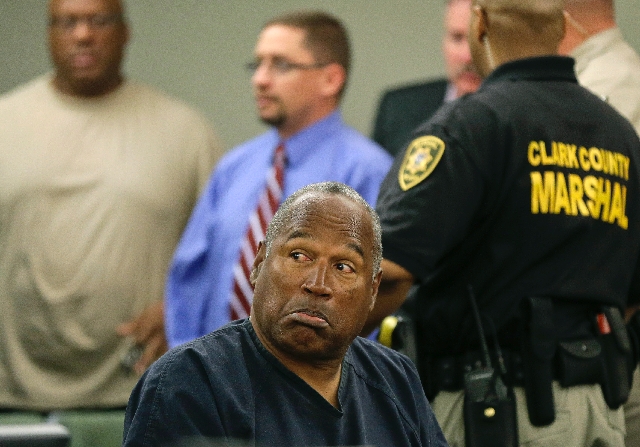 Las Vegas is known for its eclectic entertainment options.
Penn & Teller perform their outrageous illusions nightly at the Rio. The Rolling Stones on Saturday night played at the MGM Grand Garden. "Catch Me If You Can" is coming next month to The Smith Center.
And this week at the Clark County Regional Justice Center, O.J. Simpson stars in Cirque du So Guilty.
Simpson, the pro football hall-of-famer, actor and suspected double murderer, is appealing the nine- to 33-year sentence he received here in a 2008 robbery conviction. He's currently serving his sentence at the Lovelock Correctional Center near Reno.
It's early, and there's still time for morons to don chicken suits and hucksters to pimp their CDs and websites as they did five years ago. But at least initially Simpson's appeal lacks the freak-circus atmosphere present during the original trial. Although plenty of TV news satellite dishes are present outside the justice center, and the hearing has hit the national news, so far this is no ratings winner.
Of course, that could change Wednesday when Simpson – for the first time in his criminal career – is scheduled to testify on his own behalf. He'll play the role of a man who has sworn to tell the truth, the whole truth and nothing but the truth. Body language experts figure to have a field day as Alibi Ike plays Twister with the facts and attempts once more to charm the crowd in District Judge Linda Bell's courtroom.
I'm guessing it will be a tough sell.
But our justice system allows him to try to close the deal. As Simpson prefers freedom as a living symbol of a murderous miscarriage of justice to incarceration in Nevada, he's appealing his conviction in the 2007 theft of his own sports memorabilia by claiming trial attorney Yale Galanter was incompetent and failed to inform him of a deal offered by the prosecution. Veteran defense attorneys Ozzie Fumo and Patricia Palm have submitted a back-straining, 94-page petition that calls into question everything but Galanter's Florida tan and parental heritage.
Despite the best efforts of Fumo and Palm, the trouble with arguing that Galanter failed to inform Simpson of a deal offer is that then-District Attorney David Roger makes it clear no such offer was officially made. The experienced prosecutor didn't trust the Miami defense attorney, and made sure to frame his conversation accordingly.
"It was not a clear offer," Roger said Monday. "It was a discussion about potential negotiations. We kept it sufficiently vague because we were concerned that Galanter was a hired gun from out of state."
And, as such, that he might run to friendly reporters to whisper that the prosecution's case was weak. It appears Galanter tried to do just that.
The district attorney methodically cut actual deals with all but one of Simpson's co-defendants, who wisely fell like tin soldiers in the face of devastating evidence of criminal conspiracy, armed robbery, intimidation, kidnapping, and cover-up.
Thanks to Simpson's slippery co-conspirators, there was audiotape of Nordberg planning the robbery, committing the robbery, and attempting to conceal the robbery. There was even video of Orenthal's criminal comedy troupe entering the Palace Station hotel room where the robbery occurred and exiting with the memorabilia in question.
"It was an overwhelming case," Roger said. "… The only way O.J. Simpson was walking out of that courtroom a free man is if the jury ignored the evidence and disregarded the judge's instructions."
You know, like that time Simpson stood trial on murder charges. But the Las Vegas jury listened to the facts and returned a guilty verdict.
Simpson's Cirque du So Guilty is scheduled to run through Friday in district court, but I'm thinking of calling Penn & Teller.
Maybe they can make the bum disappear.
John L. Smith's column appears Sunday, Tuesday, Wednesday and Friday. Email him at jsmith@reviewjournal.com or call 702- 383-0295.