'YO Court' offers struggling addicts one more chance
October 6, 2012 - 10:41 pm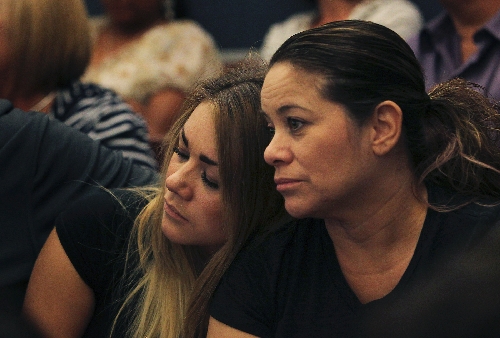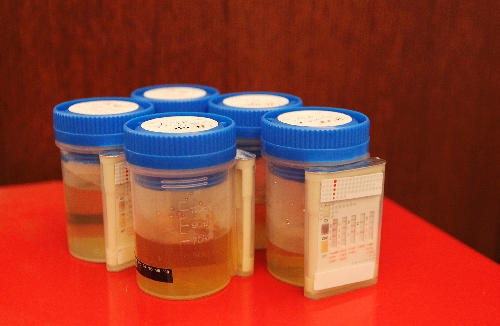 They smoked, snorted and injected their way into Judge Cedric Kerns' courtroom.
The defendants, ages 18 to 24, are struggling addicts, lucky to be alive considering the heroin, cocaine, crystal meth and prescription medication that once pumped through their veins.
For some, standing in front of the Las Vegas Municipal Court judge is the longest they've been sober – most have failed every other recovery program the system offers. And they will likely stumble again.
Offenders don't enter Youth Offender Court because of drug convictions. Many arrive in the affectionately nicknamed "YO Court" after failing to pay their traffic fines because they chose to buy drugs instead. Judges handling their cases hear that Kerns' program, which began in 2010, seems to be working. They send offenders to him. The two-year program requires defendants and their families to participate in the recovery process.
Two years later, the drug rehabilitation program has expanded, taking on more defendants, offering more resources and requiring a larger budget. At times, it can be overwhelming.
"I didn't look to see how much water there was before I jumped," Kerns said.
But when he sees statistics showing how many young people in Clark County die from drug overdoses, he has no choice but to continue his work.
According to the coroner's office, 41 people between the ages of 18 and 30 died in the first six months of this year from drug overdoses. Thirty-six were deemed accidental deaths by the coroner. Five people younger than 18 died during that period. All were ruled accidents.
Two were stillborn babies whose mothers used crystal meth while pregnant.
The specialty court program aims to keep defendants from adding to that data.
RELAPSE AND SUCCESS
The judge says it's too early to tell how successful the program has been. He tries to measure that not by how many defendants relapse but how a family handles the relapse when it happens.
The reward comes when offenders finish the program – there have been 15 graduates of the 60 or so who have started the program. Some have quit , opting instead for jail time. Others have faltered, but most are going to school, starting families and working. Even those who have failed the program by refusing to follow the rules still send greeting cards, photos and other messages to Kerns, thanking him for taking an interest in their recovery.
Some visit his courtroom "just to say hi," and to tell him they are grateful they've been locked up.
One graduate even personalized his license plate with "YOCOURT."
Edward Kovacs, 24, graduated from the program last year after battling a heroin addiction.
"It's not easy every day," Kovacs said. "But I didn't want to go back to what I was doing. It was miserable. So I applied what they taught me, incorporated it into my life. It's phenomenal."
Now Kovacs, and his fiancée, are expecting a healthy baby boy.
"YO Court gave me the foundation to be the man I am today," Kovacs said. "It gave me the tools necessary to be able to call myself a man. It's given me integrity and respect. I hold my head up high, and I take care of my family."
Experts say addicts are 11 times more likely to relapse if their families don't participate in the recovery process.
But sometimes the family can jeopardize a defendant's progress, Kerns said.
For parent Connie Graham, the program "helped me realize when I'm enabling and when I'm not."
Her son Jack Armstrong, 22, has battled drug addiction for six years. He failed the program and was convicted of felony heroin possession in Salt Lake City shortly thereafter. Armstrong went to Utah for school, but a roommate introduced him to heroin.
His heart stopped on Mother's Day, and he had to be resuscitated, Graham said.
"There are moments when I feel very weak or fearful," Graham said. "If I want to I can allow myself to feel those feelings of fear, but you have to choose not to because you have to live life. I have other family members depending on me."
PROGRAM COST
The court budget is around $170,000, which comes from federal and state grants and donations. The court pays for house arrest bracelets, some of the housing, incentives, drug tests, counseling and staff. Defendants are required to work and pay some costs.
"There have been a lot of growing pains," Kerns said.
The challenges come from parents who refuse to let Kerns be in control of their children, and the judge's personal frustration of expecting addicts to change overnight.
"I have to be reminded that their brains don't work the same way," Kerns said.
Kerns spent years focused on criminal defense and domestic law while in private practice before being elected to Las Vegas Municipal Court in 1997. He helped create H.O.P.E. Court, which focuses on older habitual offenders, before creating the young offender program.
He is now surrounded by a team of professionals who know what the defendants are going through. The core team includes the prosecutor, defense lawyer Steven Altig, who is recovering from a methamphetamine addiction, case managers Greg Walls and Craig Larson, who are also recovering addicts, and Kim Townsend-LaFasto, the court's lead caseworker, whom Kerns describes as his right-hand woman.
Offenders are randomly drug tested. Urine and saliva tests cost the court $5 to $7 each. Residue tests are about $25 each. When Kerns sends the tests to the lab for verification, it costs about $40 each.
But the savings seem to outweigh the costs.
The program's 31 defendants estimate they used about $150 worth of drugs per day, and it costs $160 per day to keep someone in jail. Using those figures, Kerns estimates the program stops his offenders from using $1 million of drugs per year and saves taxpayers about $1.8 million in jail costs.
DIFFERENT BUT THE SAME
The faces have changed, but the defendants' stories of lying, cheating, manipulating and stealing to support their addictions haven't.
The drugs have aged their appearances. What should be fresh and youthful faces are marred by stress and acne – some look 10 years older than they are.
Adam Miller, 26, has not used for 17 months. He has a meth addiction, and has tried almost every drug imaginable since he was 19. He's been in the program for more than a year and a half.
"I'm tired of doing jail time," Miller said. "This was strictly a desire to realize I needed that type of structure, that threat over my head, that someone was monitoring me constantly. Otherwise, I know how to circumvent the system. I know how to manipulate the system or convince somebody of whatever I need to convince them of. That's just my addiction."
His father is Gary Miller, a self-proclaimed "poster parent for enablers."
"I would bring home work for my son to do for a little money," he said. "I would give him the money in advance. He wouldn't show up to do the work, and I would do it, time and time again, hoping he would change."
His collection of tools would often go missing, and Gary Miller would have to buy them back from pawn shops.
"Releasing my will to Kerns and his team to do what they said was difficult," Gary Miller said. "How could they tell me how to handle my son when you don't know him. But they deal with the addiction side, which isn't the person, it's the disease. It opened my eyes. I could breathe, and I have a life again."
Samantha Heckathorn, 23, stole whatever she could for money to buy heroin. She hit rock bottom when she began prostituting. A newcomer to the program and sober for about 40 days, she said asking for help four weeks ago was difficult.
"I'm dealing with the emotions that I don't deserve this help," Heckathorn said. "They didn't help me into the drugs, so they shouldn't help me out of this addiction. There are so many thoughts. My conscience is telling me I'm worth it, and my addiction is telling me I'm not worth it. It's really hard to deal with. It's really draining."
But for her mother, Julia Heckathorn, the specialty court program offers relief. Her daughter has to wear an ankle tracking bracelet, so someone will always know where she is.
"I was constantly on edge waiting for that phone call, whether it be from the coroner's office or police," Julia Heckathorn said. The addiction "was destroying my entire family. The heroin has almost destroyed her."
The program has saved her daughter's life, she said.
"I do notice a difference, she's my Samantha again," she said. "She thinks things through. I can see clarity in her eyes."
Contact reporter Kristi Jourdan at kjourdan@reviewjournal.com or 383-0440.