Feds want to keep Cliven Bundy behind bars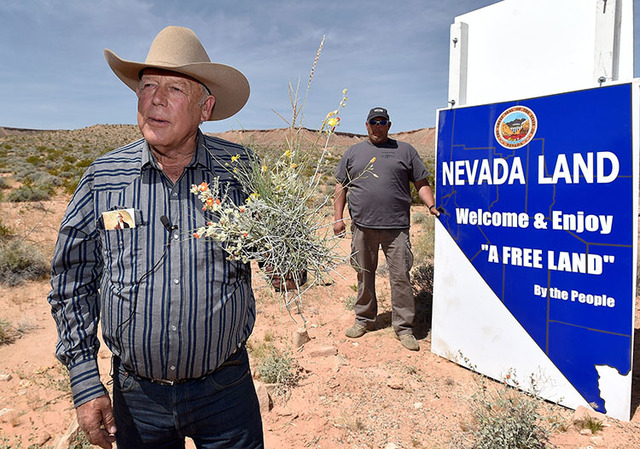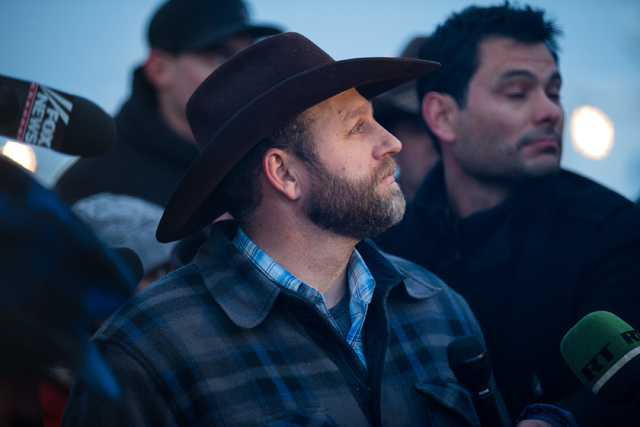 Federal prosecutors argued in court papers Wednesday against releasing Nevada rancher Cliven Bundy in the criminal case stemming from the 2014 armed Bunkerville standoff with law enforcement.
Prosecutors did not address claims made by Bundy's lawyer earlier this month that Bundy is a "political prisoner" like the late South African leader and civil rights activist Nelson Mandela.
But in opposing a defense request to free Bundy, they again alleged that he is a "lawless and violent man" who violated federal court orders for more than 20 years.
Bundy, 69, is charged as the leader of what prosecutors say was a mass armed assault April 12, 2014, on federal agents trying to round up his cattle being grazed illegally on federal land.
Prosecutors argued in their papers that his claims of being a law-abiding citizen are inconsistent with his actions during and after the Bunkerville confrontation.
They accused him of publicly backing the armed occupation of a government wildlife refuge in Oregon earlier this year, led by two of his sons, Ammon and Ryan. The Bundy patriarch has not been charged in the Oregon takeover, but his sons are among those indicted in Portland, Ore.
Both Bundy brothers, who were ordered jailed in the Oregon case, were detained Wednesday in the Nevada case. They are among the 18 defendants indicted with Cliven Bundy in the Bunkerville showdown. The felony charges include conspiracy, extortion, obstruction of justice and assault on a federal officer.
Following separate hearings, U.S. Magistrate Judge George Foley Jr. said he considered the brothers dangers to the community and risks of not making future court dates.
First Assistant U.S. Attorney Steven Myhre told Foley that Ammon Bundy, 40, led the ground forces against the outnumbered and out-gunned Bureau of Land Management officers on the day of the tense conflict.
As prosecutors have done previously in court, Myhre described the terror the agents guarding the impounded cattle faced from a boisterous and armed crowd, as militia snipers kept them in their gun sights high above on nearby bridges.
Myhre said some of the BLM officers under siege called their wives and told them they thought they would not make it home that day.
The special agent in charge of the BLM, who was wearing a bulletproof vest, pleaded with the armed Bundy supporters not to shoot him in the head, as he frantically tried to resolve the standoff with a defiant Ammon Bundy, Myhre said.
Ammon Bundy's lawyer, Daniel Hill, tried to portray the BLM as the instigators, alleging they had set up a heavily armed compound with radio towers and sniper positions near the Bundy ranch. He said federal agents were shooting cattle from helicopters and even pointing laser sights at people stopping to take photographs of the roundup.
But Hill admitted that he was still working to put together evidence to prove the allegations. He asked to continue the hearing, but Foley denied his request.
Hill also argued that Ammon Bundy was in a peaceful mode during the confrontation and had put up signs saying "Family Area — no guns, no alcohol."
Earlier Wednesday, Assistant U.S. Attorney Nicholas Dickinson argued that Ryan Bundy, 43, played a key role in the anti-government conspiracy before and after the chaotic Bunkerville confrontation. After the BLM officers backed down and released the cattle, Dickinson said, Ryan Bundy was quoted as saying, "The West has now been won."
Representing himself in court, Ryan Bundy said the charges against him were "almost laughable" and no one on his side committed any acts of aggression against the BLM officers.
"We were only there in defense of our life, our liberty and our property," he said. "We are honorable people. We are peaceful people."
In court papers earlier this month, Cliven Bundy's lawyer, Joel Hansen, echoed those words, as he sought Bundy's release.
Hansen argued that Bundy is being held without bail because of his free speech view on the government's "alleged ownership of 90 percent of Nevada land."
"The government seems to be afraid that it might lose in a jury trial, so it wants to keep him in prison, in solitary confinement, as long as it can because he, like Nelson Mandela, is a political prisoner," Hansen wrote. "There is nothing in the U.S. Constitution allowing the federal government to hold political prisoners without a trial. Nothing."
Contact Jeff German at jgerman@reviewjournal.com or 702-380-8135. Find @JGermanRJ on Twitter.
Previous coverage
Full coverage of the feud between the Bundy family and the BLM
RELATED
Judge again refuses to let nationally known lawyer defend Cliven Bundy
Famed conservative legal activist asks to join Cliven Bundy's defense team
Cliven Bundy arrested in Oregon