Foreign national booked in Las Vegas on charges of cheating at craps
November 29, 2017 - 3:54 pm
Updated November 29, 2017 - 5:43 pm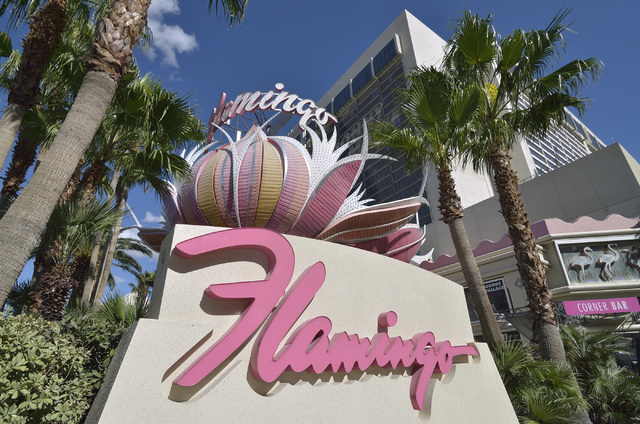 A foreign national was arrested Monday night by the Gaming Control Board on charges of cheating while playing craps, the highest profile case of its kind since 2011.
Badri Tsertsvadze, a resident of the former Soviet republic of Georgia, was apprehended at the Flamingo and booked on 18 counts of cheating in Nevada, according to the Gaming Control Board. The suspect was observed sliding dice on multiple occasions.
The Gaming Control Board is still conducting its investigation, said David Salas, deputy chief of the board's enforcement division. He declined to say whether all 18 charges stem from Tsertsvadze's current trip to Las Vegas and where else he played.
Tsertsvadze, 44, is being held at Clark County Detention Center on $90,000 bail. If convicted, he faces from one to six years in prison for each charge and/or a maximum fine of $10,000 per offense.
This is not Tsertsvadze's first known cheating offense. The Georgian was busted for using rigged dice in Normandy, France, in 2008 during a backgammon competition, according to the website Gammon Life.
Prior to his arrest in Normandy, Tsertsvadze won the French Open Masters and City Of Venice International Backgammon Tournament in 2007, leading to speculation he may have been using the rigged dice then as well, Gammon Life stated.
The gaming industry has seen an increase in cases of so-called "dice sliders" over the past few years, according to Willy Allison, a casino surveillance specialist based in Las Vegas.
Louisiana police arrested a man accused of sliding dice in August, according to The Advocate.
Two Bulgarians were accused of cheating during a game on a cruise ship in September after they won $1 million.
"It is the scam of 2017," said Allison. "Dice sliders never used to be common but seemed to have made a comeback in recent years."
The scam involves sliding at least one of the dice across the craps table so that the desired number remains face up, improving the chances of winning.
A legitimate roll involves tossing the dice in the air in such a way that they bounce and hit the back wall. A boxman can invalidate a roll if it does not bounce. Thus, cheaters often have a partner whose aim is to distract the boxman and dealers.
"Dice sliding isn't that difficult to master with a bit of practice. The key is finding weak or corrupt floor staff and supervisors," said Allison, who will make the scam a featured topic at his annual World Game Protection Conference in March.
"Casinos are so desperate to keep players who bet big they're willing to turn a blind eye to questionable rolls."
The last known major arrest in Las Vegas for dice sliding happened in 2011, when an Argentine pair were apprehended after winning about $700,000 at Wynn Las Vegas.
Contact Todd Prince at tprince@reviewjournal.com or 702-383-0386. Follow @toddprincetv on Twitter.