Las Vegas police detective arrested on drug charge
Updated October 21, 2019 - 12:17 pm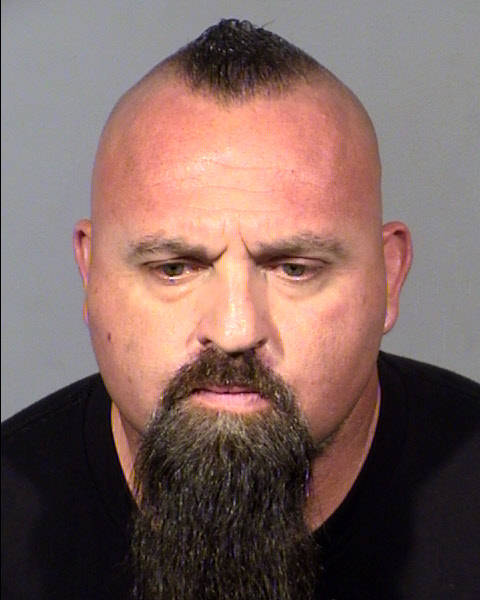 Las Vegas police arrested one of their own over the weekend on suspicion of selling or transporting a controlled substance and destroying or concealing evidence, according to court and jail records.
Lawrence Joseph Rinetti Jr., 46, was booked Saturday into the Clark County Detention Center but was free on $10,000 bail as of Monday, according to the records. He faces charges of selling or transporting a controlled substance, destroying or concealing evidence and misconduct of a public officer.
He has been relieved of duty with pay, according to the Metropolitan Police Department.
Metro employment records show that Rinetti, a detective, joined the department in January 2006. At the time of his arrest, he was assigned to the department's Major Violators and Narcotics Crimes Bureau.
His duties include "covert ops," according to his bio page on the Las Vegas Police Protective Association website.
Rinetti is a board member of the association, which is the Metro police officers union.
Steve Grammas, president of the protective association, said Monday morning that Rinetti is entitled to the union's legal representation in his case as long as the charges are "directly related to the course and scope" of his duty as an officer.
Rinetti also served as a ring inspector with the Nevada State Athletic Commission, according to a list of 2019 officials and inspectors. As an inspector, Rinetti ensured Nevada boxing, MMA, muay thai and kickboxing weigh-ins and events were conducted in accordance with state laws and regulations.
"Inspector Rinetti is no longer being assigned to unarmed combat events by the Nevada State Athletic Commission," Bob Bennett, executive director of the athletic commission, told the Las Vegas Review-Journal.
The commission first hired Rinetti to do contract work as an inspector on Dec. 3, 2015, Bennett said. Rinetti last worked an event for the commission on Oct. 11.
"During his time with us, he has always looked out for the health and safety of the fighters and has done a good job," Bennett said.
"Whatever happened with Metro, it's strictly a Las Vegas Metropolitan Police Department investigation," Bennett continued. "This investigation has absolutely nothing to do with the Nevada State Athletic Commission."
No other details have been released about Rinetti's case, but records show that Rinetti was arrested in connection with an investigation in June.
Contact Rio Lacanlale at rlacanlale@reviewjournal.com or 702-383-0381. Follow @riolacanlale on Twitter.