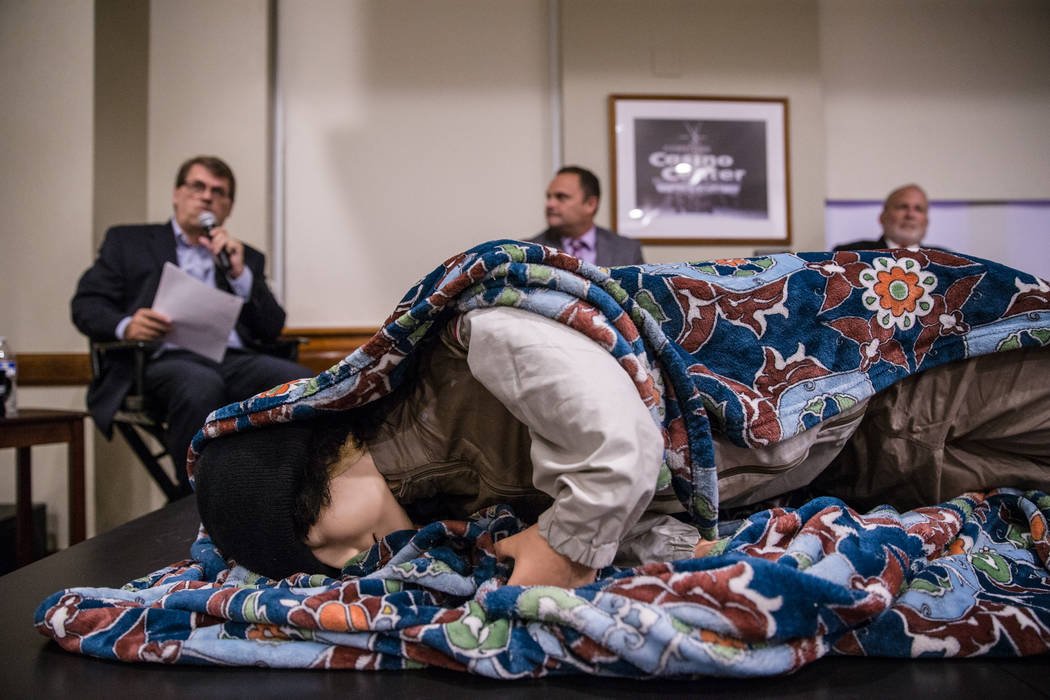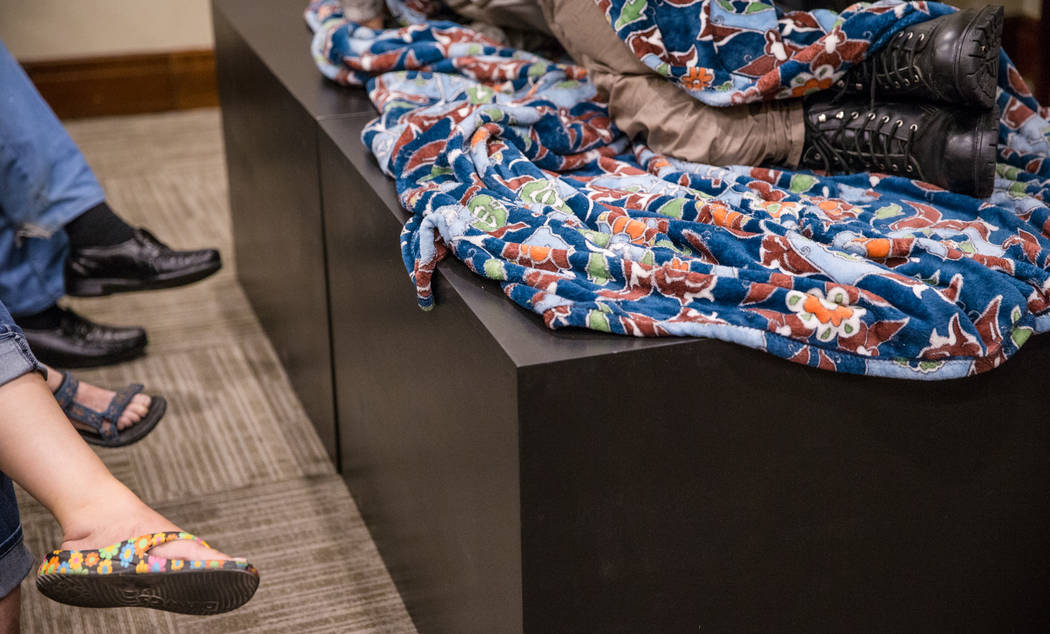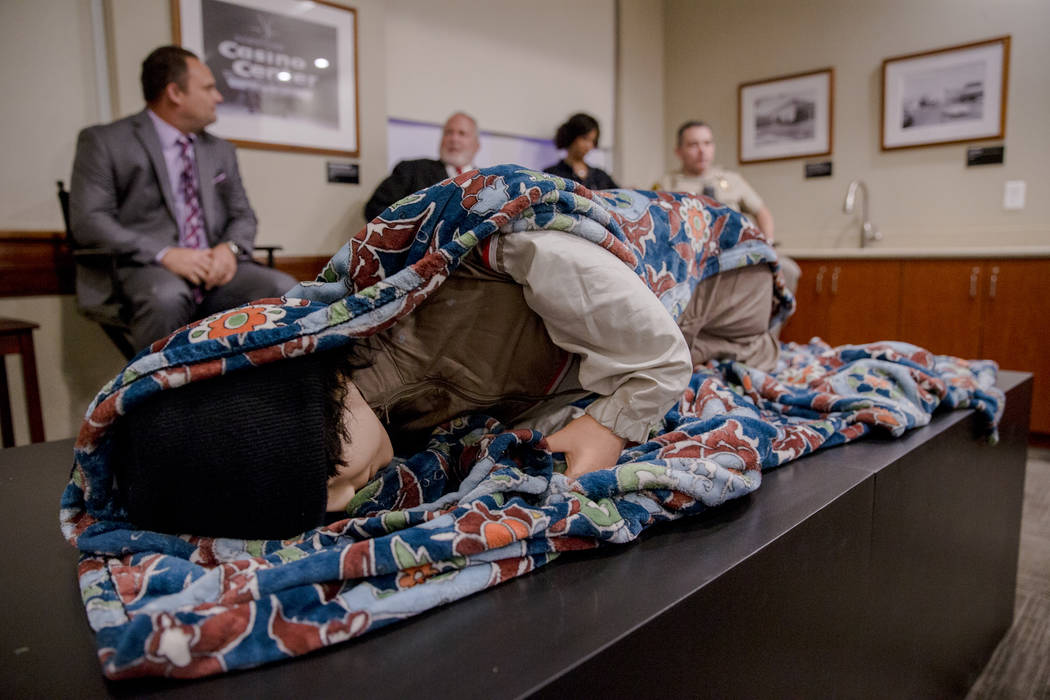 A homicide detective and prosecutor never thought it would work. They doubted dressing a CPR-training mannequin as a person sleeping and placing it where two homeless men were bludgeoned to death with a hammer would lead to the arrest of the suspected killer.
Although authorities never found enough evidence to charge Shane Schindler in the deaths of the two men, they caught him on camera attacking the decoy dummy with a hammer in February. Schindler was recently sentenced to eight to 20 years in prison for attempted murder for hammering the dummy.
And on Tuesday, Metropolitan Police Department officers and a prosecutor described how they used the decoy dummy to get a conviction. The mannequin was on display at an event held at the Mob Museum, 300 Stewart Ave., about a mile from where police used it as a decoy.
Geoff Schumacher, the Mob Museum's senior director of content, said he wanted to host the event because of the case's unusual circumstances, the homicides' proximity to the museum and its function as a law enforcement museum.
Capt. Andy Walsh hatched the unconventional idea to use the dummy and said he thought doing so saved lives. As captain of Metro's Downtown Area Command, he said he felt a responsibility to the community to find whoever killed Daniel Aldape, 46, and David Dunn, 60, however he could and prevent another attack.
"It's something we take personally," Walsh said.
He joined homicide detective Ryan Jaeger and prosecutor Marc DiGiacomo to discuss the case.
Jaeger doubted Walsh's idea would draw anybody to attack it, as did DiGiacomo.
"Clearly, I was wrong," DiGiacomo said.
Authorities have said they believe Schindler was in the area at the time of the Jan. 4 killing of Adalpe. On Schindler's phone, police found a selfie taken in November that shows him on his back in the area. He told police in an interview that he knew he was attacking a dummy and not a person.
After police caught Schindler attacking the dummy on a February night, they initially booked him on an outstanding jaywalking warrant to buy time to devise their next plan. They released him the next morning, and police conducted surveillance to determine where he lived. They requested and received a search warrant for Schindler's house.
Metro arrested him that night on a charge of carrying a concealed weapon, as police said he put a hammer inside of a bag after he used it to attack the mannequin.
Yet DiGiacomo said he wasn't satisfied with the concealed weapon charge.
"He tried to kill somebody," DiGiacomo remembered thinking aloud. "That's attempted murder."
Prosecutors charged Schindler with attempted murder, but his case never made it to trial. DiGiacomo and Schindler's public defender, Ashley Sisolak, reached a plea deal. Schindler would plead guilty to attempted murder, and prosecutors wouldn't pursue murder charges.
Had the sides failed to agree on the deal, DiGiacomo said he would've indicted Schindler for murder.
"If he didn't think he was involved in the murders, I don't think I ever get a plea out of this case," DiGiacomo said.
Sisolak attended the event Tuesday and sat in the audience. DiGiacomo had invited her, she said.
When asked whether she thought there was enough evidence to connect Schindler to the two homicides, Sisolak replied, "I don't think we'll ever know."
"My client had a lot of exposure, and so this is what we thought was fair for everybody," Sisolak said. "It's a good negotiation if nobody is happy."
Jaeger said he initially opposed using the dummy, but he figured there was little to lose. They needed a lead somehow.
"I don't know if we could ever use this again," he said.
Contact Mike Shoro at mshoro@reviewjournal.com or 702-387-5290. Follow @mike_shoro on Twitter.
300 Stewart Ave., Las Vegas, NV