Man accused of stealing from Las Vegas casinos by posing as delivery driver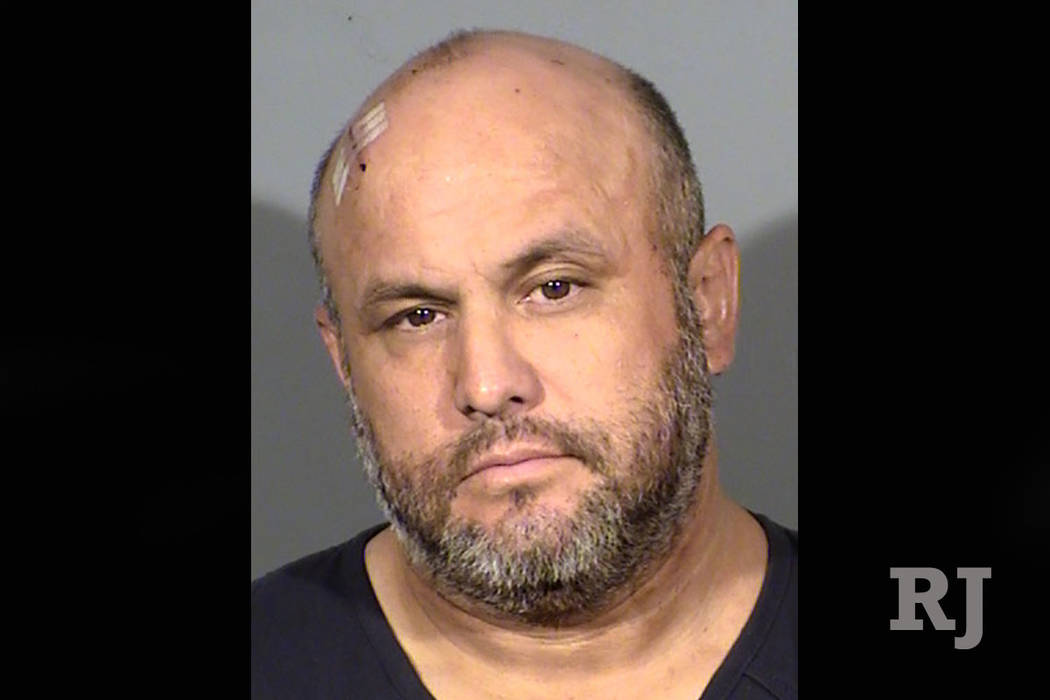 A man parked a refrigerated box truck outside a Las Vegas Valley casino, got out wearing a lanyard and occasionally carrying a clipboard, and strolled inside through a back entrance.
A while later, he walked back out, but this time taking with him items stolen from the casino. He loaded them into the truck and drove away.
It's a pattern Las Vegas police say he repeated at major casino properties throughout the valley, a recently released Metropolitan Police Department arrest report shows.
"The suspect's modus operandi is to drive onto a hotel property in the box truck and gain access into restricted employee doorways and hallways," according to the arrest report for 44-year-old Danny Roy Salazar.
A criminal complaint accuses Salazar of burglarizing the Rio, Westgate and Caesars Palace between Jan. 13 and June 8 and stealing an assortment of items, including mattresses, televisions, "prototype auto electronics," beauty products, furniture, light fixtures, an iPad and a photo booth.
The complaint, filed last week, charges him with six counts each of burglary and grand larceny of property worth more than $3,500.
Booking records link him to 11 grand larceny or burglary calls from Aug. 24 through June 8 at the aforementioned resorts, as well as Paris Las Vegas, Planet Hollywood and Hard Rock Hotel. Salazar initially faced several more burglary and larceny charges, but the district attorney declined to pursue the charges, court records indicate.
The Penske box truck police believe was used in the burglaries had been stolen six months earlier from outside a Strip hotel, the arrest report said. A delivery man who had rented the truck left it running while he made his delivery inside of the hotel, only to return and find the $86,000 Isuzu truck gone.
On June 10, a Metro officer tried to stop the truck near Sammy Davis Jr. Drive and West Desert Inn Road, but it took off. The truck drove across the valley, speeding and blowing through red lights as patrol cars monitored from the ground and a police chopper followed from above, the report said.
It finally rolled over about 20 minutes later while trying to turn at South Nellis Boulevard and Harmon Avenue, the report said. It flipped on its side and skidded 412 feet before stopping in the eastbound lane. The vehicle identification number matched that of the stolen truck, the report said.
Officers then arrested the driver, Salazar, who was treated at University Medical Center for minor injuries.
Salazar spoke with officers but said he didn't have anything to tell them about the stolen truck or the burglaries, police wrote in the report. He buried his face in his arms throughout the interview. "You already got it all figured out," he said regarding the truck.
Salazar remained in the Clark County Detention Center on Friday on $120,000 bail. A preliminary hearing is scheduled for Wednesday.
He has prior convictions in Clark County for possession of stolen property, grand larceny and possession of a stolen vehicle, court records show.
Security concerns
The burglary suspect wore a lanyard to imitate credentials and sometimes held a clipboard with paperwork to mimic delivery orders to evade detection from security or hotel staff, Salazar's arrest report said.
Mehmet Erdem, a UNLV hospitality professor with expertise in hotel operations, management and technology, said people must typically have a badge, a swipe-ID or both to enter employee-only areas. The burglary series makes a case for additional security measures such as biometric technology, he said.
"Inability to properly (or) accurately screen who goes in and out of the restricted areas presents concerns beyond just theft but potential workplace violence," he said in an email.
Longtime security analyst Douglas Florence said many resorts have security gaps in the shipping and docking areas. Watching front entrances, casino floors and guests is important, but efforts to beef up security often fail to include thorough vetting of vendors who enter through the loading docks, he said.
Looking the part is sometimes enough to gain access.
"If you know the language, know the lingo and look like you can belong, you can belong," said Florence, a certified protection professional who has overseen security and surveillance for multiple valley resorts.
The "see something, say something" mantra should also apply to the back of the house, he said.
Security and police measures did work in identifying a pattern and a suspect, Florence said, but the crimes could've been prevented with tighter security measures.
"The system worked once they knew what they were looking for, and I applaud them for getting him," Florence said.
Contact Mike Shoro at mshoro@reviewjournal.com or 702-387-5290. Follow @mike_shoro on Twitter.
Security tips
Security expert Douglas Florence, who has overseen security and surveillance at multiple Las Vegas Valley resorts, offered suggestions for protecting against thieves posing as delivery workers or vendors.
Florence suggested resorts increase monitoring or spot checking for commercial driver's licenses of people entering the dock.
Fingerprint readers or PIN access for regular vendors could prevent intruders from entering docks without slowing the delivery process, he said.
It boils down to knowing who and what is entering and leaving the property.
"Stuff can go in and out that door, and nobody's watching it," Florence said.