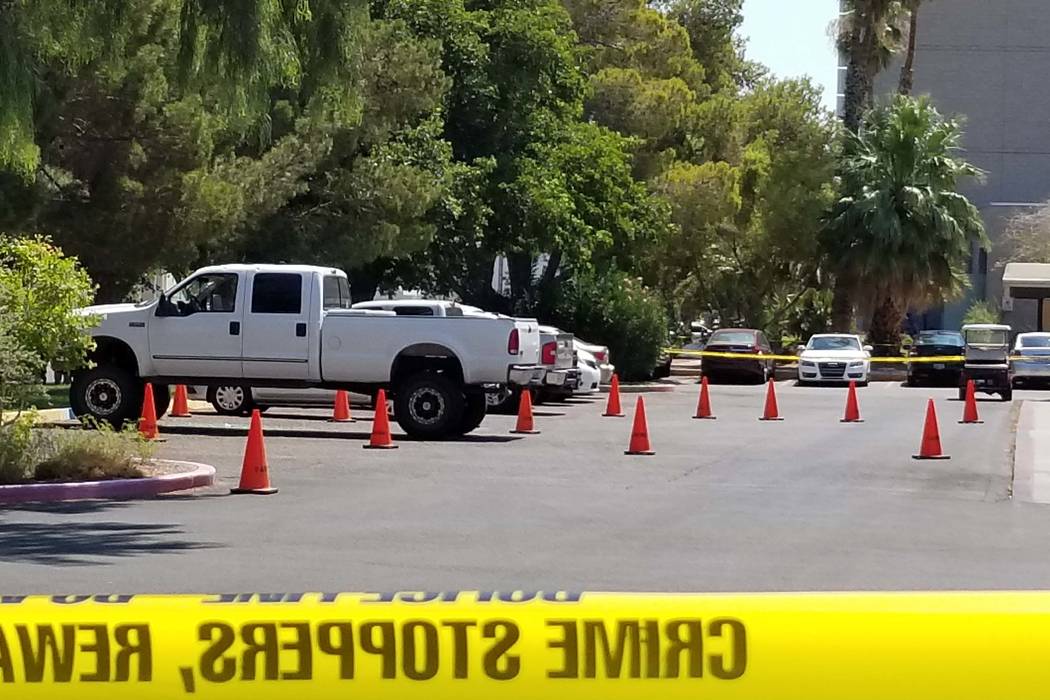 Police say a man suspected of committing a string of violent carjackings and firing a gun at a woman and her young daughter at UNLV is off the streets.
Hawaii resident Kevin Michael Kealoha, 44, was arrested Thursday afternoon in Southern California by the San Bernardino County Sheriff's Office after he stole a man's vehicle at gunpoint and led police on a chase through city streets before ramming a patrol vehicle, authorities say.
San Bernardino Sheriff's Office spokeswoman Cindy Bachmann identified Kealoha as the suspect in the UNLV shooting on Thursday and a pair of carjackings in Henderson that occurred just hours earlier. Henderson police said the man also was linked to other crimes beginning Tuesday in Las Vegas but provided no details.
Gunfire in the parking lot of UNLV's public safety building triggered a campus-wide lockdown just before 10:30 a.m. A woman later told UNLV police that a man had fired several rounds at her truck after following her onto the campus.
Neither the woman nor her 11-year-old daughter, both of whom were in the pickup, was injured.
Henderson police said the UNLV shooter fled and later stole a vehicle at gunpoint from a garage in the 300 block of Lyon Avenue. He later jumped a wall into an apartment complex near Green Valley Parkway and Warm Springs Road, about a mile away, and took another vehicle.
San Bernardino deputies were dispatched to a reported carjacking just before 2 p.m. at a Chevron Station in Hesperia, a city about 200 miles southwest of the Las Vegas Valley.
Officers quickly determined that the carjacker had ditched the vehicle reported stolen in Henderson at the gas station and stole a Honda Civic at gunpoint, San Bernardino police said. Deputies en route to the scene saw the vehicle, and when it did not stop, pursued the car for 8 or 9 minutes.
The suspect then crashed into a fence and rammed a patrol vehicle before he was taken into custody, Bachmann said. A handgun was found in the stolen Honda.
Kealoha was booked at the High Desert Detention Center for attempted kidnapping, carjacking, assault with a deadly weapon and felony evasion in connection with the Hesperia incident. He is being held on $250,000 bail for those charges/ He also has active arrest warrants issued in Hawaii, Bachmann said.
Contact Wesley Juhl at wjuhl@reviewjorunal.com and 702-383-0391. Follow @WesJuhl on Twitter.