Las Vegas nurse recalls patients pleading 'to help others first'
October 21, 2017 - 11:00 pm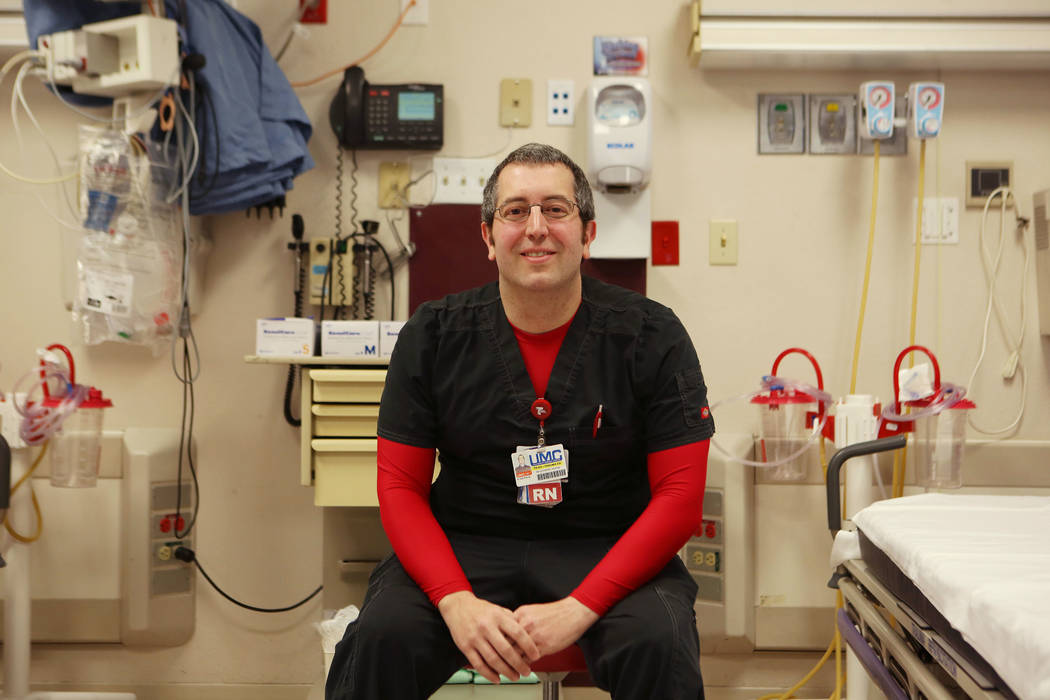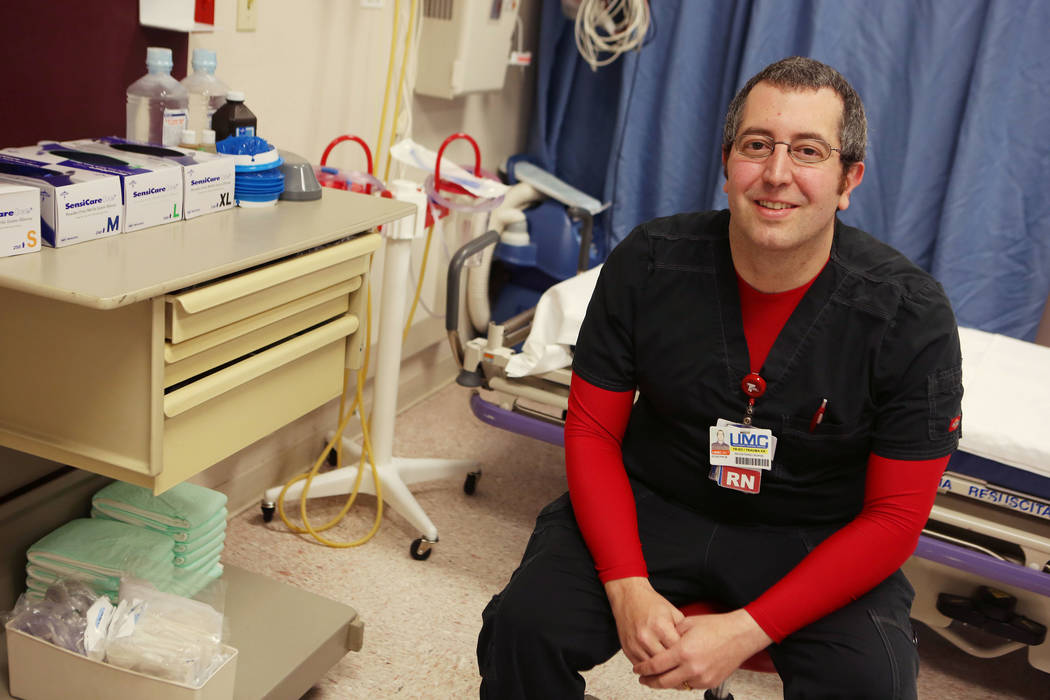 The wounded, smelling of blood and gunpowder, kept arriving at University Medical Center. Men and women with shattered limbs and tourniquets pinching severed blood vessels were lined up and down the hallway.
But it was the silence amid all the carnage that still has Joseph Bruno, the nurse in charge in the hospital's trauma unit on Oct. 1, shaking his head in disbelief.
"It was so incredibly quiet," he said Friday as he sat inside UMC's trauma center. "That was what was so surreal. No screams, no moans, nobody pleading for us to save them first. It was almost like every person there that night collectively understood the magnitude of what was happening.
"There were times when patients pleaded with us to help others first, that they could wait. The only time I've ever seen that happen before is in the case of a husband and wife or parents with children after a car accident. But these were people with horrific injuries telling us they could wait in line for treatment so complete strangers could have surgery first."
Bruno, 36, offers a vivid picture of what happened at UMC on the night Stephen Paddock killed 58 people and injured hundreds of others from his shooter's perch on the 32nd floor of Mandalay Bay.
He said it was fortunate that UMC's trauma center was busy well before Paddock's reign of terror began.
When his team showed up for work at 7 p.m., he said, the unit was already holding several critically injured patients waiting for beds in the intensive care unit. Over the next three hours, ambulances brought in patients from auto accidents and auto-pedestrian mishaps and one person who had taken a nasty fall down an escalator. A cardiac arrest patient who arrived unresponsive was brought back from the dead.
It was shortly after 10 p.m., Bruno said, when a call from an emergency dispatcher — "active shooter, Mandalay Bay, 20-plus critical inbound" — turned a routine life-saving night into what mass casualty experts call "organized chaos."
"I stood on top of the nursing station and made the announcement to everyone that we were soon going to see some patients in very bad shape," Bruno said.
The earlier flurry of activity soon revealed itself to be a blessing, as much of the surgical staff was still on hand to treat the first wave of victims when they began arriving in non-emergency vehicles within five minutes.
One member of Bruno's staff, a veteran of wars in Iraq and Afghanistan, began marking each victim's forehead with a Sharpie, using medical code to describe the severity of their injuries.
Obviously proud of how UMC responded, Bruno wrote a narrative of how the patients, almost all of whom had been shot, were treated:
"Lifesaving procedures were performed in almost every bay. Sucking chest wounds were decompressed. IV fluids and blood transfusions started. Tourniquets were applied and bleeding was controlled. The ORs (operating rooms) began to fill as patients who were unstable were taken to have life-threatening abdominal injuries repaired surgically."
There were times, Bruno said, when he looked outside and saw dozens of ambulances "washing out the night in blue, red and amber flashing lights."
At one point, he noted that armed police stood guard over the trauma department "like sentinels as ultimately false reports of attacks all over the Strip began to filter in."
Officers, he said, also patrolled the hospital periphery and blocked nearby roads to all but emergency vehicle traffic.
Not until 4 a.m., Bruno recalls, did patients stop arriving. It was then, while watching news reports of the casualty figures on television, that he changed out of his bloody clothing.
Bruno, who moved to Las Vegas from Connecticut five years ago, also discovered that friends had been trying to reach him, just as he tried to reach those who worked in emergency units in the aftermath of the Boston Marathon bombing in 2013.
"I would come home to dozens of messages asking if I was all right," he said.
Bruno wrote that he can still barely articulate "the sorrow and pain I feel for the victims, their families, and anyone whose lives were affected that night."
But he does have one message that he wants delivered loud and clear.
"I know that we did everything we could to save the men and women who came to us," he said. "I hope the families of the slain that passed in my unit can take comfort in that."
Contact Paul Harasim at pharasim@reviewjournal.com or 702 387-5273. Follow @paulharasim on Twitter.