Las Vegas shooting tragedy spurs fake fundraising
October 20, 2017 - 6:29 am
Updated October 20, 2017 - 10:57 am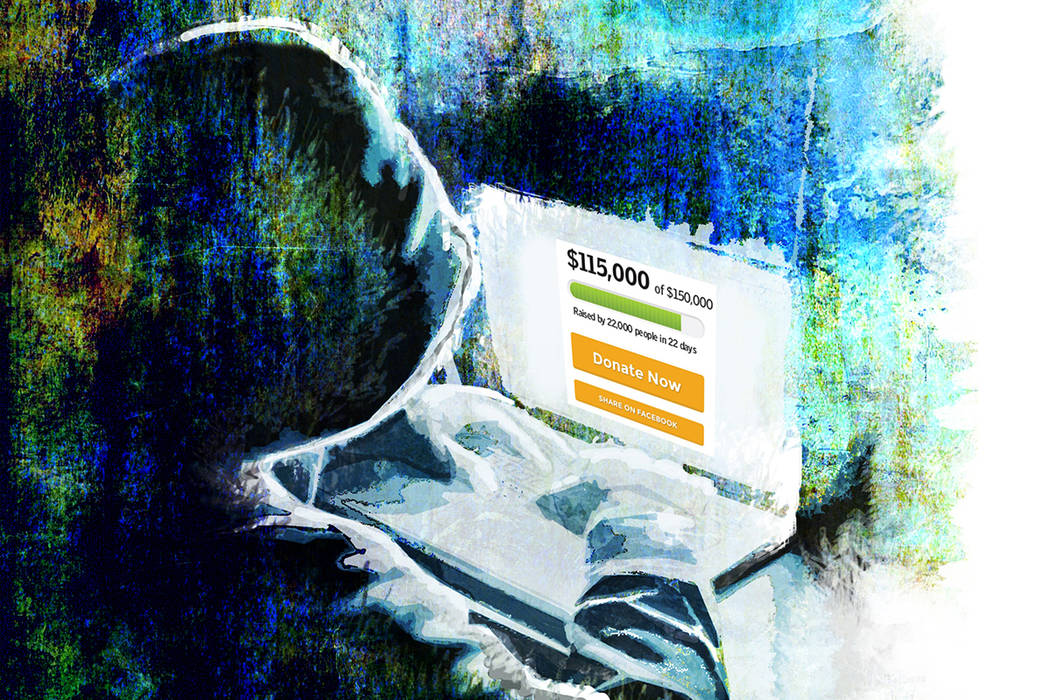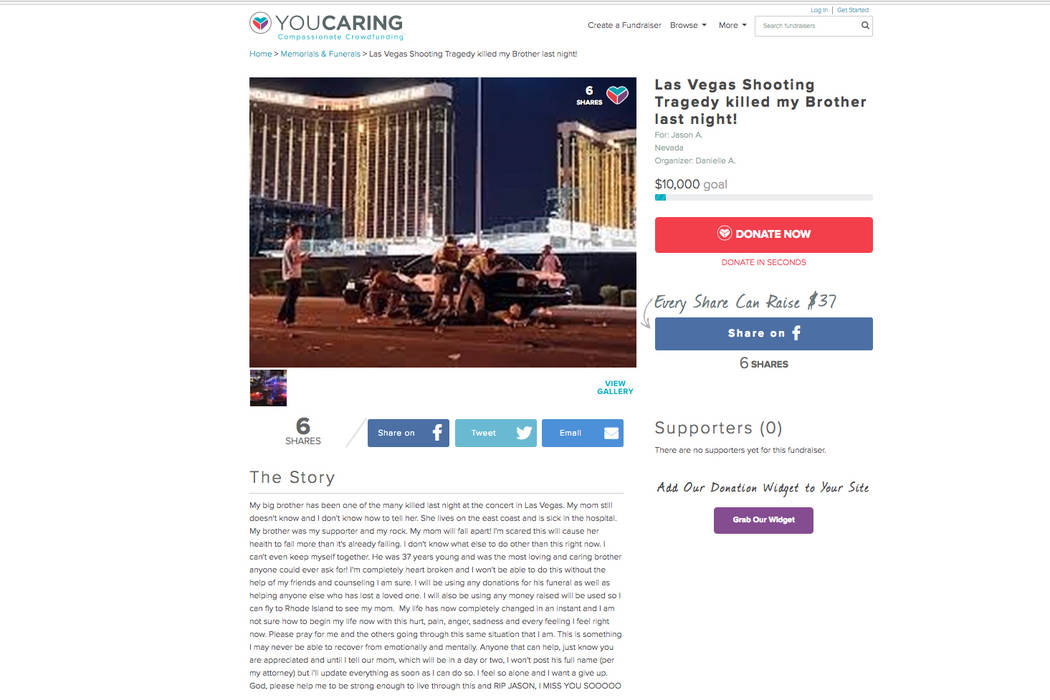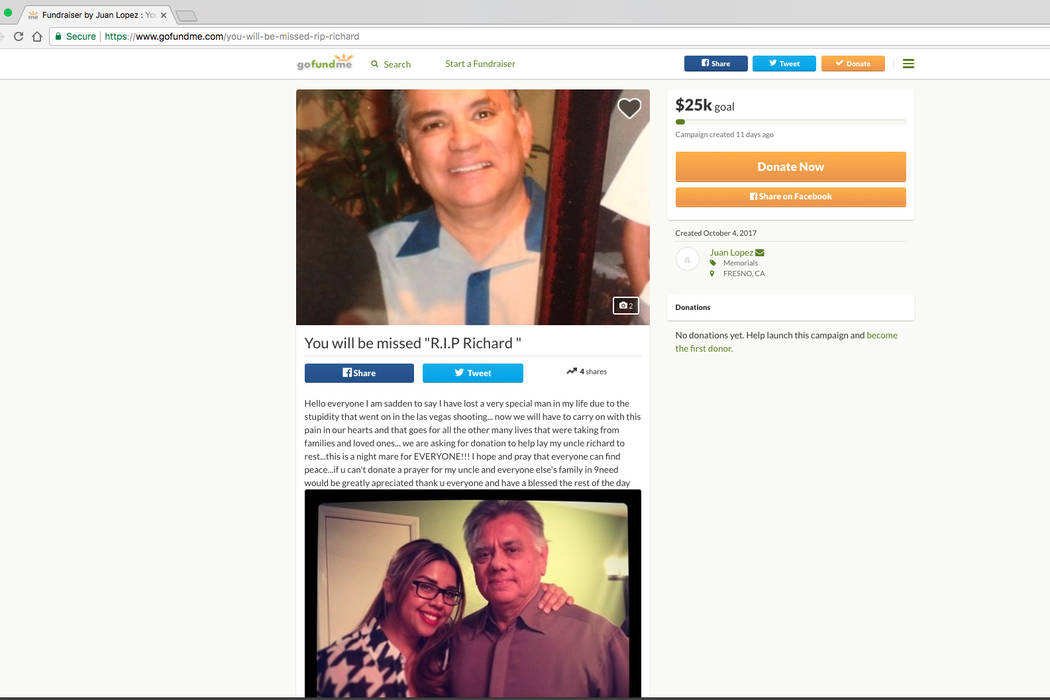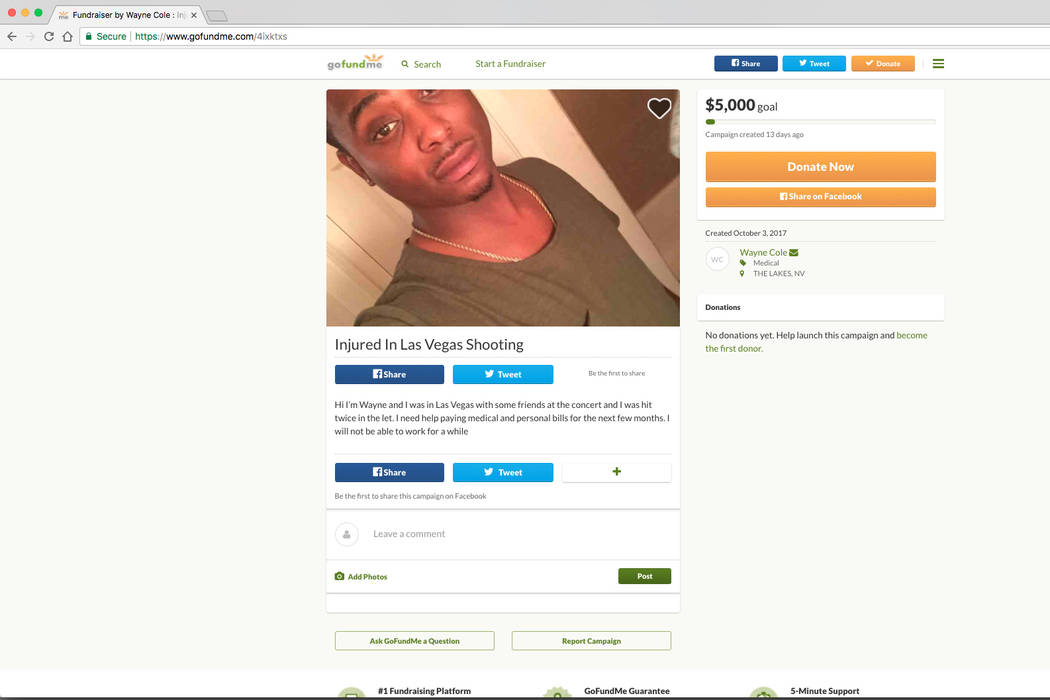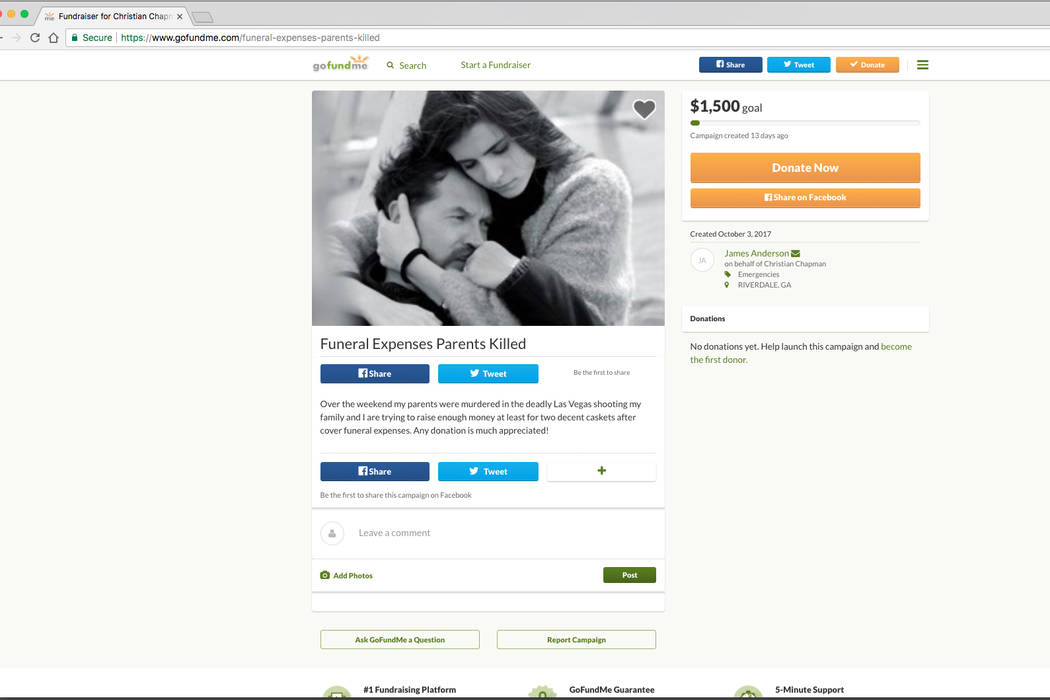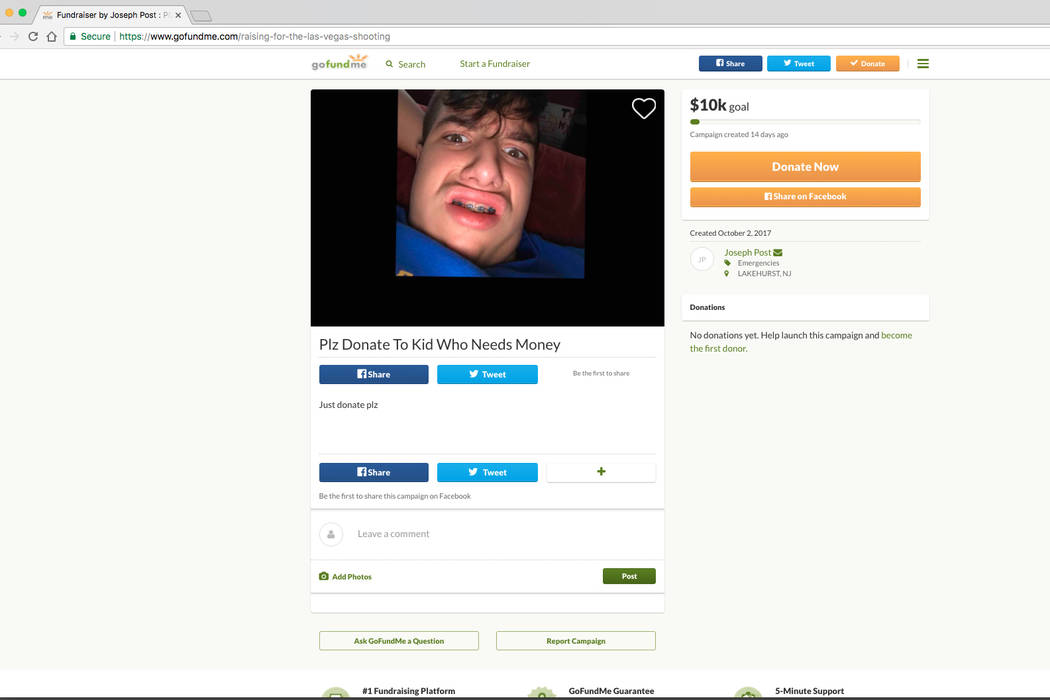 Danielle Kraze's story seemed like yet another tragic tale from the Mandalay Bay mass shooting.
"My big brother has been one of the many killed last night at the concert in Las Vegas," Kraze wrote on a webpage hosted by YouCaring, an online crowdfunding platform. The post described her brother, Jason, as a "loving and caring" 37-year-old man, whose death will shatter their mother.
Kraze illustrated the story with a dramatic, but highly pixelated, photo of police officers crouching behind a squad car with Mandalay Bay looming in the background.
"RIP JASON," the post said, "I MISS YOU SOOOOO MUCH ALREADY AND I KNOW YOU WILL BE MY ANGEL FOREVER!"
Kraze's words practically radiate sadness. If only they were true.
No one named Jason is on the coroner's official list of the 58 people killed at the Route 91 Harvest festival. The only Danielle Kraze the Review-Journal could find was a woman who used that as a nickname — and she said her identity had been stolen.
The post was likely a scam, one of many that spring up on crowdfunding sites in the wake of highly publicized tragedies like last year's Orlando nightclub shooting or 2013's Boston Marathon bombing.
A Review-Journal search of crowdfunding sites following the Mandalay Bay shooting found two other campaigns for apparently fake victims. The newspaper also found several exceptionally vague or patently ridiculous campaigns tied to the shooting, including one on the GoFundMe platform that read in its entirety "SHoooting [sic] from las vegas s*** got real and i need money asap."
A grand total of only $30 was raised by these efforts. But their existence illustrates just how easy it is to launch fraudulent campaigns.
The Review-Journal reviewed the posting procedures of seven crowdingfunding platforms. All but two allowed users to post an appeal without any vetting up front. A user could, theoretically, log into the sites with a fake name and fraudulent cause and start raising money across the globe within minutes.
Fraudsters may be subject to criminal penalities under state and federal law. At the federal level, penalties can be as high as 20 years in prison and a $250,000 fine.
Public Vetting
The only crowdfunding sites that confirmed information in advance were CrowdRise and Razoo, which are dedicated to raising money for charities. To create a campaign, users must choose from a list of already verified charities or, in the case of Razoo, supply an employer identification number for an organization not on the list.
Representatives of other sites told the Review-Journal they mainly rely on the public to help police fraudulent campaigns, although the founder and CEO of FundRazr, Daryl Hatton, said his platform also has a secret process for reviewing campaigns when they're launched. "We don't discuss the details of the process as we don't want to publish clues as to how to evade it," Hatton said in an email.
Last week, the Review-Journal discovered a campaign on FundRazr seeking money for the funeral expenses of a presumed victim identified only as Silvio, who allegedly was killed in the Mandalay Bay shooting. The campaign was organized by someone posting as Linah Ciccone of Mesa, Ariz., who claimed to be Silvio's cousin. However, nobody named Silvio was killed in the shooting.
By the time the Review-Journal asked FundRazr about the campaign this week, the site had already identified it as fraudulent and shut it down. But before then, the campaign had received two donations totaling $30. Hatton said he believes those donations were made by the organizer, or someone connected to the organizer, in an attempt to make the effort look legitimate. That's a common trick, he said.
But Hatton said the public is remarkably effective at identifying fraudulent campaigns — which is good, because he noted that it's too expensive for a company like his to thoroughly review every posting.
Shut Down
GoFundMe, the industry leader in online crowdfunding, says that fraudulent campaigns account for less than one tenth of one percent of all accounts on the site. Yet the Review-Journal found the most problematic posts there.
One campaign, which listed the organizer as Juan Lopez of Fresno, Calif., purported to raise money to bury his uncle Richard, who was killed "due to the stupidity that went on in the las vegas shooting." No one named Richard was among those killed in the mass shooting. There is a victim with the middle name Richard, but he doesn't look anything like the man in the post. Messages sent to the campaign organizer through GoFundMe were ignored.
GoFundMe spokeswoman Kate Cichy said in an email that the company reached out to the organizer of the campaign to collect more information. "If sufficient information is not provided, then the campaign will be removed," she said. The campaign was subsequently taken down.
The Review-Journal also asked GoFundMe about several other campaigns tied to the shooting, including one that showed a picture of a grimacing boy with braces and was headlined "Plz Donate To Kid Who Needs Money." Cichy noted that none of these campaigns had raised any money and most had not been shared. "That means that, even though a campaign is technically still 'live,' the campaign will not receive any donations," she said. Even so, a day after the newspaper brought the campaigns to the company's attention, most were shut down.
Cichy said GoFundMe is committed to ensuring the legitimacy of all campaigns created in the wake of the shooting and the platform is backed by a guarantee that if law enforcement or a user finds campaigns are being misued, donors will get a refund. She also said the company is working with the Nevada Attorney General's office to keep the platform safe. Attorney General Adam Laxalt reported last week that his office worked with GoFundMe to shut down a sham campaign.
Also shut down: Danielle Kraze's YouCaring campaign. Company representatives deleted it after the Review-Journal brought it to their attention.
Review-Journal writer Alexander Cohen contributed to this report. Contact Brian Joseph at bjoseph@reviewjournal.com or 702-387-5208. Follow @bjoseph1 on Twitter.
Related
After Las Vegas shooting, beware fake relief funds
GoFundMe scams emerge after Las Vegas shooting, other tragedies
After Las Vegas shooting, uncertainty over who gets donations