After Las Vegas shooting, uncertainty over who gets donations
October 14, 2017 - 11:31 am
Updated October 14, 2017 - 6:22 pm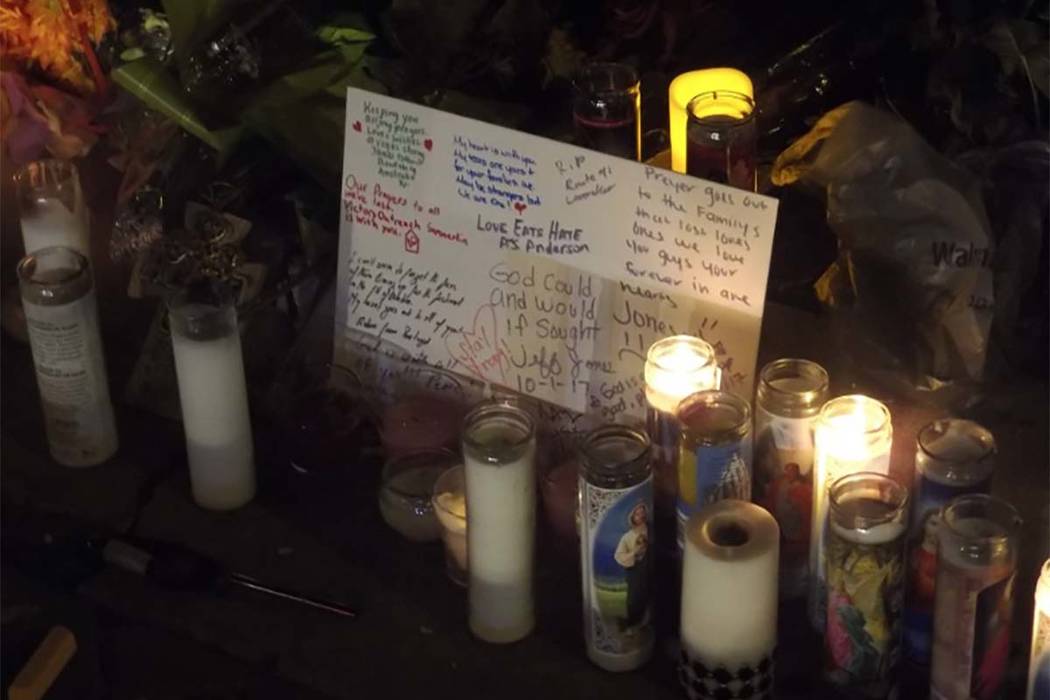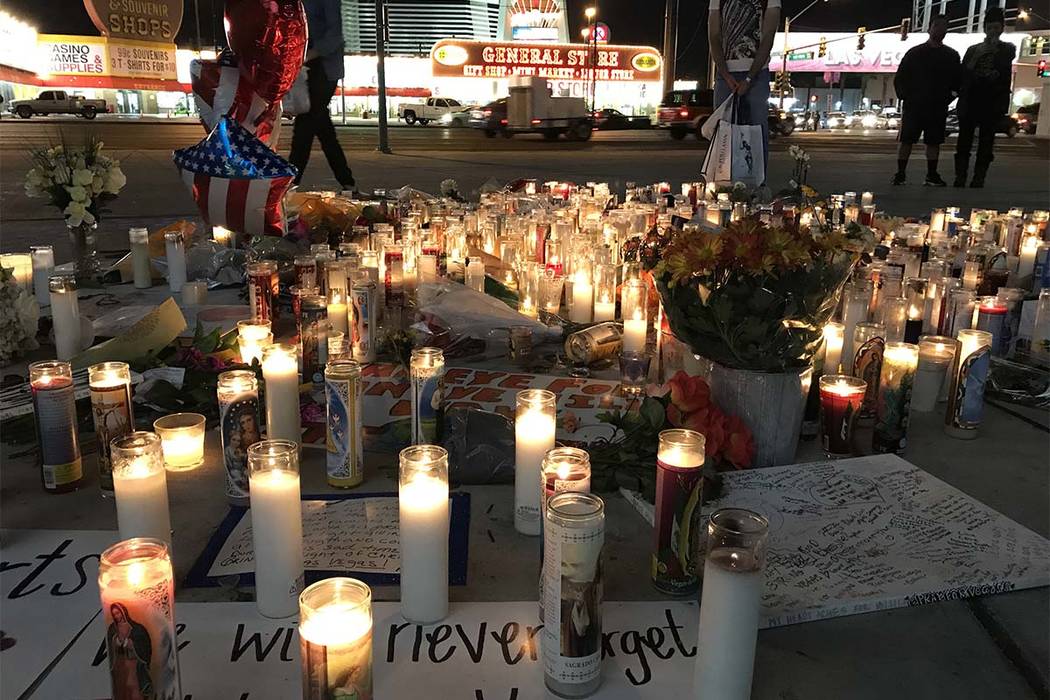 When donating money to mass shooting victim campaigns, buyer beware.
Untold hundreds of crowdfunding, corporate and grass-roots drives have been established in the two weeks since the Oct. 1 massacre on the Las Vegas Strip.
But it is not always clear which fundraising efforts are for shooting victims and their families and which benefit other causes. Some charitable drives appear to duplicate others, with individual victims and their families raising money for themselves while standing to benefit from larger donation campaigns as well.
Donors can't be guaranteed that their contributions will benefit the cause they believe they are supporting. And some donations might line the pockets of scam artists; the Nevada attorney general's office already is investigating potentially fraudulent fundraising campaigns.
"One of the saddest things we see in our industry is that there are always fraudulent charities," said T. Clay Buck, president of the Association of Fundraising Professionals.
In one example of fundraising confusion, a campaign on Customink.com called "#VegasStrong" says "this fundraiser is for the victims of the senseless tragedy in Las Vegas on Oct 1." But the organizer, Devan Underwood, told the Review-Journal that the funds will likely help provide meals to the local medical community supporting the victims as well as families of the wounded.
Various online campaigns say they will cover medical expenses, funeral costs, travel, counseling and other kinds of help for victims, their families and first responders. Meanwhile, other charitable and corporate campaigns — and even a state program — promise to cover those very expenses.
The majority of crowdfunding money currently is held in a GoFundMe account created Oct. 2 by Clark County Commission Chairman Steve Sisolak and Clark County Sheriff Joe Lombardo. That account grew to almost $10.8 million by late Friday.
A Review-Journal analysis of 310 crowdfunding campaigns, including the Sisolak account, shows that 169 funds are focused on helping individual victims and their families, while 141 accounts are aimed at helping victims and first responders in general. Through about 11 a.m. Thursday, 79 campaigns had met or exceeded their goals. Ten campaigns had topped $100,000, including the Sisolak-Lombardo campaign. Twenty-four campaigns had raised nothing.
Keeping tabs on the money
In the aftermath of the Pulse nightclub shooting in Orlando, which left 49 people dead and 68 injured, myriad funding efforts sprung up.
Christine Leinonen, whose son died in the shooting, was among those who received donations.
She cautioned against leaving the funds spread out and separated for too much longer. On GoFundMe alone, a late Friday search of campaigns under "Las Vegas shooting" produced 687 accounts.
"If you don't centralize them, and centralize them rather quickly, then they're going to get lost … and they won't go to the victims fairly," Leinonen said.
Even though millions of dollars came in after the Pulse shooting, Leinonen said she feels she does not know where it all went.
Duplicate efforts
Some of the crowdfunding efforts may be duplicating services already offered to Las Vegas victims and their families.
For example, at least 13 crowdfunding accounts the Review-Journal found mention raising funds for funeral expenses. But Las Vegas-based Zappos.com has said it will pay for the victims' funerals.
"We're working directly with families who need immediate assistance with funeral costs," said Steven Bautista, head of charity at Zappos.com. "This is something we'd like to extend to the community. Families who need immediate assistance with funeral-related costs can reach out to zapposforgood@zappos.com for more information."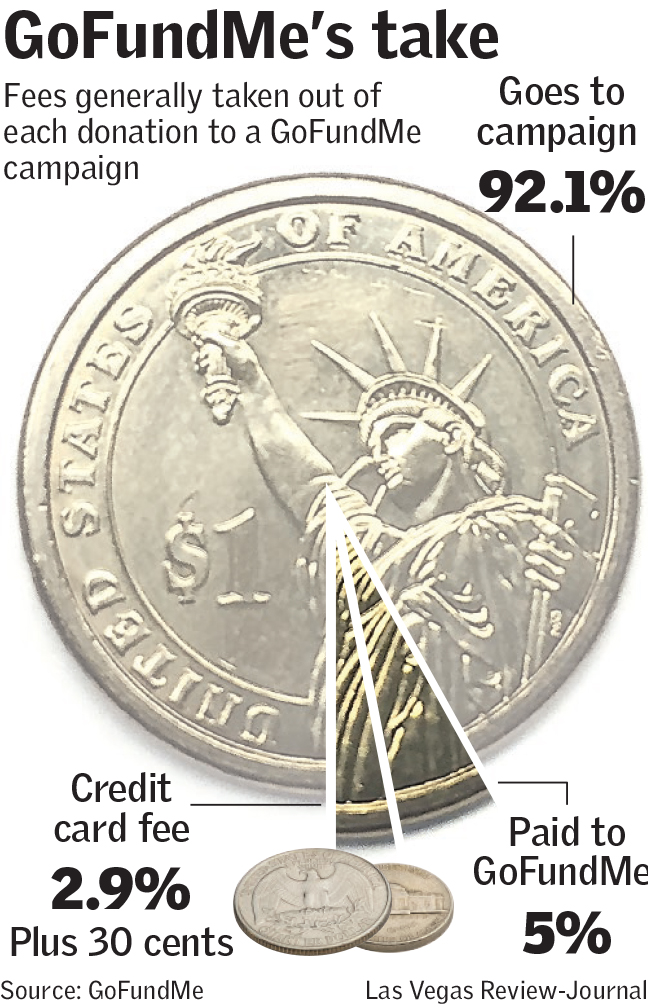 And some airlines are waiving fees for transporting the bodies of victims.
Many accounts also state they're raising money to pay for medical costs. The Dignity Health-St. Rose Dominican Hospital system said it will not bill shooting victims. "St. Rose will bill third party payors (if any) and will be accepting contributions from donors in the community to address the financial and other burdens placed on these patient victims," spokeswoman Jennifer Cooper said in a statement. University Medical Center also said it would assist patients with the help of donors.
The Dignity Health-St. Rose Dominican Hospital system treated 57 patients from the mass shooting. UMC received 104 patients from the Route 91 Harvest country music festival.
Additionally, the state of Nevada runs the Victims of Crime Program, which provides up to $35,000 to reimburse victims for crime-related expenses that are not covered by other sources. Covered expenses include medical bills, lost income and funeral expenses.
The Family Assistance Center at the Las Vegas Convention Center is also offering one-stop services for survivors, families of the deceased and community members affected by the shooting. So far, more than 1,600 individuals have received help for a variety of needs, including crisis counseling, help with travel and hotels, property recovery, victim compensation, legal services, spiritual care, consulate services, child care and administrative support for agencies.
And Nevada's U.S. senators, Dean Heller and Catherine Cortez Masto, have made direct appeals to lenders, health insurers and regulators for mortgage payment and medical bill relief for victims and their families.
Hero security guard
A GoFundMe account was established for Jesus Campos, the Mandalay Bay security guard who first encountered gunman Stephen Paddock on Oct. 1. Campos was shot in the leg and helped police pinpoint the mass shooter's location on the 32nd floor. But it was unclear exactly how the money would benefit Campos. The account, set up by one of his co-workers, said Campos needed the money to "get back on his feet." By Friday, the account had nearly met its $40,000 goal and was shut down.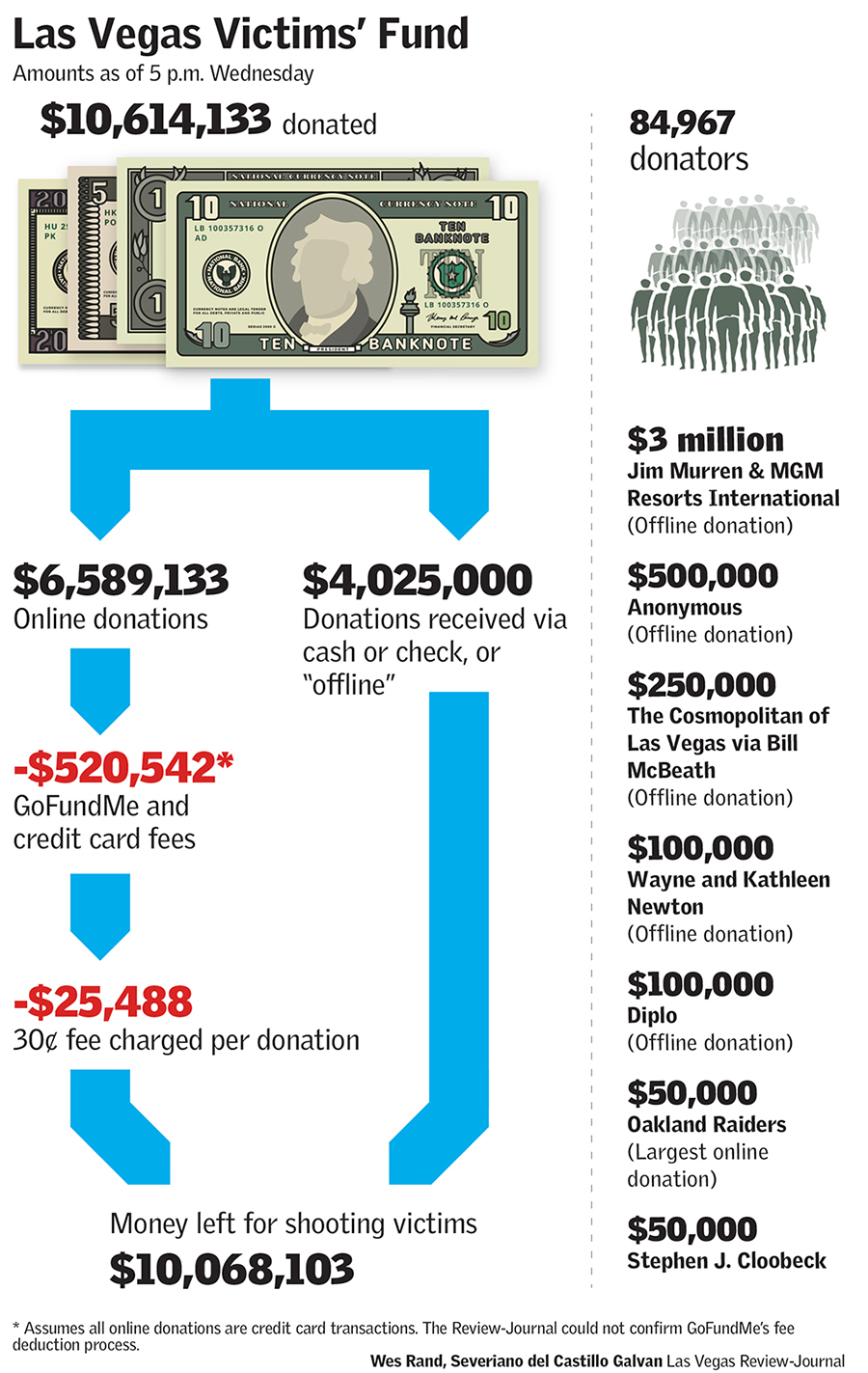 A separate GoFundMe account for Campos, called "Security Guard Hero Fund," by late Friday had raised $11,280, exceeding its $10,000 goal. The account was started by Encore Event Technologies, "the AV partner to Mandalay Bay," for Encore employees. "100% of the funding will go directly to Jesus," the account says, without specifying Campos' needs.
The Review-Journal has been unable to reach Campos for comment, but MGM Resorts International issued a statement Saturday regarding the injured security guard.
"Jesus Campos is currently on paid leave and has access to counseling options that are available to all employees injured in the shooting," it reads. "Additionally, MGM maintains an Employee Emergency Relief Fund, which is funded by employees, and is used in crisis situations where there are immediate needs. Out of respect for the privacy of our employees, we will not go into further detail."
Separate funds
The National Center for Victims of Crime, a 501(c)(3) nonprofit, created the National Compassion Fund Las Vegas on Oct. 3 to collect donations. Contributions to the campaign were approaching $1 million this week, a Clark County spokesman said.
Jeff Dion, deputy executive director of the National Center for Victims of Crime, said all of the money that's in Sisolak and Lombardo's GoFundMe account "is ultimately going to be pooled into our account with money from other sources, and all of that will create one big lump sum that will be divided up 100 percent among the victims."
But it is unclear exactly which funds — aside from money raised on the GoFundMe website created by Sisolak and Lombardo and the money raised in a separate Nevada State Bank account — will be consolidated into the National Compassion Fund Las Vegas.
Several casino operators have pledged at least $11 million in donations in response to the shooting, but have not committed to putting those funds into the National Compassion Fund Las Vegas. Sources say the casino operators may want to use those funds to bolster some community and crisis response needs in the aftermath of the shooting, in addition to giving directly to shooting victims and their families.
Unknown costs
Mary Moreland's 27-year-old daughter, Tina Frost, was shot in the head Oct. 1 at the Route 91 Harvest festival.
"I couldn't understand why people were doing fundraisers — T-shirts bracelets, etc. — but now, I'm starting to understand the severe financial strain this will have," she said.
Frost, a Maryland native, lived in San Diego.
"She's (Frost) been in the ICU for over a week now — countless drugs, a ventilator, and medicines to keep her stable and comfortable. When she leaves here, she's going to have to be air transported. She's going to need several bone reconstructive surgeries and plastic surgeries to rebuild her eye and skull. She's going to need a prosthetic eye. And on top of that, she's going to continue to have specialists to monitor her progress — neurosurgeons, a trauma specialist, an eye specialist, respiratory specialists, physical therapists, occupational therapists, plastic surgeons, etc., and even more to be determined once we understand the extent of damage. … I imagine the costs will be exponential, but we haven't received a bill yet, so I honestly can't speculate on a specific number. And that's just Tina. This doesn't even count family travel, hotels, meals, etc."
A GoFundMe account to benefit Frost, established by family friend Pam Ostiguy Clark, had raised more than $525,000 by late Friday after having an initial goal of $50,000.
Las Vegas shooting donation accounts hosted by banks:
■ The Las Vegas Victims' Fund, hosted by Nevada State Bank and managed by Chris Young. Young is the director of the Direct Impact Fund, which is an independent, registered 501(c)(3) nonprofit group associated with GoFundMe. Details of the relationship between the Direct Impact Fund and GoFundMe are unclear, as Chris Young, who is also the head of GoFundMe's legal department, did not return a request for comment.
■ The VegasStrongFund, hosted by Bank of America and managed by the Nevada Resort Assoication.
■ The National Compassion Fund Las Vegas, hosted by EagleBank in Washington, D.C., and managed by the nonprofit National Center for Victims of Crime.
Read more
Shady crowdfunding pages common after tragedies such as Las Vegas shooting