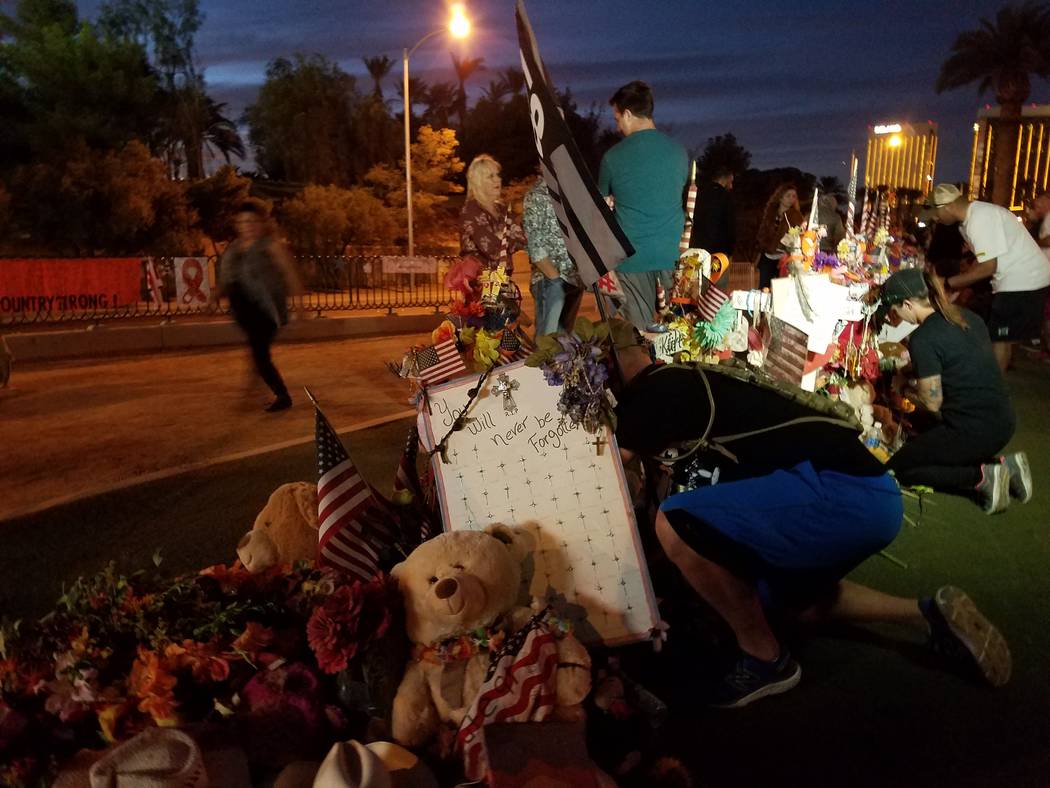 They marched 58 miles for the 58 killed.
A group of 24 active-duty service members undertook their charity trek in honor of the people killed Oct. 1 at a country music festival on the Strip. On Saturday, they finished their two-day journey along Las Vegas Boulevard at the Welcome to Fabulous Las Vegas sign, where they placed dog tags with the names of each victim on their respective crosses.
"It's really hard to look at that cross and know that that life was just extinguished," Army Staff Sgt. Michael Baggett said. "We just hope that we did enough to honor those lives."
The walkers, consisting mostly of those serving in the Army, traversed the 58 miles to raise money for the Las Vegas Victims Fund, Baggett said. The march had raised more than $4,000 as of Saturday night, and Baggett expected that total to double with a 100 percent donation match by Zappos.
Eight of the original 24 completed the entire journey, Baggett said. Others took breaks or required medical care, he said.
They started their trek Friday at the Seven Magic Mountains art installation near Jean before walking north to Las Vegas Harley-Davidson, 5191 Las Vegas Blvd. South, across from the Welcome to Fabulous Las Vegas sign. From there they turned around and ended their day at M Resort, 12300 Las Vegas Blvd. South.
Day two began Saturday morning at the resort, from where they walked back to Seven Magic Mountains, turned around and headed north to the famous sign.
Pizza, snacks, water and beer awaited the finishers.
"My feet? Yeah, they go numb after a while," said Army Sgt. 1st Class Niobel Santos, who walked with a bit of a limp Saturday. "My legs, though, feel like two logs."
As they approached the sign and the end of the journey at about 6 p.m., the group took care in the final step, the hanging of the personalized tags on crosses honoring the dead.
"I got one, two, three," Baggett called as he led the group to the crosses, holding the tags for Bill Wolfe, Kurt Von Tillow and Michelle Vo.
"I got four, five, six," the walker behind him followed.
"I got seven, eight, nine," Santos said.
He said the buildup to hanging the tags made the walk worthwhile. The pain of walking was replaced by joy at the end, and a sense of unity with the victims.
"We're treating that, our 58 brothers and sisters, as if they were one of us," Santos said.
In their first trip to the memorial since the shooting, two survivors watched the military men and women as they placed the tags.
"It means a lot," Barbara Godron said. "I think it's a great thing to do."
Godron's grandson is in a local ROTC program, and she learned through him the march was going to happen. Next to her was her friend Karen Berney, wearing a black "Route 91 Survivor" shirt.
"I think everybody that has come out to honor them, it's really, really nice," Berney said.
The two friends stood and watched as the walkers filed into a formation. The military men and women slowly raised their right hands to their heads in a three-second salute, customary at military funerals.
They faced south — Mandalay Bay to their backs, the crosses to their right and front — and saluted their fallen brothers and sisters.
Contact Mike Shoro at mshoro@reviewjournal.com or 702-387-5290. Follow @mike_shoro on Twitter.