Rapper Blueface shot man who made joke at strip club, report says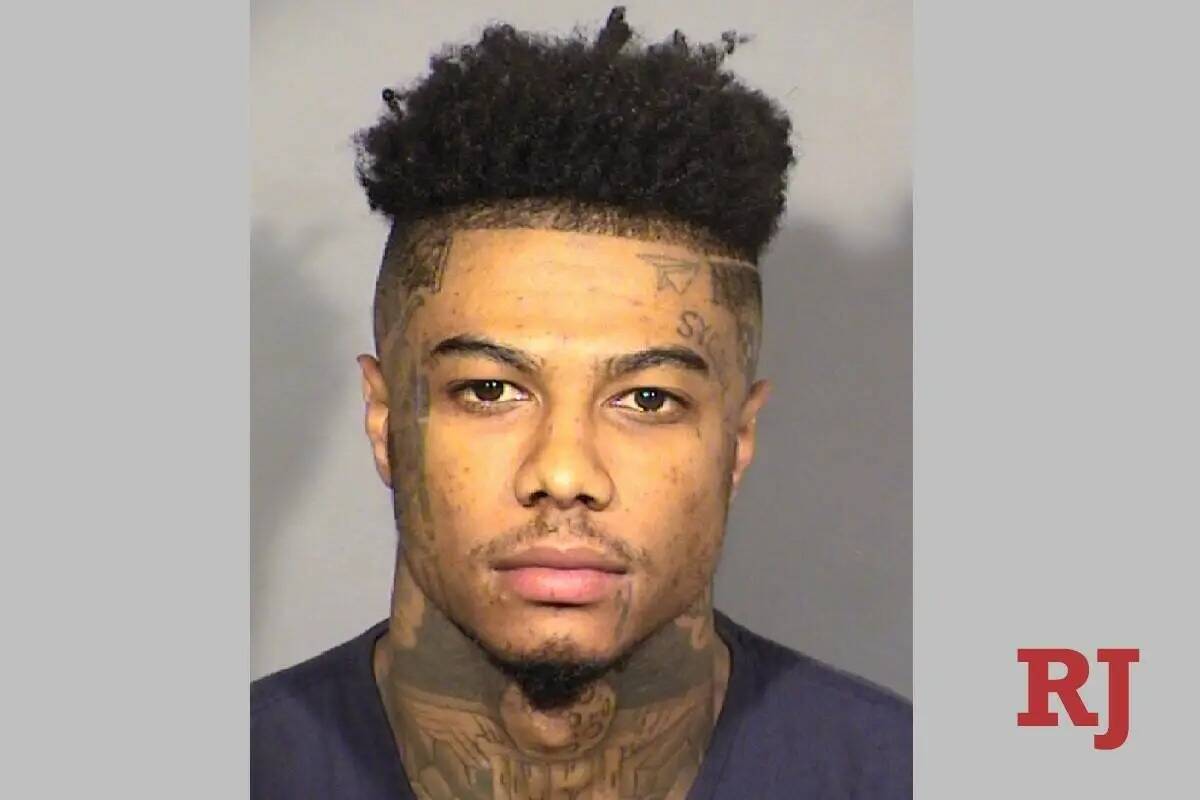 The rapper Blueface was arrested after he allegedly fired shots at another man who made a joke about him outside a Las Vegas strip club, according to arrest documents.
Johnathan Porter, 25, popularly known as Blueface, was arrested Tuesday outside Lo-Lo's Chicken and Waffles, near East Flamingo Road and Koval Lane, on arrest warrants for attempted murder and discharging a firearm.
Video purportedly taken of the arrest and posted by TMZ.com shows what appears to be undercover police officers suddenly tackling Porter and arresting him while others off camera criticize and question officers about the arrest.
The shooting happened Oct. 8 outside the Euphoric Gentlemen's Club at 6370 Windy Road, near Interstate 15 and Sunset Road, in the early morning hours, the Metropolitan Police Department said.
The victim, identified in a Metro arrest report as Kentabius Traylor, flagged down police at Metro's headquarters at about 6 p.m. Oct. 9 to say he and his vehicle, a white 2022 Nissan Titan, had been shot at on Oct. 8 at about 4:05 a.m.
Traylor had "what appeared to be a bullet graze wound to his left hand," the arrest report said.
According to the arrest report, Traylor had recognized Blueface, who burst onto the music scene in 2018 with his viral hit 'Thotiana,' and spoke with him in the club.
But as Traylor was leaving the club, he "remarked on Blueface speaking with some females in a cheap vehicle," the arrest report said.
It was a joke, but it apparently didn't land well. That's when Traylor found himself being beaten by men he believed to be part of Blueface's entourage.
Gunshots were fired from the Blueface entourage toward Traylor as Traylor tried to drive away in his truck, stepping on the gas and hitting some parked vehicles as he tried to flee.
The next day, when Traylor was being interviewed by detectives, investigators took photographs of two places on the truck that had been hit by bullets. Officers also found a full bullet in the vehicle.
Traylor had a bullet graze wound to his left hand and multiple bruises on his body, police said.
Investigators also talked to Eugene "Gene" Rotondo, the owner of the club. Rotondo let officers watch surveillance video. At 4:06 a.m. Oct. 8 the video shows Traylor being beaten in front of the club.
A man in a 'Kool Whip' hoodie "brandishes a handgun and discharges what appears to be two rounds at the vehicle," police said.
A female nearby then picks up the shell casings from the shooting.
Detectives then went online and saw posts from Blueface's official Instagram account that showed him wearing the same clothes as had been seen in the surveillance video.
Investigators also got a warrant for "all Instagram content," but they redacted, or blacked out, what specific Instagram content they had gotten a warrant for, so it wasn't clear if this was for Porter's account.
But according to the arrest report, detectives were able to determine that the phone number associated with the account is registered to T-Mobile, with Johnathan Porter being the account holder.
They also saw messages from Oct. 8 and Oct. 9 where Porter indicated he was staying at the Rio on Flamingo Road just west of I-15.
Police concluded that the man they watched on surveillance video who was shooting into Traylor's vehicle was Porter, also known as Blueface.
"Porter is seen on surveillance video firing what appears to be a handgun into the passenger compartment striking Traylor in the left hand narrowly missing his head due to Traylor being ducked down and driving away," the report states.
Porter appeared in court Wednesday. A judge set his bail at $50,000, court records show.
Contact Brett Clarkson at bclarkson@reviewjournal.com or 561-324-6421. Follow @BrettClarkson_ on Twitter.