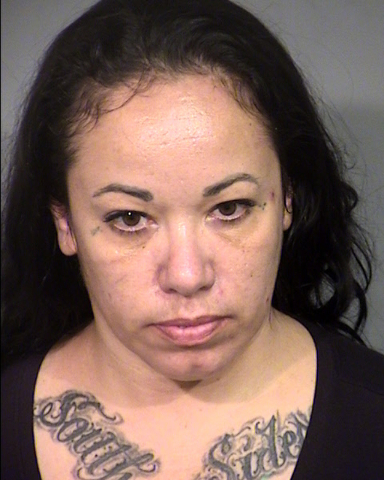 When passers-by spotted a house fire near downtown Las Vegas on the afternoon of March 7, they stopped in case residents needed help.
They never expected to find that a man had been tied up, tortured and left for dead in a burning building, but Las Vegas police records say that was what happened.
Three people were arrested late last week in connection with the attack and arson. Luis Angel Castro, 29, Edward Honabach, 28, and Fabiola Jimenez, 40, were booked into the Clark County Detention Center on March 10 and March 11 to face eight charges: attempted murder, conspiracy to commit murder, mayhem, kidnapping, extortion, robbery, battery and arson.
One woman was driving in the area and saw smoke. She began to walk around the house to see whether anyone inside needed help when she heard a man cry out.
She found Jose Ortiz-Salazar, 22, in the backyard. His legs were tied at the knee and the ankle, he was covered in blood, and he was clutching his neck, according to police records.
Several bystanders pitched in to get the man into the front yard and apply pressure to his wound.
First responders pulled up to the blaze about 3:30 p.m. at the 1900 block of East Oakey Boulevard, near the intersection of Oakey and Eastern Avenue.
A Las Vegas Fire Department paramedic arrived on the scene to find Ortiz-Salazar had multiple stab wounds to his chest, back and right arm. His right pinky finger had been mostly cut off, and the fingernails from his right index and middle fingers had been pulled off. His throat had been cut deeply with a machete.
Before he was rushed to Sunrise Hospital and Medical Center, he told the woman who found him: "Angel Castro did this to me."
Las Vegas police detectives found Ortiz-Salazar's girlfriend, Yoselin Rezendis. She told them that his car broke down March 6 and that Castro agreed to tow it for $50.
The next day, while Ortiz-Salazar was trying to fix his car, Castro came to collect the $50, according to police records.
Ortiz-Salazar later told police that he was driven to a house he had never seen before. A man tied him up, and the four criminals forced him to call friends and relatives to ask them for $300, according to police records.
Then they took turns cutting him and stabbing him. The attackers started the fire and left, thinking the man was dead. But Ortiz-Salazar hopped to the sliding glass door and used a wooden security rod to smash it and escape.
The fire started in a large backroom and engulfed the house's interior. Firefighters put it out in 10 minutes, and no one else was found inside.
The Fire Department said nobody lived at the home but was frequented by the homeless.
Jimenez told police she was involved in the crimes, her arrest records show. She said Ortiz-Salazar owed $200 for drugs. Castro, Honabach and a third mystery man were tired of waiting, police said.
Honabach and Castro are scheduled to appear in court on March 29. Jimenez is scheduled for a preliminary hearing the following day.
Contact Wesley Juhl at wjuhl@reviewjournal.com and 702-383-0391. Find him on Twitter: @WesJuhl