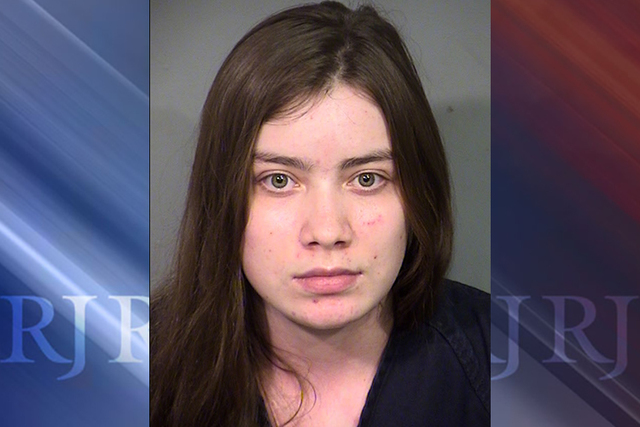 A Las Vegas woman was indicted on an attempted murder charge about a month after her case was thrown out because the victims repeatedly refused to show up to court, prosecutors said Wednesday.
Halina Kwiatkowski, 21, is accused of stabbing her father more than a dozen times and slashing her mother's hand.
Prosecutors have claimed a deputy public defender crossed an ethical line when she persuaded the victims to ignore a subpoena.
In Las Vegas Justice Court last month, prosecutors played a series of recorded jailhouse phone calls between the defendant and her parents.
In those conversations, Anna Kwiatkowski said she would not show up to her daughter's court hearings, saying she had spoken with a public defender.
"After I told her I'm not coming, she goes, 'you made the right decision,'" the mother said.
The case was continued repeatedly in the lower court, while prosecutors sought warrants that would force the parents to testify, until Las Vegas Justice of the Peace Eric Goodman dismissed the charges.
Prosecutors then took the case to a Clark County grand jury, another court proceeding for which the Kwiatkowskis did not appear.
After the indictment was handed down, District Judge David Barker set a $50,000 warrant for Halina Kwiatkowski's arrest on one count each of attempted murder with use of a deadly weapon, battery with use of a deadly weapon resulting in substantial bodily harm constituting domestic violence and battery with use of a deadly weapon constituting domestic violence.
"The reason we are proceeding is that she's a danger to the community at this point," said Chief Deputy District Attorney Jake Villani. "We understand that the parents don't wish to prosecute the case. But this is the state of Nevada versus the defendant. And we need to protect the community."
Kwiatkowski's attorney, Rochelle Nguyen, could not immediately be reached for comment Wednesday.
When police arrived at the family's home in the 1700 block of Alta Drive in December, Kwiatkowski and her father, Mariusz, were covered in blood.
The defendant spent more than four months undergoing mental health evaluations.
In May, Las Vegas Justice of the Peace Eric Goodman pulled the deputy public defender, Tegan Machnich, from the case after he listened to the jailhouse phone calls between the defendant and her parents.
Prosecutors suggested that the phone calls indicated the deputy public defender convinced the victims that prosecutors had deceived them.
Machnich told the judge that was "absolutely not true," according to transcripts of a May 19 hearing. "I would never say that."
The jail calls also revealed an emotional struggle for the parents, who are victims but do not want their daughter locked away.
"You need to go to the doctor," Anna Kwiatkowski told her daughter in one call. "You don't need to be locked up in prison."
Nevada law states that a preliminary hearing must be held within 15 days of the defendant's initial court appearance, unless the defendant waives the deadline or there is "good cause" to extend the hearing. Prosecutors also can take the case to a grand jury, where defense attorneys are not allowed to question witnesses.
In Justice Court, prosecutors said they would not have opposed probation on a felony charge of battery with a deadly weapon for Halina Kwiatkowski, as long as she received mental health treatment and took medication. If she completed probation, the charge could be reduced to a gross misdemeanor. But that deal is no longer on the table, Villani said. The attempted murder charge carries up to 20 years in prison.
Contact David Ferrara at dferrara@reviewjournal.com or 702-380-1039. Find @randompoker on Twitter.