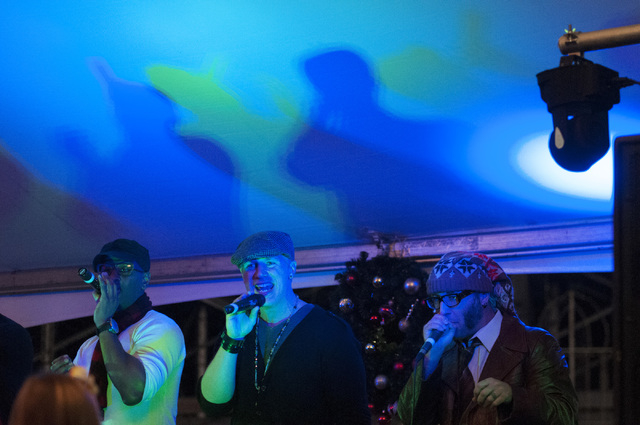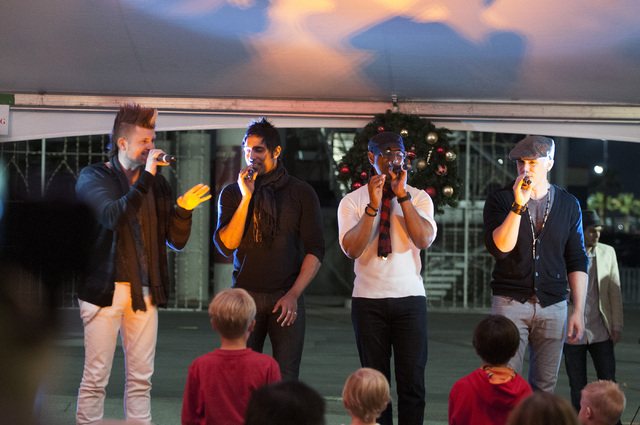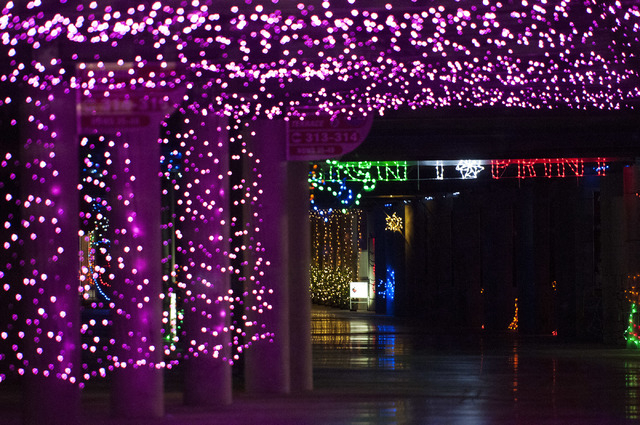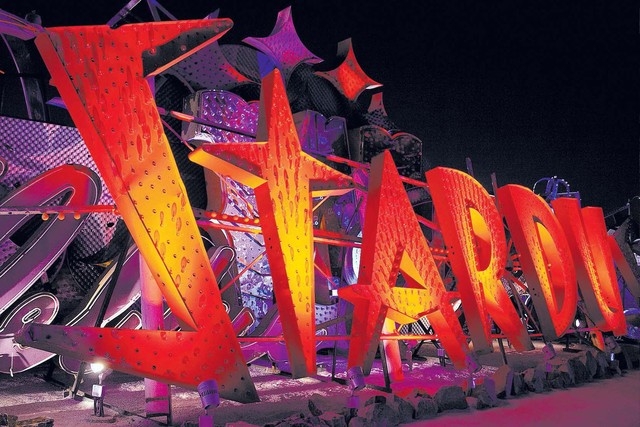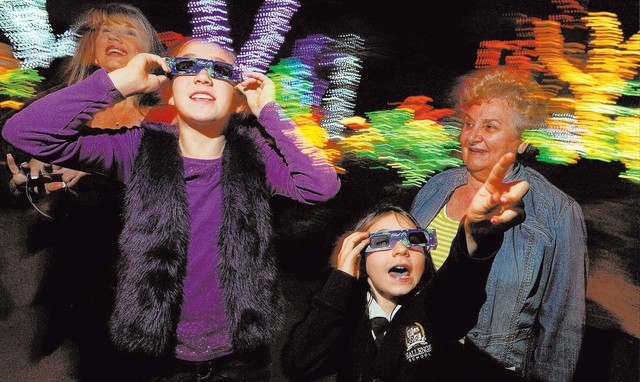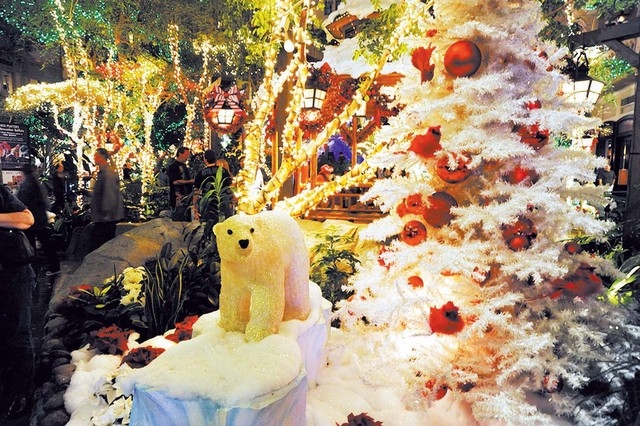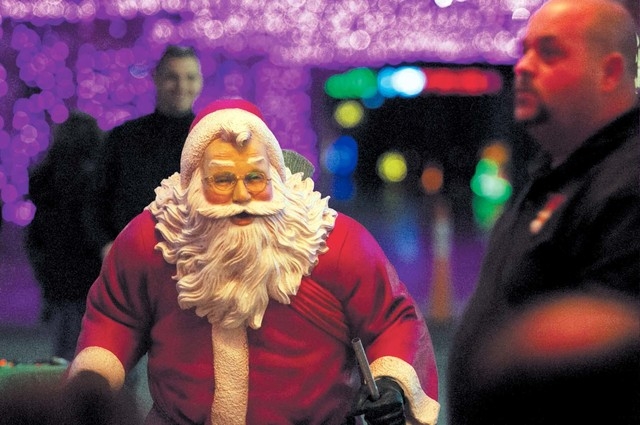 The arrival of the Christmas holiday season never fails to bring with it all sorts of visible changes to Southern Nevada.
The transformation of Opportunity Village into the Magical Forest. A yuletide makeover of the Ethel M Cactus Garden. The arrival of Santa Claus to valley shopping malls.
And, at Las Vegas Motor Speedway, the replacement of the raceway's "Christmas tree" starter lights with, well, actual Christmas trees.
Southern Nevadans have come to look forward to a broad slate of yuletide activities each year, and this year is no exception. From now through January, the valley's entertainment calendar will be packed with family-friendly, affordable ways to celebrate the season.
GLITTERING LIGHTS
Glittering Lights at Las Vegas Motor Speedway, for instance, offers Southern Nevadans the chance to drive a 2½-mile course around the speedway and check out, from the comfort of their own cars, a vast array of light displays.
John Bentham, the local event's co-producer, says construction of the attraction began in mid-October with a crew of 20 or 30 workers.
"So," he says, "it's been almost a three- or four-week process to get it up and built."
This year's edition marks the attraction's fourth at the speedway, Bentham says, following a previous run at Sunset Park.
"Being out at the speedway has allowed us to grow the event," he says. "Now we have more than 2 million lights" and about 450 light displays.
Bentham expects 25,000 to 30,000 vehicles to stop by this year, which would represent a slight increase from last year.
"We're trying to create an atmosphere where it's a big community event," he says, akin to the informal holiday tradition back East of hopping into the car and taking a drive to see how neighbors have decorated their homes for the holidays.
This year's event includes a fairy-tale display, an underwater scene and such traditional holiday favorites as a candy cane factory and Santa's workshop, Bentham notes.
Bentham says the route typically takes visitors 40 to 50 minutes to drive, as they travel under the speedway's grandstands and into and out of areas where visitors otherwise can't go, listening to a low-power radio station play holiday music keyed to the displays.
"The course we have set out is kind of varied, so you're doing a lot of different kinds of things," he says. "When you go under the grandstand, it's like going into a tunnel to begin with, so that's a neat atmosphere. That's where we have some of our theme (displays) like the underwater and fairy-tale themes."
Also featured for the second year is the "Avenue of Trees," a collection of more than 80 Christmas trees, each of which represents each of the charities that will receive proceeds from Glittering Lights. Bentham says Speedway Children's Charities, which funds children-oriented organizations throughout Nevada, will receive $2 from each purchased ticket.
New this year will be a "Living Nativity" scene featuring members of local United Methodist Church congregations. Bentham says the Nativity displays, which premiere Nov. 29, will appear at the conclusion of the driving course for those who wish to view them.
The vibe of Glittering Lights is wholly family friendly, Bentham says.
"We try to make it fun," he adds. "We've even got doggie treats for dogs as you come in.
"Last year, when I drove my kids through the first time, we rolled down the window and the kids were singing along to music in the car and pointing at different things. As a parent, it's amazing, especially if you see it through a child's eyes."
Concessions operated by valley Scout troops will be available at the start of the course with hot chocolate, popcorn and other vehicle-suitable munchies.
"A lot of Scout troops tell me they pay for their summer camps that way," Bentham says. "What I love about this is, even a family of four or five can get into the event, get popcorn and some hot chocolate, and everybody can have a great time for under 30 bucks."
Admission is $20 per car Friday through Sunday and on holidays, and $15 per car Monday through Thursday. Coupons good for $2 off the admission price can be obtained with the donation of a gently used item at Goodwill of Southern Nevada locations or at the attraction's entrance.
Glittering Lights opened this past week and will run through Jan. 5. Hours are from 5:30 to 9 p.m. Sundays through Thursdays and 5:30 to 10 p.m. Fridays and Saturdays. The Las Vegas Motor Speedway is at 7000 Las Vegas Blvd. North.
Tickets can be purchased online at glitteringlightslasvegas.com, at Walgreens stores or at the entrance. (www.glitteringlightslasvegas.com or 702-222-9777)
BONEYARD HOLIDAY
The Neon Museum also knows a thing or two about lights, so it seems natural that it, too, would toss its Santa hat into the yuletide entertainment arena. Beginning Nov. 30, visitors who take the nighttime tour of the Neon Boneyard also will view a special, holiday-inspired palette of lights.
"We knew from the get-go we wanted to be able to provide a nighttime tour experience, and at the top of that list was having a special experience available during the holidays," Neon Museum Executive Director Danielle Kelly says. "So we'll be adjusting the lighting in the Neon Boneyard for the evenings so that it will be a special holiday experience."
"We won't be adding any snowmen or Santa Claus," she adds, "but you might see some snowflakes and, definitely, colors of the season."
The holiday experience begins the day after Thanksgiving and runs nightly until Dec. 31, she says.
"It's a way to celebrate the holidays in the Neon Boneyard in a way that we do best, which is the signs and with the lights."
Also on the Neon Museum's holiday schedule is an ornament-making activity from 3 to 5 p.m. Dec. 14. Following that session, from 5 to 6 p.m., hot chocolate will be served and singers from Las Vegas Academy will perform in the Neon Boneyard's outdoor events area. The event is free and open to the public.
Nighttime tours of the Neon Boneyard are $25 for general admission and $22 for seniors, students, active military and veterans, and Nevada residents with valid IDs. (www.neonmuseum.org or 702-387-6366)
MAGICAL FOREST
Meanwhile, the Magical Forest at Opportunity Village, 6300 W. Oakey Blvd., returns, having cemented its status long ago as a Southern Nevada holiday tradition.
Again this year, visitors of all ages will find the attractions they've come to know and love over the years, including decorated trees, candy canes and plenty of garland, the Forest Express passenger train, Boris the Elf's 3-D Experience, Cheyenne's Enchanted Carousel, Rod's Mini-Golf and other rides, nightly shows and performances, and, of course, a photogenic Santa Claus who's always happy to pose with visitors in his workshop.
New this year are Rudolph's Raceway pedal cars, a new Magical Midway — which includes Blastin' Bears' Shootin' Shack, Lucky Ducky and the Holiday Wreath Ring Toss — and a newly renamed Snowflake Mountain Slide.
Magical Forest's 2013 season begins Friday and runs through Jan. 6. Hours are from 5:30 to 9 p.m. Sundays through Thursdays, and 5:30 to 10 p.m. Fridays and Saturdays.
General admission is $11 for those 13 and older and $9 for children ages 3 to 12. Passports that include admission plus unlimited rides and attractions (but not midway games) are $19.99 for adults and $17.99 for children. (www.magicalforest.com, or 702-225-9627)
SANTA AT THE MALLS
Many of this year's valley Christmas activities will revolve, as they always do, around a certain guy in a red suit. Santa Claus is scheduled to be in residence at several shopping venues through Dec. 24, including: Meadows mall, 4300 Meadows Lane (702-878-3331); Galleria at Sunset mall, 1300 W. Sunset Road, Henderson (702-434 0202); and the Fashion Show mall, 3200 Las Vegas Blvd. South (702-369-8382).
Santa also is scheduled to meet with children with special needs in "Caring Santa" sessions scheduled from 9 to 11 a.m. Dec. 1 at Meadows mall and from 9 to 11 a.m. Dec. 8 at Fashion Show mall.
Fashion Show and Meadows malls also have scheduled pet nights, when pet owners and their dogs and cats (and only their dogs and cats) may pose for photos with Santa. Pet nights at Fashion Show and Meadows malls are scheduled from 6 to 8 p.m. Nov. 25 and Dec. 2, 9 and 16.
Finally, new this year at Fashion Show and Meadows malls will be "PJ Nights," when children 10 and younger are invited to visit the Santa sets at the two malls dressed in their holiday pajamas. PJ Nights will be held from 6 to 8 p.m. on Nov. 26 and Dec. 3, 10 and 17.
The holiday event schedule at Fashion Show mall also will include: "A Home for the Holiday," a pet adoption event Dec. 7 from 10 a.m. to 5 p.m., and "Believe in the Magic," a free holiday production featuring holiday traditions around the country, on the runway in the Great Hall between Nordstrom and Saks Fifth Avenue at noon, 2, 4 and 6 p.m. Nov. 29-Dec. 1 and Dec. 6-8, and daily at noon, 2, 4 and 6 p.m. from Dec. 13-24.
Town Square, 6605 Las Vegas Blvd. South, also will host Santa Claus and a variety of holiday-oriented entertainment activities throughout the season. Santa will be in residence at Town Square through Dec. 24 and available for photos from 10 a.m. to 9 p.m. Monday through Saturday and 11 a.m. to 7 p.m. Sunday.
Also scheduled at Town Square are Snow in the Square shows in Town Square Park that will run through Dec. 23, with performances at 7 p.m. Mondays through Thursdays and 7 and 8 p.m. Fridays through Sundays. Community concerts will be at 6 p.m. Thursdays through Dec. 19. And pet owners can have their dogs and cats (and only their dogs and cats) pose with Santa from 10 a.m. to 9 p.m. Wednesdays, through Dec. 18. (www.mytownsquarelasvegas.com)
LIGHTED CACTUS GARDEN
Another longtime Southern Nevada tradition starts the 2013 holiday season when the Ethel M Holiday Cactus Garden again transforms itself into a winter wonderland from 5 to 10 p.m. daily through Jan. 1. Admission is free, although 3-D glasses will be available for $2. Photos with Santa Claus are available from 5 to 9 p.m. Friday through Sunday and on select evenings through Dec. 23. Also scheduled throughout the holiday season will be a variety of performing groups and artists. (www.ethelm.com)
WINTER IN VENICE
The Venetian, 3255 Las Vegas Blvd. South, and Palazzo, 3325 Las Vegas Blvd. South, will celebrate "Winter in Venice" through Jan. 5. Included on the roster of events are outdoor ice skating (one-hour sessions begin at 3:15 p.m. daily for $9.95 to $14.95), daily parades and tree lightings (at 6:05, 8:05 and 10:05 p.m. daily) and a 3-D light projection show. (www.venetian.com/wiv)
MYSTIC FALLS
The Mystic Falls Park light and water show at Sam's Town, 5111 Boulder Highway, again offers Southern Nevadans a winter wonderland with a pioneer twist, via amenities that include festive lighting, garland streams and light- and snow-covered trees.
A 15-minute laser light show will take place hourly from 5 to 10 p.m., through Jan. 1. And, from Nov. 29 to Dec. 23, Cowboy Santa will be on hand from 4 to 8:30 p.m. Thursdays and Fridays and from noon to 8:30 p.m. Saturdays and Sundays. (www.samstownlv.com)
Contact reporter John Przybys at jprzybys@reviewjournal.com or 702-383-0280