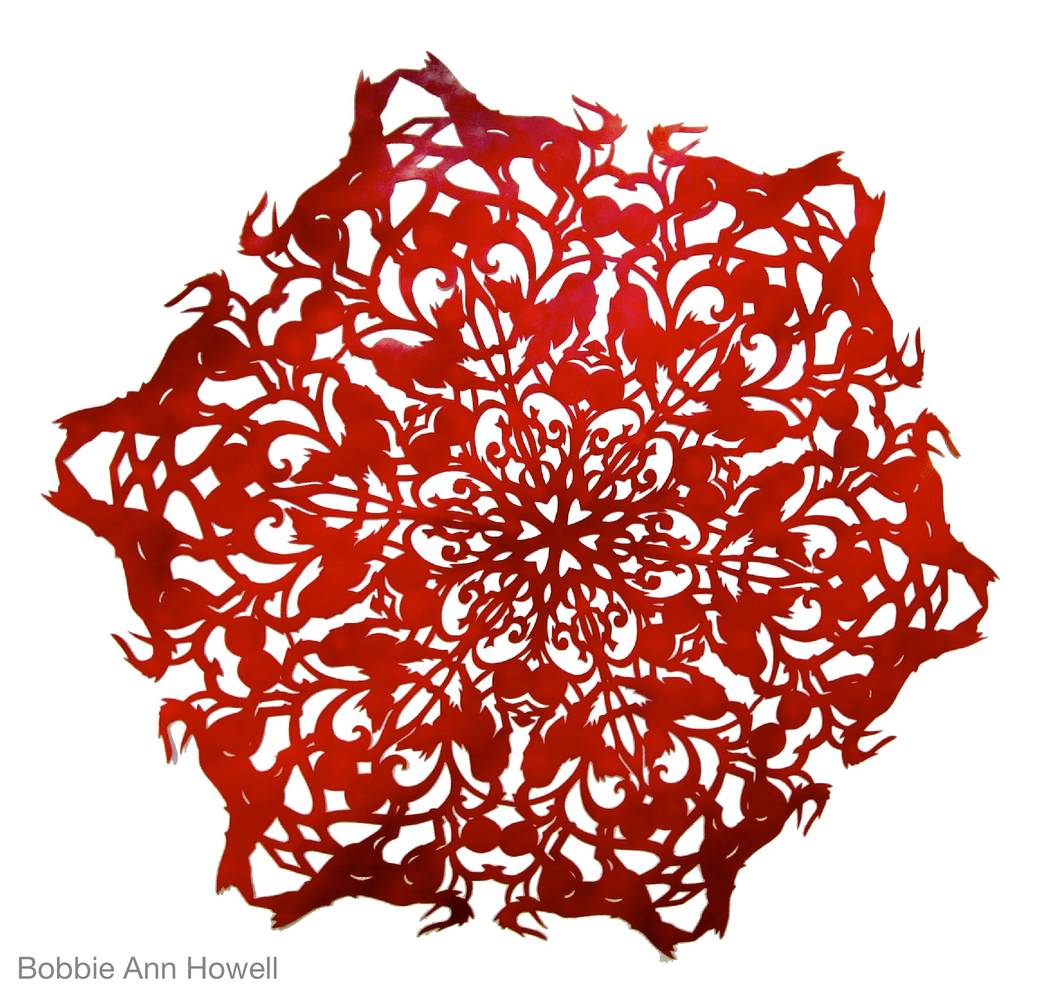 'Chinese Heritage: Year of the Dog'
Forty-five artists explore the idea and imagery of the dog through paintings, drawings and mixed media in this invitational exhibit for the Chinese New Year. A meet-the-artists reception will be from 5 to 7 p.m. Thursday. Mayor's Gallery at Historic Fifth Street School, 401 S. Fourth St. artslasvegas.org
'Visual Meditations'
Jing Zhou's digital print artwork explores common humanity and diverse society. Zhou is associate professor of art and design at Monmouth University in New Jersey. College of Southern Nevada Artspace Gallery, 3200 E. Cheyenne Ave., North Las Vegas. csn.edu/artgallery; jingzhoustudio.net
2018 International Masters Exhibition
Paintings and photography by artists whose works appear in the "International Contemporary Masters" art books. Artists will be in attendance at the opening night event from 7 to 10 p.m. Saturday. The Metropolitan Gallery of Las Vegas at Neonpolis Complex, 450 Fremont St., second floor. mglv.org
Arthur Houston Sr.
The "Nevada Wonders" exhibit features nature, landscapes and architecture photography by Arthur Houston Sr. City Lights Gallery, 3 E. Army St., Henderson. citylightsartgallery.com
Masters exhibition
The group exhibit features artwork in a variety of mediums by Rainer Bertrams, Yaffa Cary and Vija Hamilton. The exhibition is part of the annual "Celebrating Life" juried art program. Charleston Heights Arts Center, 800 S. Brush St. artslasvegas.org
Obsidian Fine Art
Wine and romance-themed paintings by Mandy Joy and oil figure paintings by Steve Anthony. Obsidian Fine Art at the Arts Factory, 107 E. Charleston Blvd., Suite 240. facebook.com/obsididanfineart
'Reminiscences'
Susanne Forestieri's paintings feature images drawn from the artist's life, including showgirls, dancers, family and the landscape. The exhibit includes oils, charcoal, pastels and graphite. Nevada Humanities Program Gallery, 1017 S. First St., No. 190. nevadahumanities.org; susanneforestieri.com
'Where I Live'
Colorful drawings of houses created by Clark County elementary school students for the Nevada Housing Division's annual art contest. Spring Valley Library, 4280 S. Jones Blvd. lvccld.org
'Warp &Weft'
Gail Gilbert's exhibit of metal and fabric sculptures explores the balance between forces of dissolution and renewal. Rotunda Gallery at Clark County Government Center, 500 Grand Central Parkway. gailgilbert.net
Harold Bradford
"A Thin Line" is a retrospective of the art of Harold Bradford. The exhibit showcases his range of work from illustration to abstract. Left of Center Art Gallery, 2207 W. Gowan Road, North Las Vegas. facebook.com/leftofcentergallery
'Double Feature Artists'
Photographs and drawings by Boulder City Art Guild members Carol Bilodeau and Vicki Rosenberg. Boulder City Art Guild Gallery at Boulder Dam Hotel, 1305 Arizona St., Boulder City. bouldercityartguild.com
Stephanie Serpick
Oil and acrylic paintings by Brooklyn, New York-based artist Stephanie Serpick are on display in the exhibit "A New Fall." Fine Arts Gallery at CSN's Cheyenne campus, 3200 E. Cheyenne Ave., North Las Vegas. csn.edu/artgallery; stephanieserpick.com
Windows on First
Camilla Quinn's exhibit "Appropriation" explores the history and evolution of the mandala, a Buddhist and Hindu geometric figure representing the universe. Windows on First at Las Vegas City Hall, 495 S. Main St., located along First Street. camillaquinn.com
Repurposed objects
Eight artists used found or discarded objects, including bicycle tires, straight pins, tin cans and motorcycle parts, to create artwork on display in the exhibit "From Refuse to Reuse." Grand Gallery at Las Vegas City Hall, 495 S. Main St. artslasvegas.org
'Las Vegas Lineup'
Viewers are invited to help identify figures in vintage photos of Las Vegas in this interactive exhibit by the Las Vegas News Bureau and Nevada State Museum. Sahara West Library, 9600 W. Sahara Ave. lvccld.org
Samurai warrior exhibit
"Samurai: Armor From the Ann and Gabriel Barbier-Mueller Collection" represents the evolution of the samurai warrior's appearance and equipment over 600 years. Items on display include full suits of armor, helmets, weapons and masks. Bellagio Gallery of Fine Art, 3600 Las Vegas Blvd. South. bellagio.com
To submit gallery listings, email mrhynes@reviewjournal.com.
'Built'
Photography by Aaron Mayes and items from the Building Las Vegas project are on display in the UNLV Special Collections &Archives exhibit "Built: A Photographic Survey of the Built Environment of the Las Vegas Valley." UNLV's Lied Library, 4505 S. Maryland Parkway. library.unlv.edu
Vinyl banner exhibit
"Red" is the color theme for the vinyl banners on display as part of the city of Las Vegas Aerial Gallery. The exhibit features artwork by eight artists on light poles spanning eight blocks in downtown Las Vegas. First Street Art Trail, located on First Street from Boulder Avenue to Bridger Avenue. 702-229-2787
'World Heritage Collection'
Mario Basner's photographic art collection, celebrating culture, diversity and humanity. Next to Cafe Leone at Tivoli Village, 400 S.Rampart Blvd. mariobasner.com
Erte
Paintings, limited edition prints and bronze sculptures by artist and fashion designer Erte. Martin Lawrence Galleries at the Forum Shops at Caesars, 3500 Las Vegas Blvd. South. martinlawrence.com/erte
Cesere Brothers Photography
The fine art underwater photography exhibit features animals, fish, waves, sunset and landscapes. Fashion Show mall, 3200 Las Vegas Blvd. South. ceserebrothers.com
Modernist Cuisine
Chef, photographer, scientist and author Nathan Myhrvold's collection of food photography. Modernist Cuisine Gallery in the Forum Shops at Caesars, 3500 Las Vegas Blvd. South. modernistcuisine.com
To submit gallery listings, email mrhynes@reviewjournal.com.