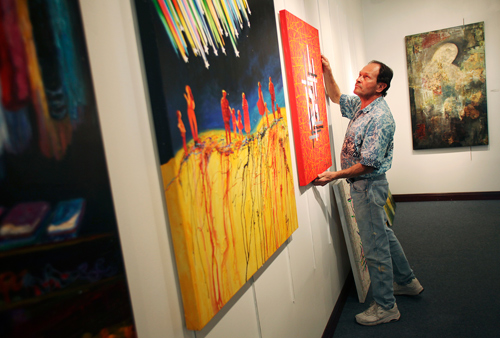 Around the world in a day.
Make that around the world — on a wall.
That's what happens while perusing one gallery wall of the "International Contemporary Masters IV" exhibit at the Southern Nevada Museum of Fine Art in downtown's Neonopolis complex.
Paintings from Mexico hang adjacent to artworks from Norway. Austria and Florida share wall space, while a textile hanging from Australia, depicting a coral reef, hangs opposite the paintings.
From sculpture to photography, from drawing to painting, the exhibit features 150 pieces, representing 71 international artists.
With landscapes, portraits and examples of everything from abstract expressionism to surrealism represented, the display offers an eclectic array of styles and subjects.
The exhibit also demonstrates that, regardless of where they're based, "the subconsciousness of all artists" means they're "working in the same vein," says Joseph Palermo, the museum's executive director.
And Palermo, a painter and sculptor himself, wasn't expecting that.
"There's no shock value," he notes, "which is surprising. That's what the big museums are showing, this shock stuff. But people are doing good sculpture and painting."
The exhibit came about, in part, because Palermo was curious about "what all the artists around the world were doing," he recalls.
That curiosity led him to the annual "International Contemporary Masters" books spotlighting international artists — and curator Despina Tunberg , who (with her associates) "scrutinized literally tens of thousands of works of thousands of artists," she writes in the latest "International Contemporary Masters" publication. "The labor may be exhausting, but there is always the thrill of the discovery of new talent and unknown perspectives."
Because Tunberg had already curated the collection, Palermo figured he could "pick out what she's already done — and have art from all over the world. Australia, Korea — I mean everywhere."
Even Las Vegas; local artists Richard Bailey and Michael Cababe are represented in the exhibit.
And Palermo hopes Las Vegas art lovers will discover not only the show but the museum, which has called Neonopolis' second floor home for two years after occupying smaller spaces on East Sahara Avenue in Las Vegas and in Henderson.
"At first, I didn't know" whether to move the museum to Neonopolis, says Palermo, a former director of the Las Vegas Art Museum, which closed two years ago. "We don't have a lot of money. I didn't know if it would work."
The move to Neonopolis provided the museum with more exhibit space — 9,000 square feet in the museum proper, plus 17,000 square feet in Neonopolis' former food court, dubbed the emporium, which is now home to several galleries and studios. (The current "International Contemporary Masters" show is so big it spills over from the museum to the adjacent emporium.)
In addition, the museum recently opened a 4,000-square-foot display space on Neonopolis' ground floor; "Forms Environmental" by Marlene Tseng Yu will be on exhibit there through May 7.
Before moving to Neonopolis, "the concerns were that we weren't going to get much traffic" at the downtown complex, Palermo says. But "a lot of people are over here."
Primarily tourists, he adds, noting that many locals have yet to discover the downtown museum.
He hopes the current exhibits will change that.
After all, admission to the museum is only $3 per person (children under 12 are admitted free), or $20 for an annual family membership. (The museum's current "Pay It Forward" campaign encourages the museum's 300-plus members to give museum memberships to friends and family members.)
"People that care about the arts, they find you," he says.
And those who find "International Masters IV" will discover everything from whimsical purple-and-yellow cows to exploding geometric forms.
Curating the collection, "a work must display technical mastery of whatever medium the artist is using and there must be an originality of perspective," Tunberg writes. In addition to variety in artists and their works, however, "the final step is seemingly subjective and almost impossible to describe," she continues. "A work has to have a certain authority, whatever that may be which seizes the view and leaves the feeling of being touched or even seized."
It's "a mysterious and mystical phenomenon," according to Tunberg, "very personal, yet surprisingly universal."
Contact reporter Carol Cling at ccling@reviewjournal.com or 702-383-0272.
Preview
"International Contemporary Masters IV"
Noon-5 p.m. Wednesdays-Saturdays (through June 4)
Southern Nevada Museum of Fine Art,
Neonopolis (second floor),
450 Fremont St.
$3-$20 (382-2926)