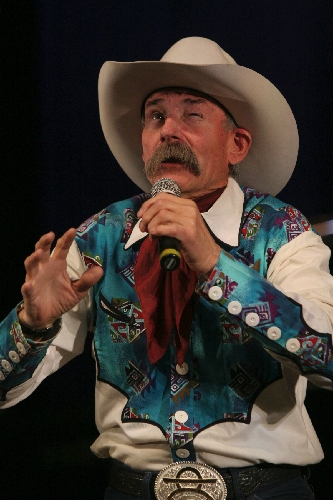 Poetry
Celebrate Western
heritage at cowboy fest
Yippee-ki-yay! How … poetic?
Surely it gets more artistically interesting than that at Elko's 28th National Cowboy Poetry Gathering, which runs Monday through Feb. 4.
Saddle up for poetry and much more at the rugged ranching community's blowout, including music, workshops, films, discussions, exhibits and dances to celebrate the American West and the cowboy way of life.
"People always wonder why we hold this event in such an out-of-the-way place at such an inhospitable time of the year," Charlie Seemann, executive director of the Western Folklife Center, the event's producer, says in a statement. "It's when ranchers and cowboys are the most available. At other times of the year, they are calving, haying or shipping. This is their event and we want them to be here, and the journey to Elko is part of the experience."
Among the ton of scheduled performers are such colorfully named folks as Ramblin' Jack Elliott, the Hot Club of Cowtown, Marley's Ghost and Sourdough Slim — and that's only the tip of the hay bale, with close to 50 solo performers and groups expected.
Single-day passes are $25, and deluxe passes are $75. Ticket prices vary widely for individual events. For more information or to purchase tickets, call 775-738-7508 or 888-880-5885, or visit www. westernfolklife.org.
Don't forget to sip some Basque Picon Punch at the Gathering. Hey, hey, we said sip — not guzzle, OK?
Music
Winchester hosts
weekend concerts
Rock it indie-style, rock it "golden-era" style.
Just rock it — period — this weekend, when both aspects of the music grace the stage of the Winchester Cultural Center Theater at 3130 S. McLeod Drive.
Tonight, indie rock gets first dibs when the bands Twin Brother and Most Thieves headline the Young Originals Concert series. Featuring what's described as "electronic effects, clean guitar sound and layered, reverb-wrapped voices," Twin Brother released its first CD, "Best Frenzy," last year. Just off a European tour, Most Thieves recently signed with a record label.
Onstage Saturday night, filling the "golden era of rock" billing, is the father-son duo of Ron Ellington Shy and his son, Taber, fronting their own band. Shy the elder– a nephew of the legendary Duke Ellington — performed alongside such golden-era greats as the Coasters and the Drifters.
Both shows begin at 7 p.m. Tickets are $10 for Twin Brother and Most Thieves, and $12 for the Shy band. For more information, call 455-7340 or visit www.ClarkCountyNV.gov/parks.
Concert
Sing a song
of Sondheim
Broadway babies, your time is … Tuesday.
That's when the music of the Godfather of the Great White Way, Stephen Sondheim, gets a heartfelt tribute courtesy of RagTag Entertainment's "Putting it Together" at Ovation inside Green Valley Ranch, 2300 Paseo Verde Drive.
Selecting from the maestro's astounding repertoire, the company, under the direction of bandleader Bill Fayne, musically takes you through the Sond-Meister's storied career from shows including "Sweeney Todd," "Sunday in the Park with George," "Company," "A Funny Thing Happened on the Way to the Forum" and more.
The crooning cast includes local performers Brandon and Kelly Albright, Richel Kompst, Lou De Meis and Jay Joseph. Says show director Andrew Wright: "You just can't go wrong with a Sondheim concert performed by some of Vegas' top talent."
Enter the Sondheimian universe at 8 p.m. Tickets are $15, available at the door or at any Station Casinos box office. For more information, call 280-0481.
— By STEVE BORNFELD