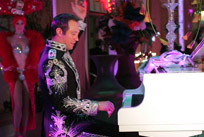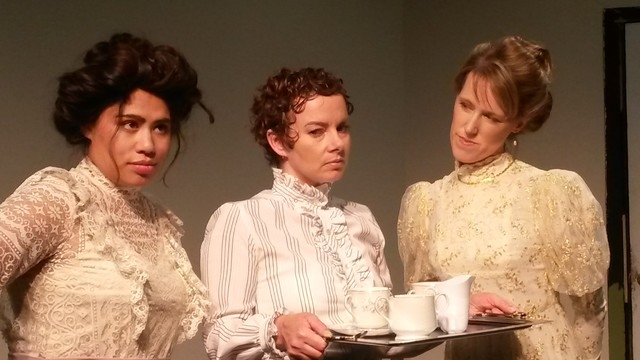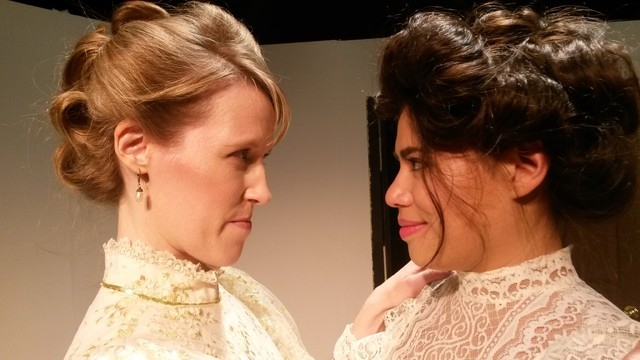 Theater
LITTLE THEATRE HOSTS
MAMET'S 'MARRIAGE'
The crackling, fast-paced dialogue marks it as a David Mamet play.
But unlike most of Mamet's plays, "Boston Marriage" — which begins a three-weekend run Friday at Las Vegas Little Theatre — focuses exclusively on women.
The action takes place in 19th-century New England, where two longtime roommates struggle to maintain their genteel existence — regardless of the deceit required. Vanessa Coleman, Jessica Hird and Natalie Senecal lead the cast; David McKee directs.
"Boston Marriage" will be staged at 8 p.m. Friday and Saturday and 2 p.m. Sunday in the Fischer Black Box at Las Vegas Little Theatre, 3920 Schiff Drive; additional performances will be at 8 p.m. Sept. 11-13 and 18-20, with 2 p.m. matinees Sept. 14 and 21. For tickets ($15 for adults, $14 for seniors and students), call 702-362-7996 or visit www.LVLT.org.
Family fun
WACKY WILDLIFE GAME
DEBUTS AT SPRINGS
Learn a little — and laugh a lot — as the Springs Preserve introduces the "You Bet Your Wildlife" game show, which tests visitors' nature knowledge.
Hosted by Springs Preserve naturalists, the quiz centers on Mojave Desert wildlife. Shows will be presented at 11 a.m. and 1 p.m. Saturdays and Sundays through Nov. 30 inside the Big Springs Theater.
Admission is free for Springs Preserve members or included with general admission to the preserve, which is open from 10 a.m. to 6 p.m. daily at 333 S. Valley View Blvd. Tickets for Nevada residents are $4.95-$9.95; nonresident admission is $10.95-$18.95. For more information, call 702-822-7700 or visit www.springspreserve.org.
Music
WINTERS CHANNELS
LIBERACE, JERRY LEE
Piano-playing favorites share the same stage — thanks to the same performer — as entertainer Wes Winters headlines "From Liberace to Jerry Lee" Sunday afternoon at the Winchester Cultural Center.
Presented by the Performing Arts Society of Nevada, the show honors not only Liberace and Jerry Lee Lewis but Barry Manilow, Andrew Lloyd Webber and others.
Much of the program, however, will focus on Liberace — with Winters providing a "sound-alike" link with the longtime showroom legend. It's hardly a new gig for Winters, who performed "A Musical Tribute to Liberace" for five years at the now-closed Liberace Museum. On his own, Winters has played Vegas venues from Planet Hollywood to the Suncoast and South Point.
"From Liberace to Jerry Lee" will begin at 2 p.m. Sunday at the Winchester center, 3130 S. McLeod Drive. For tickets ($15 in advance, $18 at the door), call 702-658-6741 or email PASNV@aol.com.
Theater
DRAMA EXPLORES
VIETNAM CONFLICT
Tim O'Brien's Vietnam War book "The Things They Carried" inspires a free "Literature to Life" stage presentation Saturday at the Historic Fifth Street School.
Performer Billy Lyons will lead the audience through five short stories from O'Brien's book, including "The Rainy River" and "The Man I Killed." Wynn Handman directs the program, which also includes original cello music. Pre- and post-performance discussions will help audiences put the stories in perspective.
"The Things They Carried" will be presented at 7 p.m. Saturday at the Historic Fifth Street School, 401 S. Fourth St. For more information on the free performance, visit www.artslasvegas.org.
Music
CONCERT CELEBRATES
BRAZIL'S BOSSA NOVA
It may not be as familiar as the Fourth of July or Cinco de Mayo, but Brazil celebrates Sete de Setembro — its independence day — on Sunday. And the Las Vegas Jazz Society gets into the swing with a concert saluting the 50th anniversary of the Brazilian beat known as bossa nova.
Singer Patty Ascher — a native of Brazil's capital city, Sao Paulo — headlines the "Bossa, Jazz 'n' Samba" concert, which also features saxophonist Gary Anderson, pianist Cocho Arbe, drummer Azia Bucater and bassist Jeff Davis.
The concert begins at 2 p.m. Sunday at the Bootlegger Bistro, 7700 Las Vegas Blvd. South; for tickets ($12 in advance and for Jazz Society members, $15 at the door) or more information, call 702-313-6778 or visit www.vegasjazz.org.
— By CAROL CLING