Bellagio Gallery hosts Faberge treasures
November 13, 2014 - 11:11 pm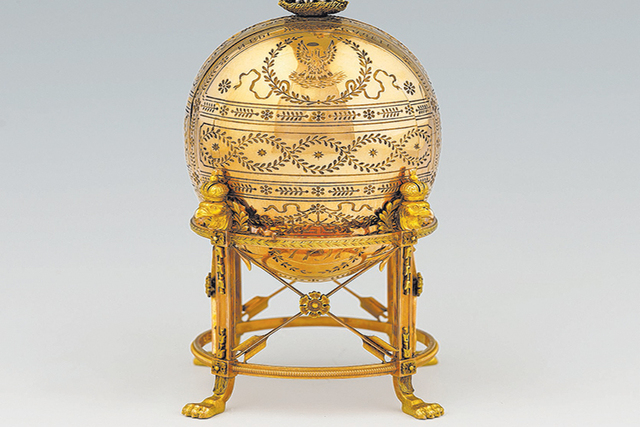 Bigger is better.
Most of the time, especially in Las Vegas, that philosophy prevails.
Starting Friday, however, the opposite holds true at Bellagio's Gallery of Fine Art, where "Faberge Revealed" begins a six-month run, showcasing more than 200 bejeweled treasures, most of which are only a few inches tall.
The undisputed stars of the show: four famed Faberge eggs, created in the late 19th and early 20th centuries for Czars Alexander III and Nicholas II, the last members of Russia's ruling dynasty, the Romanovs.
The czars and czarinas may be long gone. (Their reign, and lives, ended when members of the royal family were executed in 1918, following two 1917 revolutions — one in February, which overthrew the imperial government, and the second in October, which brought the Bolsheviks to power and established the Soviet Union.)
But the splendor of the creations the Romanovs commissioned from the House of Faberge remain as intricate, and impressive as when they were created in the workshop of Carl Faberge, the 19th century's most illustrious jeweler.
Take the Imperial Pelican Easter Egg created in 1897. Crowned by a delicate, diamond-winged pelican feeding her young (and symbolizing maternal care), the engraved red-gold egg unfolds to reveal eight oval frames, rimmed with pearls, each containing a miniature painting of the orphanages and schools patronized by Russia's Dowager Empresses.
Or the Imperial Tsarevich Easter Egg (1912), created to honor Alexei, the son of Czar Nicholas and Czarina Alexandra. It's resplendent in its mixture of deep blue lapis lazuli and Rococo-styled gold work (including two double-headed eagles symbolizing the Romanov dynasty), accented by two diamonds. Inside, there's a platinum-and-diamond-studded picture frame containing a 3½-inch watercolor portrait of the young prince, who's dressed in a sailor suit.
Speaking of sailors, "Faberge Revealed" also features a miniature 1913 carving of a Russian sailor from the royal yacht Zarnitsa. The 4½-inch tar carved from white agate, flesh-toned aventurine has cabochon-sapphire eyes, feet of black onyx — and sports a uniform of milky white jade, topped by a sailor's cap with a lapis lazuli brim.
"The high craftsmanship of these objects is quite incredible," observes Tarissa Tiberti, executive director of the Bellagio gallery. "You don't see that anymore."
Indeed, "beautiful is almost not a strong enough word" for the creations featured in the exhibit, according to Alex Nyerges, director of the Virginia Museum of Fine Arts in Richmond, which is home to the largest public collection of Faberge artifacts outside of Russia.
"There are few places west of St. Petersburg where you can find what we have here," Nyerges says in a telephone interview.
But the Virginia museum is currently renovating and enlarging the Faberge collection's display space, in part because the previous gallery "was too modest and too small" to do it justice, he explains.
So the show's been on the road since October of 2012, when the tour began at the Detroit Institute of Arts, followed by stops at the Boston-area Peabody Essex Museum and the Montreal Museum of Fine Arts.
After the Bellagio show concludes next May, "Faberge Revealed" heads to the Oklahoma City Museum of Art, then concludes with a three-month stop at Beijing's Palace Museum.
The exhibit's four Imperial Easter Eggs, not surprisingly, claim the spotlight.
"They're so magical," Tiberti says. "Each one is different."
And "they all open up, they all do something," she adds. "They have another life inside them."
Faberge made 50 of the Imperial eggs, but only 43 survive; the most recent to surface was sold to a London dealer for "somewhere north of $50 (million) to $60 million," Nyerges says. "For one egg."
But the Faberge artifacts didn't always command such respect — which helps explain how so many of them wound up in Richmond, Va.
Faberge fan Lillian Thomas Pratt, the wife of a General Motors executive, was "collecting voraciously" in the 1930s and '40s, Nyerges notes, when "Faberge did not have the cachet" it enjoys today.
In that era, "the work was considered decorative, but not of great artistic value," he adds. And when Pratt offered her collection to her hometown museum in Seattle, officials never responded. ("As the story goes," Nyerges says. "It may be apocryphal.")
She and her husband, a Virginian, had moved to the historic town of Fredericksburg (near George Washington's boyhood home and site of a Civil War battle) following his retirement from GM, so Pratt bequeathed her collection to the Virginia Museum of Fine Arts instead.
In addition to the Easter eggs and eye-poppingly ornate jewelry (including miniature egg-shaped pendants and a crown-shaped brooch encrusted with diamonds, rubies and sapphires), such usually prosaic objects as frames, parasol handles and serving dishes are rendered "exquisite" and "opulent" by the Faberge touch, Nyerges says.
Tiberti also cites the religious icons featured in the display, featuring paintings surrounded — and revealed — by silver frames.
There's even an array of "Fauxberge" items, designed to replicate the ornate originals, that represent "a fascinating part" of the complete Faberge picture, Nyerges says.
Some of the non-Faberge items were created by other legendary jewelers, including Cartier, "great French establishments that had huge outposts in St. Petersburg and Moscow," he points out.
But "most are unattributed" and were created by those "attempting to deceive" buyers.
"We treasure them with a great deal of zeal," Nyerges adds, due to "the fact they're so exquisite" — if, perhaps, not quite as exquisite as the real thing.
Contact reporter Carol Cling at ccling@reviewjournal.com or 702-383-0272.
Preview
"Faberge Revealed"
10 a.m. to 8 p.m. daily through May 25
Bellagio Gallery of Fine Art, 3600 Las Vegas Blvd. South
$12-$17 (702-693-7871, 877-957-9777; www.bellagio.com/bgfa)