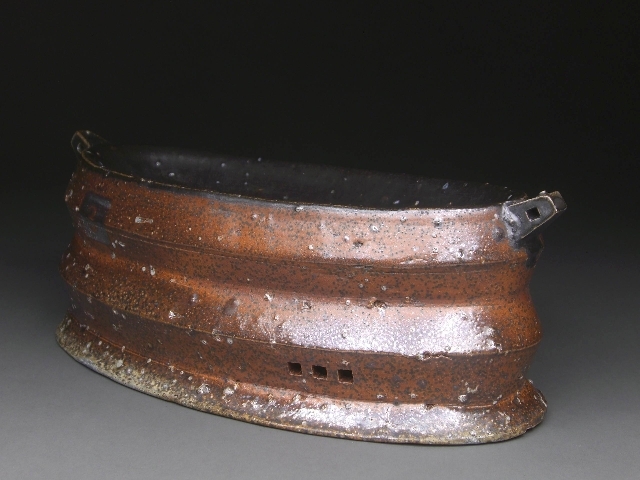 First Friday
LOCALS EXPLORE ART
— AND 'ANTARTICA'
It's back to art — and on to "AntARTica" — at downtown's First Friday celebration.
Rather than a wide-ranging array of events, the monthly gathering returns to its art-centric roots with a full-scale installation along Casino Center Boulevard, between Charleston Boulevard and Colorado Avenue.
Dubbed "AntARTica," the installation will depict "winter tundra, complete with a glacier," according to First Friday spokesman Charles Ressler . "The idea is to challenge perception," showing "that we can still build this insane winter world" despite the August heat.
Exploring the walk-through installation should take 15 minutes, Ressler estimates; after that, First Friday patrons will receive a map highlighting galleries and businesses in the downtown Arts District.
First Friday runs from 5 to 11 p.m.; for details, visit www.firstfridaylasvegas.com.
Art
'SERVE IT UP' SPOTLIGHTS
FUNCTIONAL POTTERY
Behold the humble teapot. Or cup. Or saucer.
Functional, to be sure, but the artists featured in "Serve It Up" demonstrate that artistic form can indeed accompany function.
The nationally juried show, currently at Clay Arts Vegas, showcases the work of more than two dozen artists whose work underscores the versatility and creativity of even the most functional pottery.
"Serve It Up" continues through Sept. 3 at Clay Arts Vegas, 1511 S. Main St. For more information, call 702-375-4147 or go online to www.clayartsvegas.com.
Art
VAST SPACE PROJECTS
SALUTES 'FINE WOMEN'
Sisters are doing it for themselves — and each other — at "Some Fine Women," the current exhibit at VAST Space Projects in Henderson.
Artists Mary Warner, Alexis Smith and Rachel Lachowicz share space with former students Angela Kallus, Wendy Kveck , Barbara McCarren, Patricia Burns and Michelle Carla Handel in the show.
"These are women who have chaired departments, shown in museums and raised families," gallery founder Shannon McMackin says. "They share a resilience associated with a Western spirit. These women know how to get it done."
They'll discuss how they do what they do at 7 p.m. Aug. 10, when the gallery presents a panel discussion — featuring the aforementioned artists, plus Jamie Scholnick and Catherine Fairbanks — moderated by artist Danielle Kelly, Neon Museum executive director.
"Some Fine Women" continues through Aug. 24 at VAST Space Projects, 730 W. Sunset Road, Henderson; gallery hours are from 11 a.m. to 2 p.m. Wednesdays through Saturdays and by appointment. For more information, call 323-240-2888 or go online to www.vastspaceprojects.com.
Musical theater
YOUNG PERFORMERS
SHINE AT LIBRARIES
Broadway favorites from "South Pacific" to "Wicked" take center stage this weekend in "Helen Joy's Broadway Vignettes" at the Summerlin Library.
And Thursday afternoon at the Clark County Library, participants in a Performing and Visual Arts Summer Camp for Kids present "Affirmations of a Generation Unplugged #D: a PVACs Musical Production."
The annual "Broadway Vignettes," presented by Las Vegas Young Entertainers, features performers 7 to 10 years old, along with experienced vocalists and mentors. This year's shows will benefit the Rudy Foundation Scholarship Fund, which supports youth performance programs.
"Broadway Vignettes" will be presented at 7 p.m. Friday and Saturday at the Summerlin Library and Performing Arts Center, 1771 Inner Circle Drive. Tickets ($12) are available online at www.showtix4u.com; for more information, visit www.thelvye.com.
In "Affirmations of a Generation Unplugged #D," meanwhile, participants dramatize their thoughts, experiences and dreams through dance, music and the spoken word.
Co-sponsored by Las Vegas and the International House of Blues Foundation, the PVAC show will be staged at 1 p.m. Thursday at the Clark County Library, 1401 E. Flamingo Road. There is no admission charge; for more information, call 702-507-3459 or visit the Las Vegas-Clark County Library District website at www.lvccld.org.
Theater
LITTLE THEATRE
PREVIEWS SEASON
We're all used to seeing previews of coming attractions at the movies.
But Las Vegas Little Theatre adds a live element this weekend, presenting free previews of its 36th season Saturday night and Sunday afternoon.
The preview will include brief readings from LVLT's six Mainstage shows — "Amateurs," "It Runs in the Family," "Barefoot in the Park," "And Then There Were None," "Picnic" and "Other Desert Cities." Also featured: excerpts from the upcoming Black Box productions "God of Carnage," "A Behanding in Spokane," "Hunter Gatherers" and "True West."
The free preview will be presented at 8 p.m. Saturday and 2 p.m. Sunday at Las Vegas Little Theatre, 3920 Schiff Drive. For more information, call 702-362-7996 or visit www.LVLT.org.
— By CAROL CLING