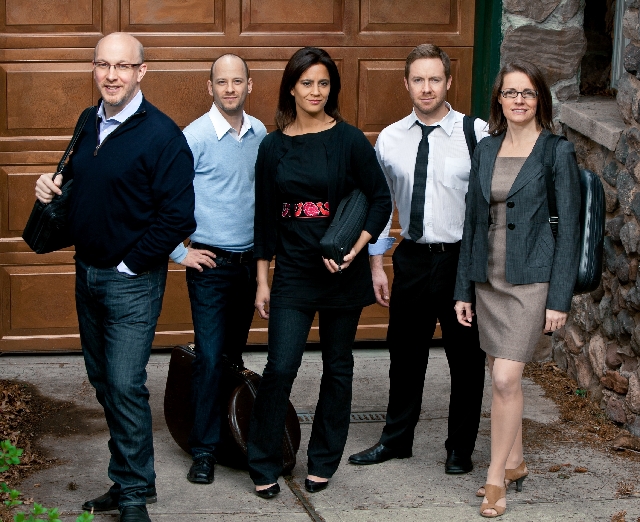 Jazz
GRAMMY-WINNER ELLING
VISITS CABARET JAZZ
Come Sunday, jazz vocalist Kurt Elling will know if he's won another Grammy Award.
Tonight and Saturday, however, he'll be too busy holding court at The Smith Center's Cabaret Jazz to worry.
"You can't control how the Grammys come down," Elling says. "I don't lose any sleep over it. Having won, I feel really good about that — and it would be fun to win again."
But not as much fun as performing.
Although the four-octave baritone performed at the Clark County Government Center amphitheater in 1999, Elling prefers more intimate settings.
"Usually, jazz has grown up in smaller venues and does best" there, he says, because "there's a certain amount of talk-back and give and take."
In addition to things "that people haven't heard us perform before," Elling and his fellow musicians will perform selections from the Grammy-nominated "1619 Broadway: The Brill Building Project," which includes such swingin' '50s and '60s tunes as "Come Fly With Me" and, inevitably, "On Broadway."
The Kurt Elling Quartet will perform at 7 p.m. today and Saturday in Cabaret Jazz at The Smith Center for the Performing Arts, 361 Symphony Park Ave. For tickets ($39-$45), call 749-2000 or go online to www.thesmithcenter.com.
Array
Valentine variety
WINCHESTER CENTER GETS 'IN THE MOOD'
Songs in the key of romance highlight Sunday's "In the Mood for Love" at the Winchester Cultural Center, presented by the Performing Arts Society of Nevada.
The Dollies deliver nostalgic close-harmony tunes associated with the legendary Andrews Sisters, including "Bei Mir Bist du Schoen" and "Don't Sit Under the Apple Tree," while tenor James Allen performs such soulful ballads as "If Ever I Should Leave You" and "Danny Boy." Allen and the Dollies also collaborate on a medley of Broadway favorites from "Night and Day" to "Some Enchanted Evening." Dancer Brigid Kelly rounds out the talent roster.
"In the Mood for Love" will be presented at 2 p.m. Sunday at the Winchester Cultural Center, 3130 McLeod Drive. For tickets ($15 in advance, $18 at the door), call 658-6741 or email pasnv@aol.com.
Array
Classical
BBC ORCHESTRA,
PERLMAN Performing
Violin virtuoso Itzhak Perlman and the BBC Concert Orchestra, led by conductor Keith Lockhart of Boston Pops fame, transform The Smith Center's Reynolds Hall into "Classical Central" next week.
First up, at 7:30 p.m. Monday: Lockhart and the BBC orchestra.
If you've watched the TV documentaries "Planet Earth" and "Walking With Dinosaurs," you've heard the BBC Concert Orchestra.
Monday's concert also features music originally written for the screen: a suite drawn from William Walton's "Henry V" score.
Haydn's Cello Concerto No. 1 in C major, featuring award-winning Sophie Shao , and Mendelssohn's "Scottish" Symphony (formally known as Symphony No. 3 in A minor) round out the program.
The symphony and concerto are "not hard work at all," says orchestra leader (and first violinist) Cynthia Fleming, a 30-year BBC veteran. "Just sit back and close your eyes and enjoy the sounds." And the "Henry V" suite "does what all the best film scores do," she says, citing its changes from "very exciting" to "soft and melancholic."
It's that musical mix — from live radio broadcasts to the current three-week U.S. tour — that sets the BBC Concert Orchestra apart, Fleming says.
"You never do any one type of thing," she says. "I love the challenge. No two weeks are alike."
Superstar violinist Perlman also has done his share of movie scores, collaborating with composer John Williams on "Schindler's List" and "Memoirs of a Geisha."
But the collaboration that counts for Smith Center audiences at 7:30 p.m. Wednesday is the one with his longtime accompanist Rohan De Silva, who joins Perlman in Reynolds Hall for a concert that's guaranteed to spotlight his masterful musicianship and trademark charm.
Tickets for the BBC Concert Orchestra ($39-$119) and Itzhak Perlman ($39-$129) are available at The Smith Center, 361 Symphony Park Ave., by phone at 749-2000 or online at www.thesmithcenter.com.
Array
Chamber music
ZEPHYROS WINDS
PERFORM AT UNLV
The award-winning chamber ensemble Zephyros Winds visits the University of Nevada, Las Vegas on Thursday for a special Valentine's Day concert.
Zephyros Winds (named for the Greek god of the west wind) features five acclaimed instrumentalists: flutist Jennifer Grim , clarinetist Marianne Gythfeldt , oboist James Roe , bassoonist Saxton Rose and horn player Zohar Schondorf . In their 18 seasons together, the Zephyros members have performed everywhere from New York's Lincoln Center to Beijing's National Centre for the Performing Arts.
They'll play at 7:30 p.m. Thursday in the Doc Rando Recital Hall at UNLV, 4505 S. Maryland Parkway. Tickets are $25 and are available by telephone at 895-2787 or online at pac.unlv.edu.
— By CAROL CLING