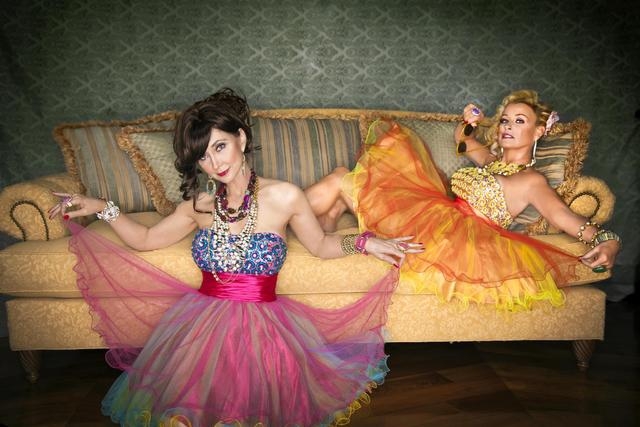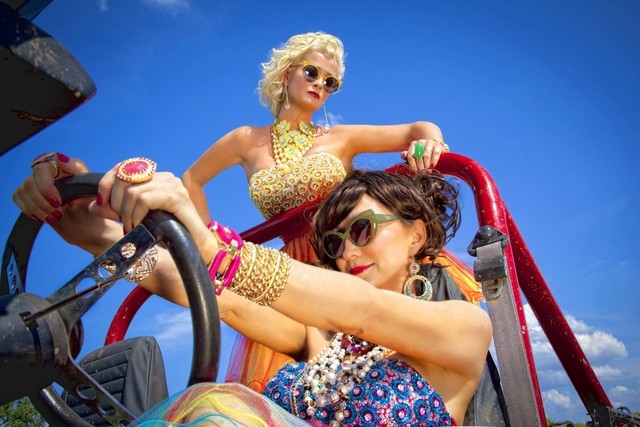 First Friday
ARTS DISTRICT EVENT
EXPANDS TO MIDNIGHT
There's no need to wait 'til the midnight hour — unless you want to, in which case you're in luck.
That's because First Friday has extended its hours from 5 p.m. to midnight for this month's "Celebrating Heritage" event in the downtown Arts District, north of Charleston Boulevard.
After August's successful focus on Arts District galleries and other businesses, September's event will encourage attendees to further explore the neighborhood, while bringing back KidZone and Green Street activities.
On the musical front, multiple stages spotlighting a variety of styles will be at Artifice, The Bar + Bistro Patio, the Main Stage (at Casino Center Boulevard and Art Way) and the Welcome Tent (at Casino Center and Colorado Avenue), in addition to Soap Box Stages throughout the festival.
Among the scheduled performers: wandering minstrels and singing statues from Sin City Opera, singing for penny donations. (They'll also have a booth on Colorado Avenue, near the Welcome Tent, where First Friday attendees can try on wigs and pose for photos.)
At the KidZone, Native American crafts will be in the spotlight, while Green Street focuses on everything from desert plants to electric vehicles.
For more information on First Friday Las Vegas, including shuttle schedules and parking information, visit www.firstfridaylasvegas.com.
Music
TILLIS, MORGAN DELIVER
'GRITS AND GLAMOUR'
You could call them "Dos Divas." After all, it's what country singer Lorrie Morgan and Pam Tillis called their first album as a duo.
But "Grits and Glamour" will do even better; that's the title of Morgan and Tillis' ongoing collaboration, which began in 2009 and brings them to The Smith Center's Reynolds Hall Saturday night.
Individually, Dos Divas have sold a combined 18 million records and score 20 Top 10 hits in their country careers, Morgan with "Five Minutes," "What Part of No" and "I Didn't Know My Own Strength" and Tillis with "Mi Vida Loca," "In Between Dances," "Don't Tell Me What to Do," "When You Walk in the Room" and "Maybe It Was Memphis."
Both performers are second-generation country singers; Tillis is the daughter of country legend Mel Tillis, whil e Morgan made her 1975 Grand Ole Opry debut with her dad, George Morgan.
Tillis and Morgan will share harmonies (and wisecracks) at 7:30 p.m. Saturday in Reynolds Hall at The Smith Center for the Performing Arts, 361 Symphony Park Ave. For tickets (9-$99), call 702-749-2000 or go online to www.thesmithcenter.com.
Theater
LITTLE THEATRE DEBUTS
'GOD OF CARNAGE'
A playground altercation between two boys escalates when their parents join the dispute in Yazmina Reza's Tony Award-winning "God of Carnage," which launches Las Vegas Little Theatre's eighth Black Box season Friday.
Translated by Christopher Hampton and directed by Ela Rose, "God of Carnage" focuses on two sets of Brooklyn parents (played by Mark Brunton, Stacia Zinkevich, T.J. Larsen and Daci Overby) who meet to resolve their sons' playground conflict. But as the accusations (and rum) flow, the gloves come off, leaving the combatants with more than just their liberal principles in tatters.
The result: a play that's "elegant, acerbic and entertainingly fueled on pure bile," as Variety wrote of the Broadway production.
"God of Carnage" (which contains adult language) will be staged at 8 p.m. Friday and Saturday and 2 p.m. Sunday in the Black Box at Las Vegas Little Theatre, 3920 Schiff Drive; performances continue through Sept. 22 at 8 p.m. Thursdays through Saturdays and 2 p.m. Sundays. For tickets (5 general, 4 for seniors and students), call 702-362-7996 or visit www.lvlt.org.
Arts and crafts
HARVEST FEST RETURNS
TO CASHMAN CENTER
If it's September, it must be time for the Las Vegas Harvest Festival.
The long-running show returns to Cashman Center this weekend, showcasing the work of more than 250 exhibitors displaying hand-crafted jewelry, woodturnings, clothing, decor, specialty foods, plus art and photography.
Among the Southern Nevada-based artisans participating in the show: Annette Delgado's woodwork, beaded jewelry boxes and jewelry; Ruth Lucerno's Bistro Blends vinegars, oils and marinades; Franco Forte's surrealist photo compositions; Jean Peters' fragranced potpourri, oils, bath and foot soaks; Lisa Bigler's vintage-inspired jewelry; Laure and Al Weaver's hand-carved wooden trivets that transform into baskets; Thelma Sklar's wire-wrapped jewelry pendants; Steven Makransky's folded, framed vintage sports T-shirts; and Vicky Brosius' laser Christmas trees.
Also on tap at this weekend's Harvest Festival: Kids Zone, complete with a "Make It and Take It" area benefitting the Sunrise Children's Foundation, plus strolling performers and on-stage entertainment.
The Harvest Festival is open from 10 a.m. to 6 p.m Friday and Saturday and 10 a.m. to 5 p.m. Sunday at Cashman Center, 850 Las Vegas Blvd. North. Tickets, which are valid for re-entry all weekend, are $9 for adults, $7 for seniors 62 and over and for ages 13-17; children 12 and under are free. (A discount is available for those who donate a can of food, formula or paper products for Safe Nest.) More information is available by calling 800-346-1212 or clicking on www.harvestfestival.com.
Music
SYMPHONIC ROCKSHOW
RETURNS TO REYNOLDS
All roads lead — back — to Vegas.
Just ask former Las Vegan Brody Dolyniuk, who reunites with local music mainstays Yellow Brick Road for the Symphonic Rockshow, returning Friday to The Smith Center's Reynolds Hall.
Augmented by 30 orchestral musicians, the Symphonic Rockshow offers a two-hour tour through anthem rock, with selections from Led Zeppelin, Aerosmith, Queen, Pink Floyd and other supergroups — augmented by a giant video screen, laser show and pyrotechnical special effects.
Before last year's Reynolds Hall debut, Dolyniuk likened the performing arts center gig to handing "the keys to the Ferrari to a couple of teenage kids," he told the Review-Journal. Clearly, everyone enjoyed the ride so much they're back for more.
The Symphonic Rockshow, featuring Dolyniuk with Yellow Brick Road, launches at 8 p.m. Friday in Reynolds Hall at The Smith Center for the Performing Arts, 361 Symphony Park Ave. For tickets (4-$79), call 702-749-2000 or go online to www.thesmithcenter.com.
— By CAROL CLING