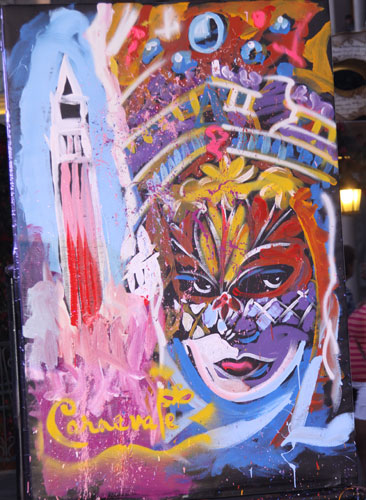 Throughout June, the Palazzo and The Venetian are giving families a reason to take the kids to a casino.
The resorts are hosting the family-friendly Mese di Arte, a monthlong festival dedicated to art, featuring interactive art displays and demonstrations from glassblowers, chalk artists and sculptors.
There will even be a nightly parade and a few surprises, says Robert Rippee, senior vice president of marketing for Palazzo and The Venetian. The festival is free.
Of course, you don't need children to enjoy Mese di Arte, which is part of the resorts' summer celebration Carnevale. It's modeled after the kinds of summer festivals that have long been a European tradition, Rippee says.
Through June 30, art will be the focus, followed by a month of music and then a month dedicated to food and wine.
Melanie Stimmel, a Los Angeles-based 3-D street painter, will demonstrate her art near the Palazzo's atrium through June 17. She is drawing a picture on a walkway with soft pastel chalks. People can watch and talk with her.
When the drawing is completed Sunday, people can pose for photos with it, Stimmel says. The Art Walk near the atrium is open from 1 to 6 p.m. daily.
"The nice thing about this is people get the opportunity to talk to the artist, ask questions, see the process," says Stimmel, who has been a street painter for 15 years.
Street painting is a tradition at festivals in Europe, she says. In recent years, it has become popular in the United States.
The Palazzo and The Venetian hosted a winter festival that offered a variety of experiences. There was an ice skating rink, strolling singers, characters and a parade.
The Winter in Venice festival was so popular, the resorts wanted to offer something similar during the summer, Rippee says.
"We are an experiential brand," he says. "We create experiences for people. Some of those involve casinos, some involve other things."
At 8 p.m. daily, a parade featuring characters, stilt walkers and entertainers will wind its way through the Palazzo.
A free light show will take place several times each night.
For more information, visit www.palazzo.com/carnevale.
Contact reporter Sonya Padgett at spadgett@ reviewjournal.com or 702-380-4564. Follow @StripSonya on Twitter.
Highlights of Mese di Arte
Through June 30: Art Walk at the atrium. Brochures detailing the path of the Art Walk are available at the hotels and participating stores in the Grand Canal Shoppes and the Shoppes at The Palazzo.
Through June 17: Melanie Stimmel, 3-D artist, will do street painting. She is a founder of the Street Painting Academy, which teaches the art to children.
June 18-23: Thom Bumblauskas of Clay Arts Las Vegas will demonstrate his craft on the potter's wheel.
June 24-30: Living art installations. Take photos and interact with these art displays.
Through Sept. 9: Carnevale Festival Parade, 8 p.m. Starts at the Palazzo Theater and ends at The Venetian's Doge's Palace.
Through Sept. 9: Carnevale Light Show: Every night, The Venetian's clock tower will be illuminated with a five-minute 3-D light show at 9:15 p.m., 10:15 p.m., 11:15 p.m. and 12:15 a.m. Times are subject to change.