Check out this sculpture peeing in front of the D Las Vegas — PHOTOS
September 1, 2015 - 6:51 pm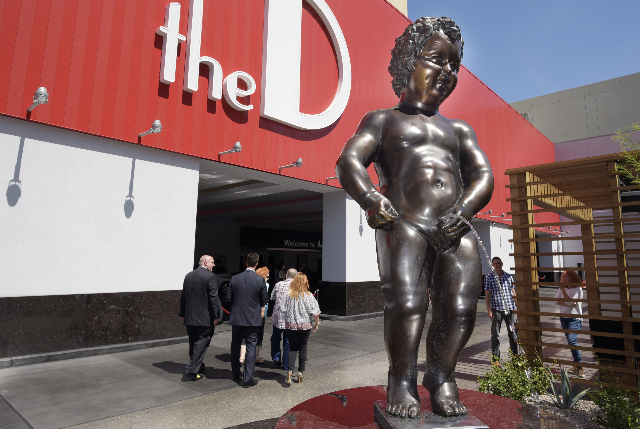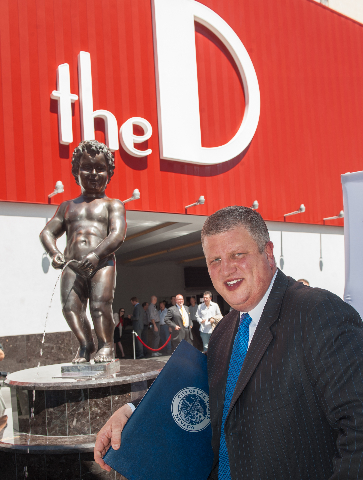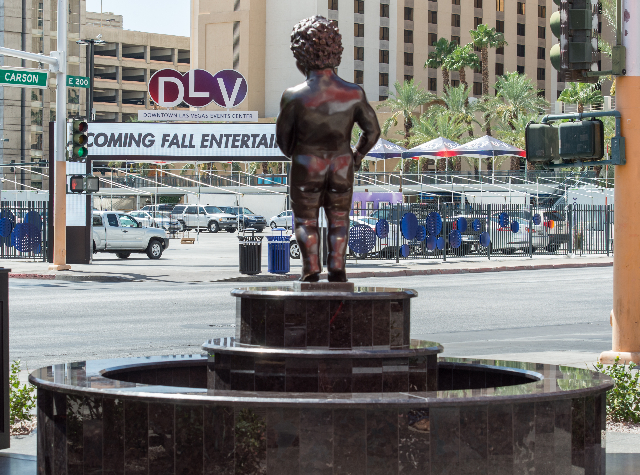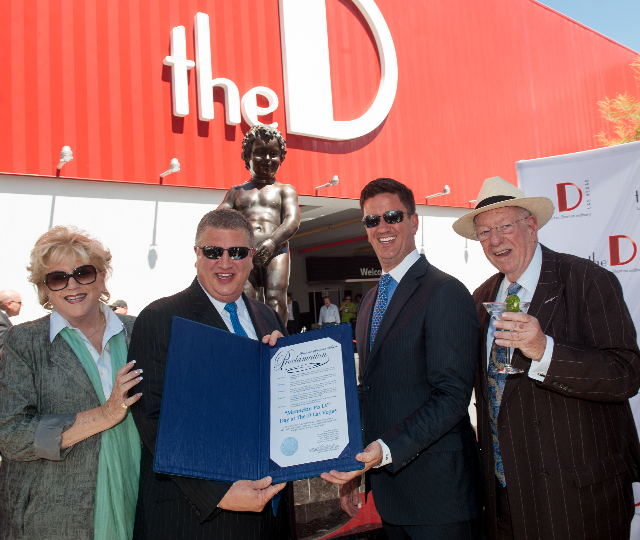 Not to sound inhospitable or anything, but downtown Las Vegas has a new resident who apparently is allowed to do something the rest of would be cited by police for doing.
Urinating into a public fountain.
The bladder-relieving boy actually is a replica of a famous sculpture called "Manneken Pis," Dutch for "Little Man Pee." The original, which dates back to the early 1600s, still can be seen in Brussels, Belgium, and a replica of it was unveiled Tuesday outside the D Las Vegas.
The sculpture depicts a young boy urinating into the basin of a fountain, and the original is both a popular tourist attraction and a beloved landmark in Belgium. It even has its own Twitter hashtag (#MannekenPis).
According to the city of Brussels' web site, the urinating boy represents "the rebellious spirit of the City of Brussels" and is a symbol of Brussels' history and evidence of residents' capacity for self-mockery.
Brothers Derek and Greg Stevens, who own the D Las Vegas, are of Belgian descent and viewed the statue many times over the years during trips to Brussels.
"You look at Manneken Pis in Brussels and you see 5,000 visitors, sometimes more than that, per day," Derek Stevens says. "Everybody wants to come up and take a picture. The three blocks all around are filled with souvenir shops and waffle stores and ice cream stores and restaurants and bars, and you have a hundred businesses being sustained by this statue.
"But the one thing that really hit me was customers' reactions. Everybody comes up and is smiling, and everyone has a chuckle. For me, that's the biggest deal. I try to make sure on our property that we're the friendliest and most fun-loving, and you see something that automatically creates a smile in 98 percent of people who see him, that's what I really gravitated towards."
The sculpture weighs about 500 pounds, but the youngster carries it well. At times, he's even downright stylish, thanks to the outfits in which he is dressed on special occasions. The city of Brussels says the statue has been dressed in more than 800 outfits over the years, and the Derek Stevens says that same sort of sartorial tradition will continue here.
You can visit Manneken Pis next to the D's main valet. In addition —and you had to know this was coming — he can be followed on Twitter (@MannekenPes_LV).