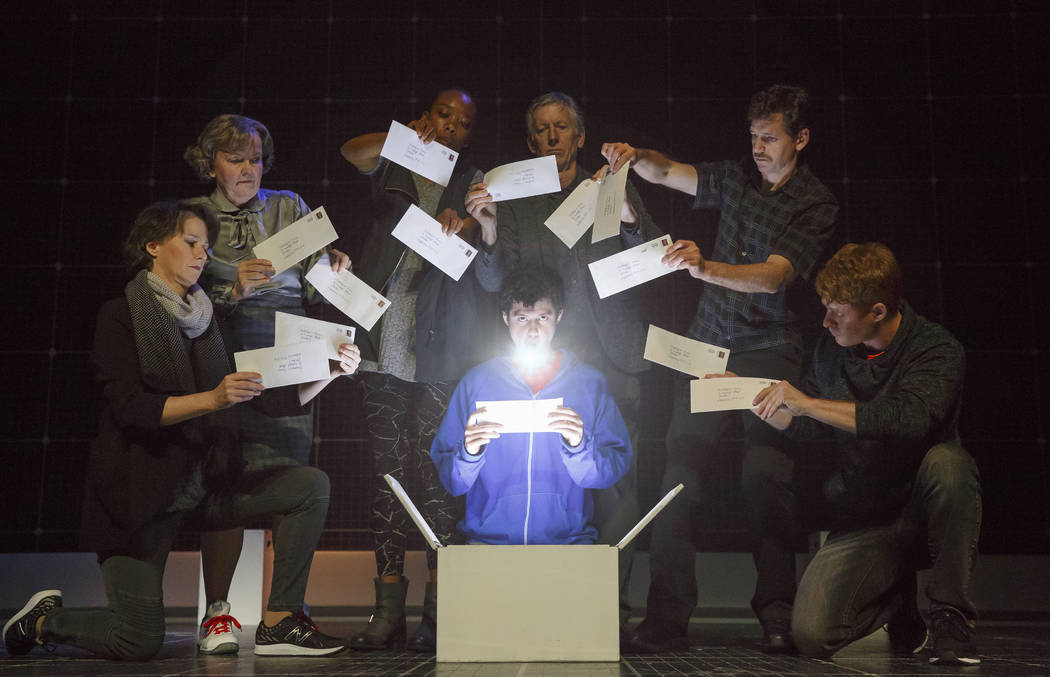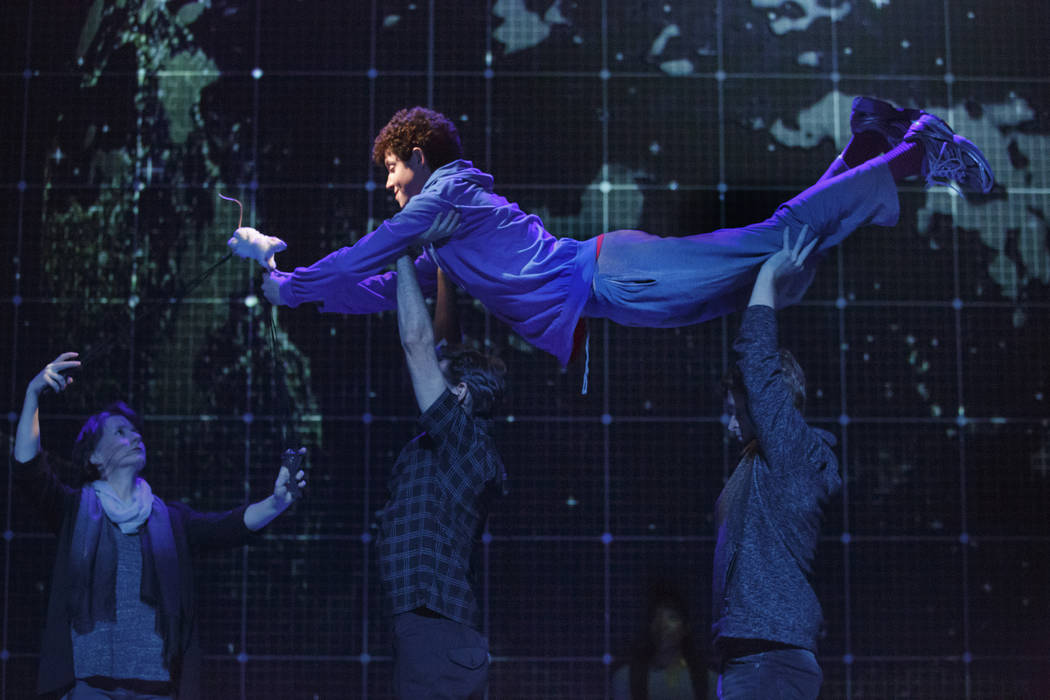 Playwright Simon Stephens, who adapted "The Curious Incident of the Dog in the Night-Time" from the novel for the stage, wonders what the drama's 15-year-old protagonist would think of Las Vegas.
"I so wish I could imagine what on earth Christopher Boone would make of Vegas," Stephens writes in an email interview from his base in Britain. "It should be quite a treat."
But Adam Langdon, who plays Christopher in "Curious Incident's" national tour — which opens Tuesday at The Smith Center — thinks he knows.
"The Strip itself would be right out of the play," Langdon says in a telephone interview from "Curious Incident's" Los Angeles tour stop. "Lots of lights, lots of moving pieces, lots of sounds."
Not that Langdon has any personal experience; the play's Vegas visit is his first.
Las Vegas also marks the end of "Curious Incident's" year-long national tour.
"I think it's going to be a very mixed bag, emotionally," Langdon says of the play's final performances, with "happiness and relief" balancing more bittersweet feelings.
Then again, bittersweet feelings seem an appropriate match for the acclaimed stage adaptation of Mark Haddon's novel, which focuses on Christopher, a brainy teen with behavioral problems. When he's suspected of killing his neighbor's dog, Christopher sets out to track down the true culprit — an investigation that becomes a life-altering journey.
Langdon, 24, describes the role as "Hamlet, combined with Cirque du Soleil." In addition to "complicated relationships with the people around him," playing the character includes a "huge physical aspect to the show that no one quite expects," because "you're so deep into Christopher's mind."
That physicality is something Langdon will miss when "Curious Incident" closes, he says, likening the "kind of rush" he gets to "playing Spider-Man," as fellow performers lift and carry him during certain sequences. "It's like flipping a switch on, and you go," he explains.
Bringing Christopher's experiences to the stage presented definite challenges, admits Stephens, whose adaptation won both a Tony Award and the British equivalent, the Olivier, for best new play.
"I had a hunch that Mark's (Haddon's) instinct for drama would make it a far better (play) than he feared," Stephens writes. "The biggest challenge was staging a road trip on stage. … Thankfully, we were working with the geniuses of Frantic Assembly to choreograph that movement with real elegance."
Stephens may have written the "Curious Incident" adaptation, but he credits the play's imaginative staging to director Marianne Elliott, who previously co-directed (and won a Tony for) "War Horse," which played The Smith Center in 2013.
"My main gesture was removing all the stage directions" so Elliott "could exercise her imagination to the fullest rather than feel beholden to stage what I had written," Stephens writes.
As a result, Stephens comments, audiences respond to Christopher for a variety of reasons, from "his bravery" to the fact that he "sees the universe with a clarity and imagination those of us could only dream of."
Ultimately, "it means a lot to me that people love Christopher," the writer notes. "And that they enjoy the theatricality of our work. The idea that we have made something that could only exist in the theater and that people have been so engaged with it moves me greatly."
'Curious Incident' proves life-changing for both author and actor
It's not just what you do, it's who you know — as both the playwright and star of "The Curious Incident of the Dog in the Night-Time" discovered.
The Tony-winning adaptation of Mark Haddon's novel opens Tuesday at The Smith Center for an eight-performance run that marks the end of its year-long national tour.
Long before it debuted at Britain's National Theatre, however, playwright Simon Stephens discovered the power of personal connection.
He and Haddon "became friends at the National Theatre studio while working on plays at the same time," Stephens notes in an email interview. "We had a lot in common. We stayed in touch." And, "18 months later, he rang me in a phone call that changed my life."
Actor Adam Langdon, who plays the central role of Christopher on the national tour, had a direct connection to "Curious Incident's" Broadway production: classmate Alex Sharp, who played Christopher (and won a Tony for his performance).
"I saw him do it," Langdon recalls in a telephone interview. "He was the first person to tell me I would play the role someday."
Langdon told his friend he was wrong, but that didn't stop Langdon from pursuing the part — first to replace Sharp on Broadway ("I had a really terrible audition, but they didn't hold it against me"), then for the show's national tour.
The actor was rehearsing a play in western Massachusetts when he had his final audition, in New York, for the "Curious Incident" tour.
"When I arrived back in the Berkshires on the train, I got a call that I had booked it," Langdon recalls, "but I wasn't allowed to tell anyone about it." (Sharp finally told Langdon he already knew.)
Because Langdon had never been in a play that ran longer than a month, the prospect of a year-long tour was "very daunting," he admits. "After the first month, I thought it should have been over. It's the longest I've ever done a play."
For his part, Stephens is grateful audiences have discovered a play he wrote for "Haddon and for my three children," he notes. "Normally, (my) plays are far too violent or dark for them to watch. So when they liked it that was the so-important success for me. Everything else has just been an astonishing and thrilling bonus."
An award-winning track record
On both sides of the Atlantic, "The Curious Incident of the Dog in the Night-Time" has earned multiple accolades.
The original production at London's National Theatre received seven Laurence Olivier Awards, Britain's Tony Awards equivalent:
■ Best New Play
■ Best Director (Marianne Elliott)
■ Best Actor (Luke Treadaway)
■ Best Actress in a Supporting Role (Nicola Walker)
■ Best Sound Design (Ian Dickinson and Adrian Sutton)
■ Best Lighting Design (Paule Constable)
■ Best Set Design (Bunny Christie and Finn Ross)
The 2015 Tony Awards, meanwhile, honored the Broadway production in five categories:
■ Best Play
■ Best Direction of a Play (Elliott)
■ Best Actor in a Play (Alex Sharp)
■ Best Lighting Design of a Play (Constable)
■ Best Scenic Design of a Play (Christie and Ross)
Contact Carol Cling at ccling@reviewjournal.com or 702-383-0272. Follow @CarolSCling on Twitter.