Elaine Wynn donates $5 million to Smith Center
December 14, 2010 - 8:49 am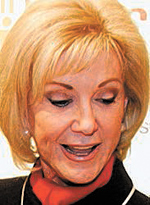 Put the Smith Center in the Wynn column.
Five million dollars is all it took.
"Creating new audiences is what I'm all about," said Elaine Wynn, whose $5 million gift to the Smith Center for the Performing Arts, announced Tuesday, is the largest to date by an individual donor.
In exchange, the $502 million cultural complex, under construction in downtown Las Vegas, will include the Elaine Wynn Studio for Arts Education.
"They kept coming to me with proposals of donations, but none of it really resonated," said Wynn, ex-wife of casino mogul Steve Wynn and long an arts activist and supporter in Las Vegas. She also is a trustee of the John F. Kennedy Center for the Performing Arts in Washington, D.C.
"I didn't want a box named after me. I needed it to be more of a living organism and have a component consistent with the other things I do," she said. "Recently, I was made aware of a naming opportunity for arts education and community outreach, and I said, 'Bingo! That's everything I believe in and care about.' "
Set to be housed in the five-story Boman Pavilion, the Wynn studio will include classrooms, conference rooms and offices for education staff, interns and artists-in-residence and will not require additional space in the 70,000-square-foot building.
"This is space that's been planned and designed and under construction," said Smith Center President Myron Martin. "Now it has a sense of place with Elaine Wynn's name associated with it, and I can't imagine a better person to be associated with our education program."
Educational events in the studio are scheduled to include children interacting with performing and visual artists, master classes, workshops and individualized instruction with artists.
"Hopefully, they'll solicit my input and advice," Wynn said. "They'll hear my nagging voice in their conscience, if not necessarily in real time. I'll make known to them what my hopes would be for this program. They know me well enough to know it resonates."
Wynn's donation is the latest in a string of recent Smith Center announcements, including acting as organizer of an arts education program between Clark County schools and the Kennedy Center, relocating the Lied Discovery Children's Museum to the cultural complex and booking the musical "Wicked" to open the center's Broadway series shortly after its opening in spring 2012.
"So many of the people who live here are working-class people who are involved in the service industry and may not be able to afford tickets to performances," said Wynn, whose own arts exposure growing up included seeing her mother play piano to accompany silent movies and later studying theater arts at the University of California, Los Angeles.
"The reason I'm excited about the Smith Center studio is that it's going to be the linkage that will allow children and their families to experience art that they may not get exposed to through traditional ways. It doesn't take much to stimulate children."
Adding Wynn's $5 million to the coffers follows an additional $32 million donated in August by the Donald W. Reynolds Foundation, the center's primary donor, to enable construction of a new building for the Lied Discovery Children's Museum, which will move to the Smith Center complex from its current home at the Las Vegas Library. (The museum will drop "Lied" from its name upon moving.) With that gift, the Reynolds Foundation donation totals about $190 million.
The price tag for the center, which has been under construction since May 2009 at Bonneville Avenue and Grand Central Parkway, is $470 million for the main 2,050-seat Reynolds Hall, plus cabaret space, a black box theater and educational facilities at Boman Pavilion.
However, adding the museum building and a parking garage pushed the project past the $500 million mark.
"The good news is this brings what's left to raise for furniture, fixtures and equipment down to around $24 million, but the Smith Center for the Performing Arts remains on time and on budget," Martin said, adding that Wynn's donation might help expedite further fundraising. "She hopes that her gift will encourage others when they're making their year-end gifts, to think about the Smith Center."
The center is named for Fred W. Smith, former Review-Journal executive and chairman of the Reynolds Foundation, and for his late wife, Mary B. Smith.
Contact reporter Steve Bornfeld at sbornfeld@
reviewjournal.com or 702-383-0256.