Exploring figures — and life — in three dimensions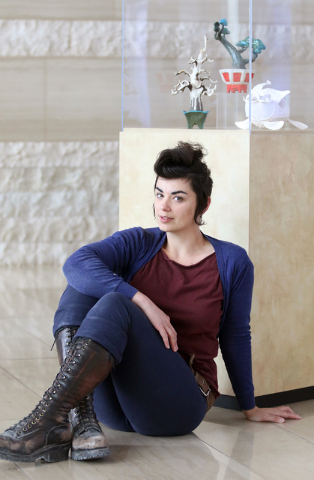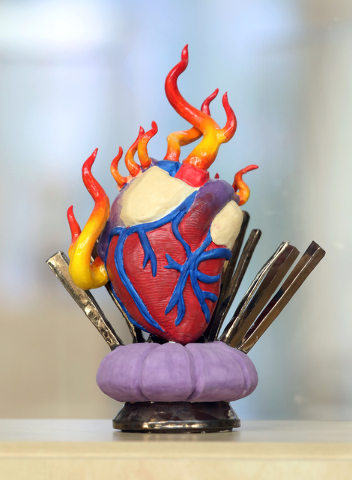 Think about it: Every drawing, every photograph, every person or image you look at in a two-dimensional form has a backside — a reverse — that you can't see but which, theoretically, exists … well, somewhere.
Like, whoa.
It's an exercise in abstract thinking most of us — those of us with, perhaps, less artistic imaginations — wouldn't even think to consider. But the inability to capture a three-dimensional object in a two-dimensional medium once vexed C.A. Traen.
Fortunately, Traen happened upon a solution to her frustration. Even more fortunately, Southern Nevadans can view the results of that epiphany in "Solo Chic," an exhibition of Traen's figurative ceramic sculpture that runs through July 13 at the Las Vegas City Hall Grand Gallery, 495 S. Main St.
The show, which is free and open to the public, can be seen from 7 a.m. to 5:30 p.m. Mondays through Thursdays.
The exhibition is a five-year retrospective of Traen's work. Why "Solo Chic"?
"Well, 'chic' is style, but it's also a word for 'chick,' " Traen says. "So, I'm a chick. And, a lot of my work is female figuratives, so I think it connects in that way, too."
Then, Traen continues, "it's in the style of being solo, and being that it's my first solo exhibition, I thought I should feature 'solo' in the title."
Even though it is her first solo exhibition, an inclination toward creating art is nothing new for Traen, who says she was an artistic kid while growing up.
"I remember spending hours in my room with, just, a big stock of paper. My mom worked with computers way back in the '80s and she would come home with huge stacks of computer paper. She was, like, 'Here you go.' That was the paper I'd draw on, and I loved it because it was larger format, and I was all excited about that."
Also, Traen says, "my parents said that when I was young, people asked me what I wanted to do and — and I don't want this for myself — I was always saying, 'I'm going to be a starving artist.' "
She laughs. "I don't really think I understood the concept of 'starving.' "
Although Traen grew up in Fargo, N.D., she always knew she'd leave eventually.
"I wanted to go West," she says, "and though I'd never been to California, that was my target."
Her ticket westward came when she was recruited to swim at the University of Nevada, Las Vegas.
"They flew me out on an official visit, and I fell in love," Traen says. "They had palm trees and a pyramid, and I was used to snow and all that stuff."
During her sophomore year, Traen declared art as her major. When the schedule of an art major turned out to conflict with her athletic training schedule, "I ended up quitting the team," she says. "I found a new love."
As she took a required ceramics class, longtime amateur artist Traen discovered something intriguing.
"I've always drawn since I was very young," she says, "and one of the frustrations I had when I would draw is that I knew what the other side would look like, but I'd have to redraw the whole thing. So when I found out I could draw with clay, but draw in three dimensions, it was very exciting for me."
She continued studying ceramics, taking intermediate and advanced courses before graduating with a bachelor's degree in studio fine art. But, Traen says, "after I graduated, I didn't have access to kilns, so I went back to painting and drawing for the most part."
In 2005, Traen returned to UNLV and earned a master's degree in art education. She now is full-time ceramics instructor at Rancho High School — the program, she says, is nationally recognized — and also continues to pursue her career as a professional artist.
The 20 pieces Traen has chosen for "Solo Chic" represent five years of work. Included are: pieces from a collection she calls "Wabi Sabi," revolving around "the aesthetic of imperfect beauty"; a "Dia de los Muertos" collection, inspired by the Mexican Day of the Dead celebration; a collection that comments on "social expectations of beauty and what beauty truly is"; and a collection Traen calls "iDollies" that examines societal expectations about what "female" means and the role women play in the world.
Traen says that, when she was younger, she had difficulty drawing human elements and, instead she'd always draw animals
"I'd then start to transition into humanoid animals. But I always had an issue drawing faces," she says. "So when I was in college, I had the very good fortune of having life drawing being a requirement, so I took that course multiple times even though I didn't get credit multiple times.
"I guess that was something I always wanted to be able to do when I was younger and I couldn't. Now, for the most part, all I want to do is the human figure."
Traen also noticed a greater sense of fun in her more recent work. While installing the exhibition, she noticed hurried passers-by at City Hall checking out the pieces, intrigued — and sometimes amused — by what they saw.
"It was so neat to see people in suits and ties hurtling through the gallery, but they would follow the work, and quite a few — we had about five people — actually stopped and went back, and they were looking and moving around the work and had a big grin."
"That is the crux of my work. Have a good time. Find joy in your life," says Traen, who adds that she's not averse to taking snippets of inspiration from everything from modern-day posable action figures to "Victorian figurines and little kitschy things Grandmother has. I love that concept."
Because the exhibition is a retrospective, "it has some of my older work that I see the glaring errors in," Traen says. "But, at the same time, I feel very excited to show my growth over the past five years."
Contact reporter John Przybys at jprzybys@reviewjournal.com or 702-383-0280 or follow @JJPrzybys on Twitter.