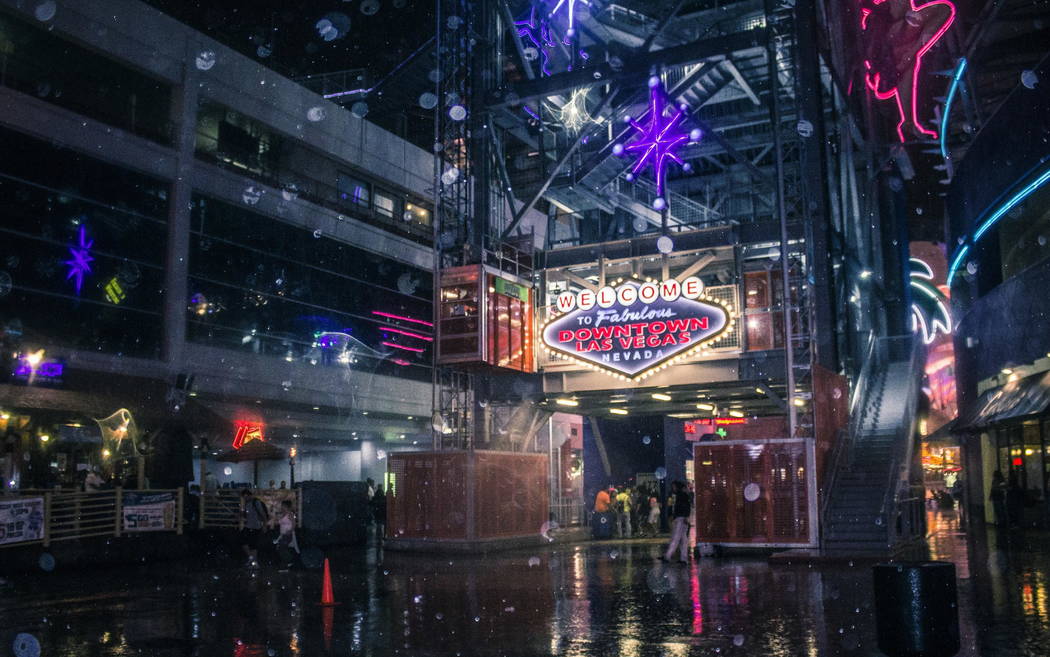 As 2017 rapidly moves toward its close, December's First Friday celebration acknowledges the fact with an "Art of Movement" theme.
The monthly gathering in the downtown arts district runs from 5 to 11 p.m. Friday, mustering a mix of art, music, food, fun — and, inevitably, holiday shopping.
Focusing on "expand(ing) different perspectives of the world," First Friday's featured artist — Las Vegas native Jesse Hudson — will exhibit interactive art installations and photography.
Underlining the event's "Art of Movement" theme: RTC Bike Share's movement project, Boys & Girls Club's dance-off party for kids and Roller Girls skating throughout First Friday.
And, speaking of movement, the tiny house movement comes to First Friday via Alternative Living Spaces, which will have hot cocoa and games at its booth.
Entertainment options range from the monthly Drum Circle to performances by Deblanc (5 p.m.), Las Vegas Academy students (6 p.m.), TEEJ (7:30 p.m.), Joey & Jazzy (8:30 p.m.) and Spectrum (9:45 p.m.).
For December's First Friday, the main stage again moves to the south end of the Art Way parking lot, while the majority of artists and vendors move to First Street, extending to Hoover Avenue.
At the southern end of the arts district: antiques and activities between California and Colorado avenues, Casino Center Boulevard and Antique Alley (one block east of Main Street).
Also on the December First Friday schedule:
■ Art Style: Emerging and established artists and artisans, curated by artist Izaac Zevalking, along with interactive painting for those eager to explore their creativity.
■ ArtWalk: Work by emerging Las Vegas artists, showcased in booths in the main festival area, along with exhibits in Arts Factory and Art Square galleries and studios, plus paint-by-numbers with Jasmine Farro and Friends.
■ Kids Zone: In Boulder Plaza, featuring an art project from RTC Bike Share, Tumble Bus, Block Building, Boys and Girls Club dance-off and more.
■ Food and drink: More than 30 gourmet food trucks and artisan vendors, plus bars in the First Friday event area and arts district.
For more First Friday details, visit firstfridaylasvegas.com, facebook.com/firstfridaylasvegas and Twitter @FirstFridayLV.