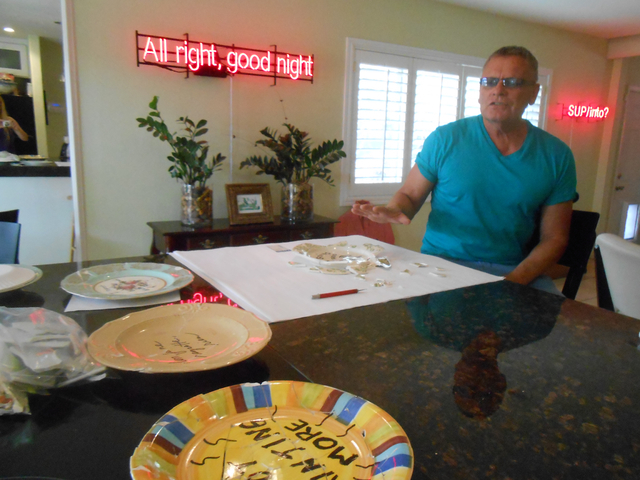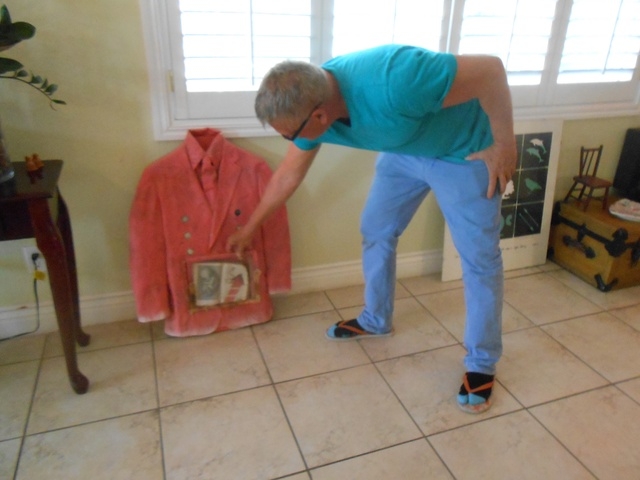 Under Richard Hooker's tenure as the city of Las Vegas' urban arts coordinator, the area grew as an artistic city. Hooker, an award-winning artist, oversaw numerous shows and events, promoting the works of others.
Now retired, his own art exhibit, "Pregnant Neon: A Tale of Conspicuous Devotion," is slated to be displayed May 23 through July 12 at The Studio at the Sahara West Library, 9600 W. Sahara Ave.
The Studio is off the library's main lobby. It was part of the Las Vegas Art Museum before it folded in 2009. It will showcase the glowing exhibit of neon text in 10 shrine-inspired installations.
Much of the work involves neon signs. Hooker said his fascination with the lighted signage began when the Neon Boneyard concept came before the city, an outdoor museum using old signs from closed or imploded casinos. At least two of his pieces take their cue from social media: "SUP/into?"is a reference to "What's up?/ What are you into?" and correlates with another sign in the exhibit, "FWB (Friends With Benefits)/looking."
Mystery is coupled into some of his pieces. One sign uses the sobering final words for Flight 370: "All right, good night."
"That's a really compelling mystery," he said. "For me, 'Pregnant Neon' is celebrating mystery but in a very literal way, because it's words, but it's words with ambiguity."
Along with neon signs, the exhibit utilizes his earlier artwork featuring men's suit jackets, reinforced in either metal plating or plaster. Each has a word component. One features a mesh pocket containing crumbled/cut-up handouts from smut peddlers on the Strip. Another suit jacket includes a book niche.
He said text and the written word have always propelled his creativity.
"I can go back 25 years and see how text was part of my work," Hooker said.
The addition of neon is the latest step in the genesis of his art.
Another aspect of the exhibit in the 4,000-square-foot gallery involved other artists who expressed a regret on decorative plates of varying styles found at garage sales. Each plate was chosen to match the artist's personality. After painting their regret in words, the artists intentionally smashed the plates, then glued them back together. That portion of the exhibit is called "Archaeology of Regret."
"I initially wanted to have people breaking the plates there (at the gallery), but they said, 'No, that won't go,' " he said.
Denise Alvarado, gallery services coordinator, said the space will host only the most talented artists who have dedicated their lives to the arts, with the intent of showing art in various media.
She called Hooker's work "very powerful, having text, or word. These phrases ignite impressions, so, in a way, you create your own visual through his words. … That impact, he's communicating a color but also words to give you the vision."
She said a neon exhibit went hand in hand with the city's identity.
The Las Vegas art scene, Hooker said, owes a debt of gratitude to former Mayor Oscar Goodman, who came into office soon after Hooker was hired by the city. He described it as a defining moment for Las Vegas.
"He (Goodman) said he had three goals, and one was to bring the arts to downtown and make Las Vegas a 'first-class arts city,' " Hooker said.
As a result, Hooker oversaw a number of programs to move the arts forward, such as a digital gallery, the Arts District being established and initiating the aerial gallery that erected lamppost banners. Of the last one, he said, 125 artists were involved over a 10-year period, and it brought life to downtown Las Vegas. He said it also brought prestige to any artist who could claim to be part of the 1-mile stretch of Las Vegas Boulevard that featured the banners.
"It created a lot of goodwill and helped establish the idea that artists could be part of the roadside vernacular," he said. "I prioritized my work from (focusing on) an individual artist to working with a community of artists. I always felt my work moved from being an individual artist to working in the community with a group of artists, and, so, I think, collaboration has been one of the great joys of my work."
An opening-night reception is scheduled from 7 to 8:30 p.m. May 23. For more information, visit lvccld.org or call 702-507-3630.
Contact Summerlin Area View reporter Jan Hogan at jhogan@viewnews.com or 702-387-2949.