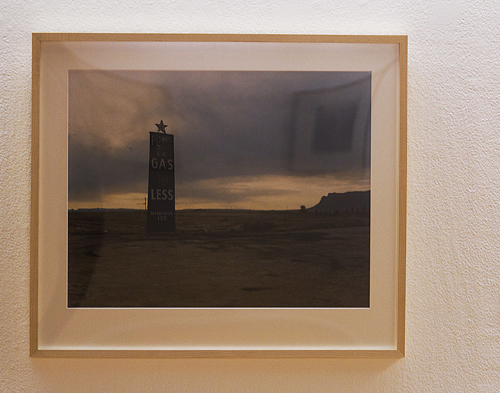 Could the West be going south (colloquially speaking)?
Depends on the lens through which you glimpse it — culturally, physically, spiritually — and how you define the heartbeat of the American West.
"Cowboys are vanishing, rustic old buildings are falling to development and the landscape itself is becoming cluttered with the trappings of modern civilization."
Such is the sadness-tinged assessment of the area's here-and-now in the program notes to "Great Basin Exteriors: A Photographic Survey," now on display at the Marjorie Barrick Museum on the campus of the University of Nevada, Las Vegas and an entry in the Nevada Arts Council's traveling exhibition program.
"This vast area is evolving and seemingly becoming smaller as the population grows, travel becomes more efficient and the effects of humans are more noticeable."
Snap the old as the new intrudes to capture a region in transition — that was the combined mission of photographers Daniel Cheek, Nolan Preece and Adam Jahiel, each turning their cameras on the spacious landscape of the Basin and Range Province that covers most of Nevada and more than half of Utah, as well as parts of California, Idaho, Oregon and Wyoming.
"To me, the Great Basin encompasses what I've always considered the epic West," Cheek writes in the exhibit narrative, recalling how he and his girlfriend made the 2,500-mile trek from Michigan to San Francisco in 1999, calling it "brutally boring" until they reached the Basin.
"The harsh, lonely stretches of barren land broken up by sometimes failed settlements, intimidating mountains almost always peaking out of the distant horizon and weather in its barest forms — I was enthralled and enchanted."
Starkness of nature in the Basin highlights Cheek's photos, such as the lonely incline of mountain and brush of Hickson Petroglyph Recreation Park in both grayish daylight and the encroaching night sky, the shadowed mountain even eerier in its blackness. Another photo gives us a single, simple sign reading "Gas for Less" — minus a gas station — in a barren Utah landscape that is both stately and sad, while a shot of the Virginia City Cemetery, weeds and brush sprouting up around it, lets you feel the stillness.
"The light scrapes across the Great Basin like nowhere else on Earth," Cheek writes. "The people who have settled the Great Basin have scrabbled together a tough life punctuated by natural glories most of us will never know."
People — specifically cowboys — are prevalent in Jahiel's artistic eye as one ranch hand, almost male model-ish in elegance and posture, lasso in hand, strides past galloping horses.
"Fritz and Snooks," a portrait taken at Nevada's TS Ranch, captures an elderly cowboy at the wheel of a rusted old truck, his dog beside him, managing to be both funny and poignant.
Yet another, which could pass for a rugged poster for "Rio Bravo" or the Marlboro Man in those vintage cigarette commercials, pictures a lone cowboy atop his black horse, bundled up against the elements in the open prairie of Fish Creek, clouds hovering ominously above.
"The 'disappearing cowboy' is a huge cliche, however, no matter how much you think you're living in the old days, you're not," Jahiel writes in his notes.
"That part of the country (the Great Basin) is a slice of the past that's practically disappeared. Those cowboys live in camps, tents and teepees. They have camp cooks, maybe a radio, even if they can't pick up a signal. From morning to night, they're camped out somewhere in the desert, miles from civilization. Because of that, they have to rely on what bare necessities they have."
Shot from behind and gazing out at a seemingly endless expanse of untouched land, a cowboy is pictured looking as pensive as the nature sprawled out before him.
Picking up on Jahiel's description of the cowboy's life, one is seen sitting on his cot in his modest quarters, while another shot is a close-up of a horse-riding cowboy's leg, his boot and spur snugly locked inside a stirrup.
"Jahiel catches the play of light, the rush and texture of the clouds, the blurry poetry of dust, but most of all the precise, steady energies and weariness of the animals and the cowboys," writes art critic Bruce Richardson. "Though the subject is familiar, the invigorating art of these photos cuts right through all the cliches with intoxicating directness."
Rounding out the contributions, Nolan Preece's portraits of structures old, decayed and abandoned leave a deep impression of a world allowed to wither. In one, a decrepit, now-gone bar in Austin, snapped in 2003, sees one passer-by — a stray dog.
"As a photographer, I have tried to search out the deeper layers of meaning I find in this Nevada environment," Preece writes. "The realization that Nevada is a complex place having many interpretations was an inevitable outcome of my search."
Particularly striking is Preece's photo of the Tom T. Kelly Bottle House in Rhyolite, a broken-down window surrounded by what looks like a wall of holes.
As he writes: "(It's) rumored to have 51,000 bottles mortared in place. It received a new roof in 2000. I photographed it in 2002 and with new restoration the window was changed in 2005. There is something almost sorrowful about losing this old window."
One Preece piece that can leave viewers taken aback is a sign punctuated by bullet holes. "When I was young, I participated in shooting at the relics I found in remote places," Preece writes. "I still remember well the power of the gun, how easily it seduces and its capabilities."
Yet another is a simple portrait of a neglected wooden house. Art critic Kris Varner sums up Preece's style in his exhibit note:
"The photos are tributes to small-town Nevada's continual demonstration that nothing lasts forever. They're also tributes to the rich, graphical potential of protruding nails and splintery boards you wouldn't want to run your finger along."
Should this slice of the West indeed go south, at least three artistic eyes can open our own to what we're losing before it is finally, irrevocably lost.
Contact reporter Steve Bornfeld at sbornfeld@ reviewjournal.com or 702-383-0256.
Preview
"Great Basin Exteriors: A Photographic Survey"
10 a.m.-6 p.m. Fridays, Tuesdays, Wednesdays; 10 a.m.-8 p.m. Thursdays; 10 a.m.-4 p.m. Saturdays and Sundays
Marjorie Barrick Museum, University of Nevada, Las Vegas, 4505 S. Maryland Parkway
Free; suggested donations of $5 for adults, $2 for seniors 62 and older (895-3381;
barrickmuseum.unlv.edu)