Henderson to host 10th annual Library Tree Lane gala
December 2, 2013 - 2:08 pm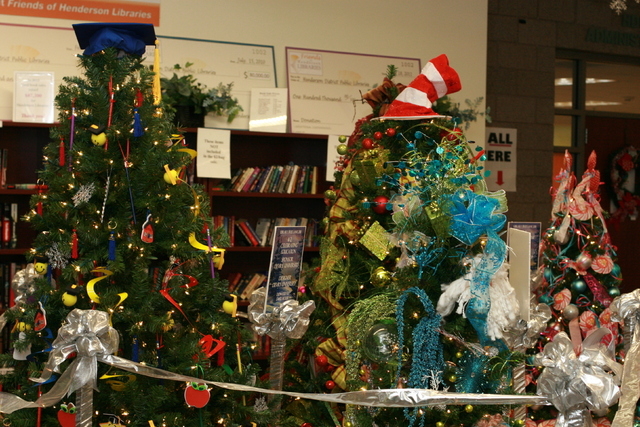 In order to raise funds for materials for the Henderson District Public Libraries, Friends of Henderson Libraries plans to host its 10th annual Library Tree Lane Gala.
Each year, the event raises money for needed items that would benefit the children's collection.
"It's important to keep kids going to the library, reading and learning," said Julie Buckley, vice president of Friends of Henderson Libraries. "That's why it's important to update the collection."
The gala is scheduled from 7 to 10 p.m. Dec. 6 at the Paseo Verde Library, 280 S. Green Valley Parkway. The event is slated to feature popular romance author Robyn Carr, a Henderson resident. Tickets are $35.
In the past, funds raised have gone to purchase materials for certain grade levels or age groups.
This year, Henderson Libraries is expected to purchase books to benefit all children and youths.
"This will go toward all ages from tots to teens," Buckley said.
Gayle Hornaday, the interim executive director for Henderson Libraries, said the organization spends months planning the event.
"It's our favorite holiday event," she said. "The community is excited to be a part of it."
Ten years ago the Library Tree Lane Gala started out small, featuring just trees and wreaths available for purchase.
Now, along with drinks and food, guests can bid on silent auction items. Buckley said more than 225 baskets are expected to be auctioned.
Trees and wreaths decorated by local businesses are still part of the fun and can purchased through Dec. 6.
The event is put on by Friends of Henderson Libraries, which does fundraising for the organization.
"It's a major fundraiser," Hornaday said. "This helps support the materials we need. I can't give them enough credit for what they do."
Throughout the year, the organization collects items for the upcoming gala along with sponsoring other volunteer-led activities such as used book sales or selling items on amazon.com.
Buckley said the Friends of Henderson Libraries brought in more than $100,000 last year.
"We can't give them enough thanks," she added.
Without fundraising efforts, Henderson Libraries would have to find other ways to maintain its resources and materials.
Each year, Buckley said the event surpasses its fundraising goals from the previous year by a few thousand dollars.
In 2011, the gala raised $27,000, and in 2010 it raised $24,000.
"Last year was our banner year with $36,000," Buckley said.
More than 500 people attended the 2012 event. The goal is to at least match that this year. Fundraising comes at a crucial time for Henderson Libraries.
In November 2012, residents voted against a tax-rate increase that would have helped the organization manage budget cuts. As a result, Henderson Libraries closed two of its branches, Malcolm and Galleria.
Throughout the years, the library district had to make other cuts because of its budget.
Buckley said it's nice to have volunteers willing to help Henderson Libraries.
"I'm sure the library would find a way to survive," Buckley said. "It sure helps to have Library Tree Lane."
Everyone who donates is expected to get a bookplate to go into one library book purchased through the funds collected.
Buckley said some of the committee members who have been at each event since the gala's inception are expected to be honored. Buckley added there will be a 10th anniversary wine glass for purchase, too.
For more information, visit hdplfriends.org.
Contact Henderson/Anthem View reporter Michael Lyle at mlyle@viewnews.com or 702-387-5201.